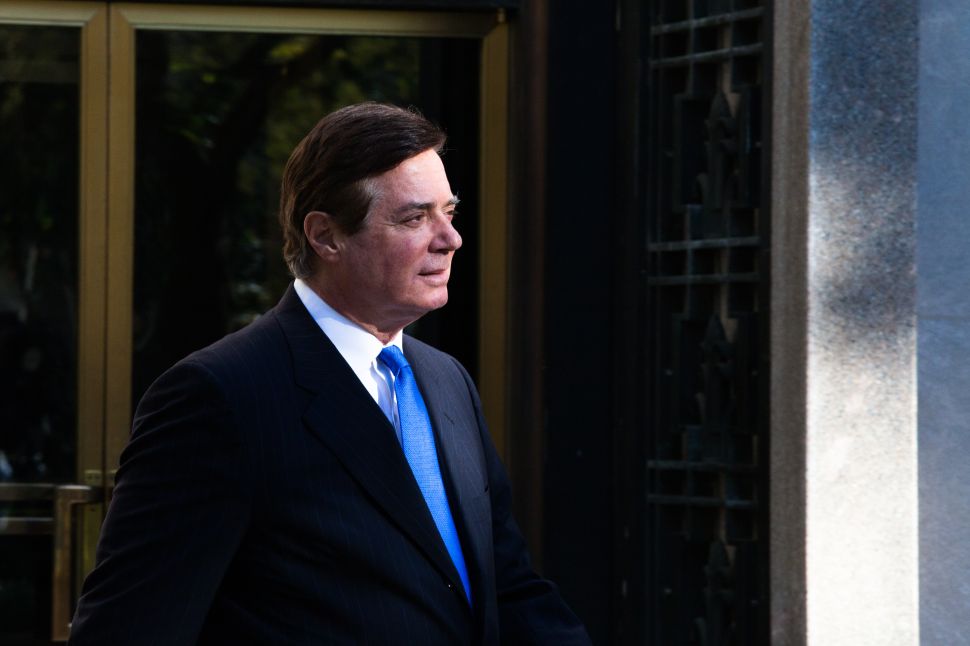 Shocking details have emerged since former Trump Campaign Chair Paul Manafort, former Deputy Campaign Manager Rick Gates, and former Trump Foreign Policy Advisor George Papadopoulos were indicted on Monday. Manafort's and Gates' charges specifically relate to outrageous financial indiscretions made abroad during off-the-record "business" trips.
Gates and Manafort were charged with 12 different crimes relating to consulting work done in the Ukraine before they began working for the Trump campaign, work that made Manafort tens of millions of dollars, which Gates helped Manafort launder in order to conceal from the U.S. government. Both men have pleaded not guilty. Papadopoulos has pleaded guilty to charges of lying to the FBI about his correspondence with Russia during the campaign.
As more insight into Robert Mueller's investigation becomes available, the level of espionage Trump's right-hand men sank to in order to cover up their actions has reached a new bottom. On Tuesday, a new court filing revealed a timeline of suspicious travel patterns and banking activity on behalf of Gates and Manafort, further illustrating their epic talents for deception before, during, and after the election.
The filing states that the two men should remain under house arrest, arguing that they pose "a risk of flight based on the serious nature of the charges, their history of deceptive and misleading conduct, the potentially significant sentences the defendants face, the strong evidence of guilt, their significant financial resources, and their foreign connections." The prosecutors also cited Manafort's and Gates's questionable financial activity as a reason to remain under arrest, stating, "The schemes charged in the indictment involve a complex web of international financial transactions involving substantial sums of money, which also raise flight concerns."
Among the court's most astonishing findings is that Manafort and Gates successfully laundered $18 million dollars from Ukraine through offshore accounts. The indictment filing states, "Manafort and Gates controlled numerous entities registered in multiple states and abroad. And they used those entities to transmit more than $18 million dollars from Ukraine through Cyprus and later Saint Vincent and the Grenadines to the United States, all while concealing those funds from both the United States Treasury and Justice Departments."
Additionally, Manafort owns three U.S. passports under three separate numbers; traveled to Mexico, China, and Ecuador under a fake name and phone number; and traveled to Dubai, Cancun, Panama City, Havana, Shanghai, Madrid, Tokyo and the Cayman Islands all within the past year. Curiously, he reported his assets to be around $16 million on financial documents in April 2016, then reporting them as $126 million only a month later in May.
Prosecutors noted that Gates "frequently changed banks and opened and closed bank accounts," citing that he opened 55 different accounts at 13 separate financial institutions, two of which held over $10 million at certain times between 2010 and 2013. The filing also noted that frequent trips to Cyprus on behalf of both Gates and Manafort "further evidences a risk of flight."
Manafort and Gates face hearings on Thursday, where they will likely continue to defend their "not guilty" pleas.
Francesca Friday is New York City-based National Politics contributor for Observer. Follow her on Twitter: @friday_tweets_