The seventh edition of Performa, the biannual festival dedicated to live performance across disciplines, launches in New York this week. Featuring new site-specific commissions, projects, and programming by nearly 30 artists including Barbara Kruger, William Kentridge and Wangechi Mutu, the city-wide event takes place from November 1 to 19.
Founded by RoseLee Goldberg in 2005, Performa was intended as a platform to raise the profile of performance within the canon of art history. Goldberg's long-time work in the field (she authored the definitive text on the history of performance in 1979) and dedication to revealing the legacy of the medium has undoubtedly been a success. An increasing number of biennials and art fairs have been incorporating performance works into their programming since Performa came into existence, with this year's Venice Biennale, Documenta, Art Basel Switzerland, and Skulptur Projekte Münster serving as the most recent and notable examples.
"There's a long tradition of artists of all types experimenting with performance," Goldberg told Observer, noting that this year's festival will revisit the history of performance in the early 20th century Dada movement. "It's not just fashionable—it's historical."
For Goldberg, it has always been imperative that in addition to providing historical context, Performa commissioned projects from artists not only working within the medium, but also those with more traditional practices like painting, drawing, and sculpture. Additionally, this iteration of Performa will feature a new programming initiative, "Circulations," exploring the interplay between architecture and performance. Goldberg explained that the two practices are irretrievably intertwined, since the built environment shapes how we act and move within a space.
Perhaps most notably, the 2017 edition of the biennial will feature an expansive commission by artist Barbara Kruger, whose signature red, black, white activist text works will cover a skate park, school busses and even metro cards. "Barbara has been a friend of mine for a long time," Goldberg said. "I've always been in awe of everything she does, her purity of vision. When I asked her to do this, I knew it couldn't be just one thing—I wanted it to be like Barbara takes New York."
We've rounded up a selection of other key artist collaborations, performances, and event highlights slated for this edition that will be sure to spark plenty of conversation and interaction.
William Kentridge
Ursonate
Harlem Parish, November 5 and 6
On the heels of his participation in Zietz MOCAA's debut exhibition and in advance of his upcoming exhibition at Goodman Gallery's Capetown space on November 30, acclaimed South African artist William Kentridge will interrogate Dada, Performa 17's historical research theme, in this new performance based on Kurt Schwitters's seminal 1932 sound poem Ursonate, which represents the pinnacle of the movement's experimentation and existentialism.
François Dallegret with Dimitri Chamblas and François Perrin
The Environment-Bubble
Central Park, November 8 and 9
François Dallegret's provocative, unrealized structure initially designed in 1965, is brought to life for the first time by architect François Perrin, setting it free to roam around the city and host public dance workshops with choreographer Dimitri Chamblas. The inflatable structure will become an active site of physical engagement.
Alex Schweder and Ward Shelley
The Newcomers
November 10–19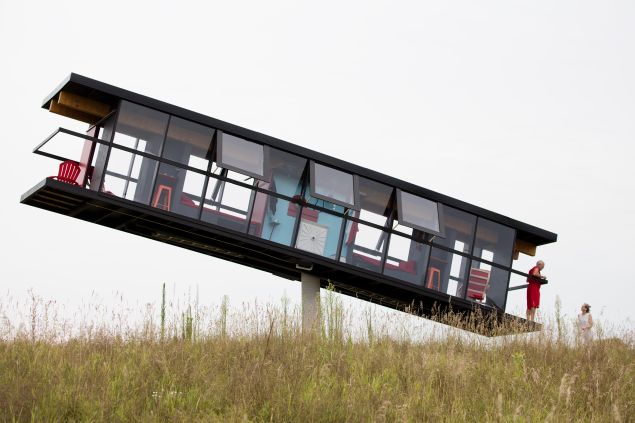 American architects and artists Alex Schweder and Ward Shelley will present the newly commissioned The Newcomers, a weeklong nomadic performance in which the duo will construct and disassemble a temporary house structure, breaking it down into a bridge, and reconstituting it as a home in a new location every day so that they will have shelter under which to sleep.
Tracey Rose
The Good Ship Jesus vs. The Black Star Line Hitching a Ride with Die Alibama
The Black Lady Theater, November 9–11
Rose's new interdisciplinary work—her first exhibition in New York City in 10 years—will take the structure of a boxing match, a theme Rose has explored in a 2000 video self-portrait T.K.O. (2000). The name suggests an epic battle between the Good Ship Jesus, the first British slave ship to the Americas, the Black Star Line, and the United Negro Improvement Association founder Marcus Garvey's shipping line, pointing to the complexity of relations between those stolen away from Africa and those who remained. Performers will continually develop and rehearse the script while on the set for the duration of the performance causing the content to change, evolve, and break down.
Tabita Rezaire
Afterhours Program
Public Arts, November 15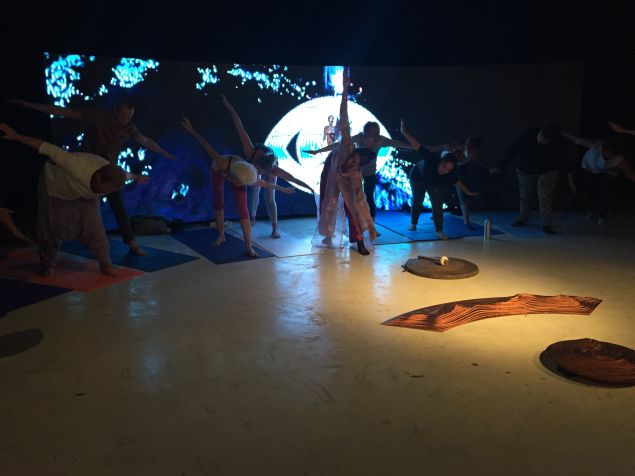 As part of Performa's Afterhours post-show programming spotlighting emerging artists, South African new media artist Tabita Rezaire will lead an open participation healing ceremony that centers around Kemetic/Kundalini yoga, of which she is a practitioner and teacher. Participants will cleanse their energy auras with crystals when they enter the space and then enjoy a sonic healing. Rezaire's hyper-artificial video collages are carried into the performance space by way of her 'cyber warrior' persona, which has been a staple in her video works thus far in her practice.
Margaret Carrigan is a freelance writer and editor. She planned to go to law school but she did terribly on the LSAT, so she got a master's in art history instead. She lives in Brooklyn with her cat, who is named after Alyssa Milano's character from the early aughts CW smash hit series Charmed.