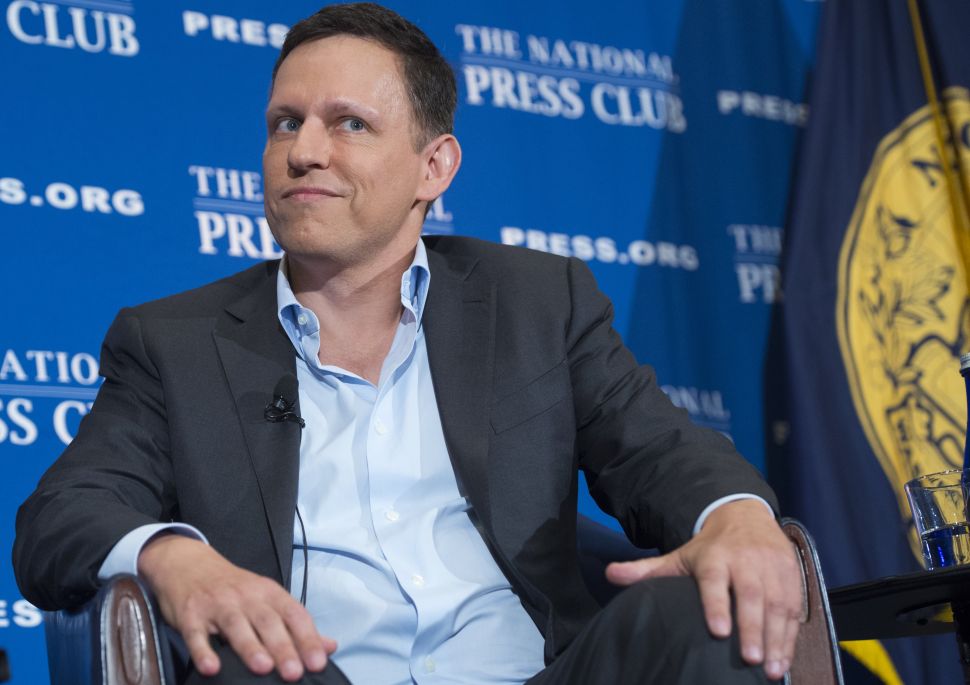 Billionaire venture capitalist Peter Thiel has quietly left Y Combinator as a part-time partner, Buzzfeed reported over the weekend. The actual timeline is unclear and possibly messy.
The news wasn't announced by either party, but was discovered in an inconspicuous update in a March 2015 blog post by Sam Altman, president of Y Combinator.
Buzzfeed reported that the termination might have actually happened around October 30, based on editing logs shown in the blog post's source code.
But Thiel may have parted ways with Y Combinator even earlier. In February, Kat Manalac, Y Combinator's director of outreach and a cofounder of Reddit, told TechCrunch that Thiel was already not very involved with Y Combinator.
The 2015 blog post, entitled "Welcome Peter," announced Thiel's arrival at Y Combinator as a part-time partner. Y Combinator's part-time partner program runs in six-month terms, where participants attend individual office hours to advise startup founders.
In the blog post, Altman expressed his concern about the potential conflict of interest between Thiel's new role and his stakes in Y Combinator's competing firms. "We generally won't bring on people that are involved with other investing firms given the obvious conflict, but Peter is so good we felt like we had to make an exception," he wrote.
Thiel cofounded PayPal in 1998 and was the first outside investor of Facebook. He is also an investor in SpaceX and Airbnb, through his venture fund Founders Fund. Forbes estimates Thiel's net worth at $2.6 billion, as of 2017.
However, it was Thiel's political involvement that turned out to be even more troubling. Thiel was a vocal supporter of Donald Trump in the 2016 presidential election, and donated $1.25 million to Trump's campaign. This put many anti-Trump Silicon Valley venture capitalists against Theil, and created strain in Y Combinator's regular business.
When Y Combinator took in The American Civil Liberties Union, a nonprofit promoting civil rights and legal causes, as a profile company in February, entrepreneurs and investors in the startups circle expressed concerns over Thiel's connection with Trump. A venture capitalist told TechCrunch that he didn't want someone so close to Trump to be privy to the nonprofit's inside information.
Altman, who openly voted against Trump, said in an October 2016 tweet that he would not fire someone for political disagreements.
Altman has established a norm of announcing new partner hires through company blog posts, but has rarely given equal publicity to employee departures. Much like for Thiel, Altman quietly reported the departures of two former part-time partners, Kevin Hale, CEO of Wufoo, and Marcus Segal, former operation chief of Zynga, in notes and updates in their arrival posts.
Y Combinator is one of the most prolific and successful venture capital firms in the country. Founded in 2005, the startup incubator has invested in more than 1,400 early-stage companies. Many—Reddit, Dropbox and Airbnb—have become large household names. The combined market valuation of Y Combinator's companies exceeds $80 billion, according to the company website.
Y Combinator couldn't be reached for immediate comment.