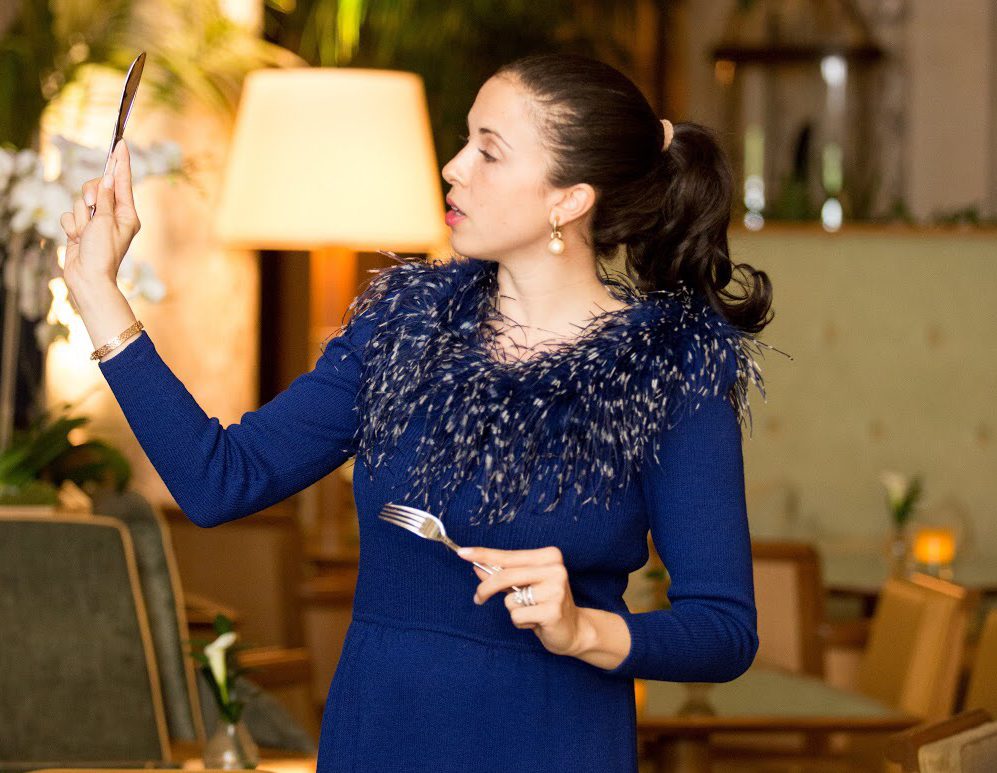 Last Thursday evening, Myka Meier nestled into a glittering marble corner of the Palm Court at the Plaza Hotel. Between carefully-tipped sips of champagne and bird-like bites of petit fours, the Beaumont Etiquette Founder (and Observer contributor) instilled to a group of wide-eyed guests the single most important thing a holiday host needs to know: when it comes to etiquette, the priority should be to put people at ease. But because comfort is, of course, open to interpretation, below is my best attempt at notes. Hopefully, this is as effortless to implement as Meier makes it seem.
Lead the conversation. As the host, it is your job to ensure dinner doesn't veer off course, crashing into conflicts of politics, sex or religion—the three hot buttons that will inevitably make any room of strangers decidedly wrecked. Begin the night prepared with talking points and seat your guests according to overlapping or complementary interests. Split couples or they'll likely spend the evening staring only at each other—and, whenever possible, follow a male-female-male-female pattern around the table. Side note to guests: never talk Trump.
Always have a drink in hand. There are unfortunately no excuses for the pregnant, sober, or sufficiently-hydrated—without a beverage, you're cold and unapproachable. Serve wine and sparkling water in stemmed barware, and hold your glass (in your left hand, so the right is free to make acquaintances) as close to the base as possible. The higher your grasp is to the globe, the less sophisticated you look. Take every sip from exactly the same spot, to avoid smearing a waxy ring of kiss prints around the perimeter of your drink.
Be wary of asking guests to remove their shoes. Anyone attending a holiday fête (especially in New York) is sure to put thought into their ensemble. Be warned, that by requesting the removal of shoes upon arrival, you might also force guests to part with something else: their confidence. It takes a special kind of person to want to walk around barefoot—or worse, with half a red toenail—meeting new people. If you absolutely must protect your new hardwood floors, provide slippers. Meier recommends this (closed toe!) 12-pack from Amazon, which can be offered in a basket by the front door.
Ensure everyone has at least two dishes to eat. In our era of gluten allergies, dairy aversions, and Goop-inspired restrictions, responsibility falls on the shoulders of the host to ensure all valid, if neurotic, dietary needs are met. At the moment you extend a dinner invitation, ask your guests what they cannot eat and cater the menu accordingly. For example, if a vegan is attending, be sure to provide at least two plant-based, cruelty-free options. Side note to guests: dietary restrictions are very different from dietary preferences. It is never okay to warn the host that you simply do not like something. 
Apply humor generously. In the case of a broken oven, botched bird or belligerent guest, do your best to keep your cool. Don't make an unsavory situation worse by blowing your lid in front of a fine group of folks who are already (certainly) stressed by inclement weather, wish lists, mall fights, travel delays and yet another year of half-hearted resolutions. Plan ahead, knowing which Chinese/Indian/Pizza joint you can keep on Christmas Eve speed-dial, in the event you must make light of a semi-frozen turkey with an extra round of egg rolls.
Never ask your guests to leave—instead, try tequila. Of all scenarios you'll navigate while hosting, the end of the party can be the most awkward. "After four candy cane martinis, there's a good chance your guests won't pick up on the non-verbal cues that you're calling it a night," Meier warns. When cleaning up, blowing out candles, offering coffee, turning down music, and suggesting the party "move to another room," all fail to send a signal, Meier pulls out the big guns. "Nothing ends an evening more quickly than tequila," she winks. Sounds risky—but she seems to know what she's doing.