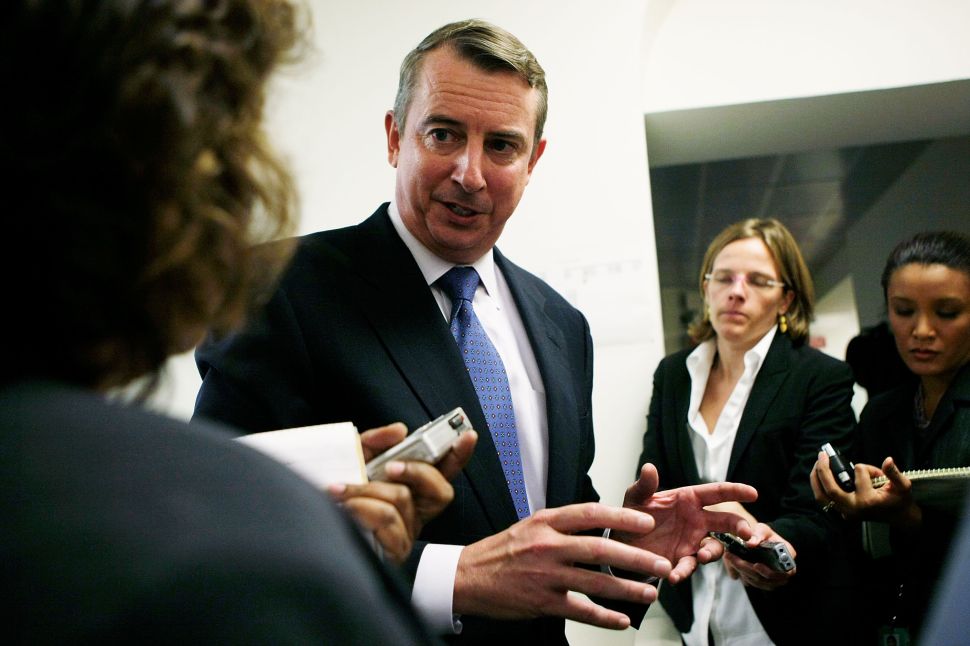 Police slammed a reporter to the ground before a campaign event for Virginia GOP gubernational candidate Ed Gillespie. Shareblue Media's Mike Stark was filming Gillespie's van arriving at a Virginia parade on Saturday when a police officer asked him to step away from the road. In a video released Tuesday, we see the pair argue as Stark backs up onto the sidewalk.
"I'm just a reporter doing my job," Stark says.
"If you curse again, you will go to jail," the officer tells him.
"F—- this!" Stark yells as the officer pushes him against a fence and attempts to handcuff him. Another officer grabs the reporter's leg, shoving him to the ground as Stark yells out, "Stop, I will give you my arm." Four more officers rush over, piling on top of one another to apprehend the reporter while kicking his legs.
Although one of the officers claims in the video that Stark is being arrested for public swearing, court records show Stark was taken into custody for disorderly conduct and avoiding arrest. Shareblue confirmed Stark was released on a $3,000 bond.
Fairfax County police have opened an internal investigation. During a Tuesday press conference, Fairfax County police chief Edwin C. Roessler Jr. defended the officers' actions, claiming Stark was being disruptive and using foul language at a family-oriented event.
"I'm standing before you to defend the lawful actions of my police officers enforcing the law and protecting the community at a parade," Roessler said, later adding that the officers will remain on active duty during the internal probe.
According to Shareblue, the first police officer was accompanied by a woman who previously objected to Stark's presence at Gillespie's events.
Stark's arrest represents the escalating violence reporters face in the Trump era. Throughout President Donald Trump's campaign rallies, the president regularly instructed crowds to insult the media and assault protestors. At a campaign event in February 2016, U.S. Secret Service and local law enforcement threw a TIME photographer to the ground in a chokehold. Aaron Cantu, who has written for VICE, The Intercept, and Al Jazeera America, and photographer Alexei Wood currently face 10 and 70 years in prison for documenting inauguration protests earlier this year (both were indicted alongside 210 protestors). In May, Republican congressman Greg Gianforte physically assaulted The Guardian's Ben Jacobs, later issuing an apology.
The authoritarian overtones towards the media, set by the Trump administration, threaten the First Amendment, especially when a new debate over free speech versus hate speech further divides Americans. As partisan ideologies culminate in violence and arrests, tribalism is cemented as the status quo.