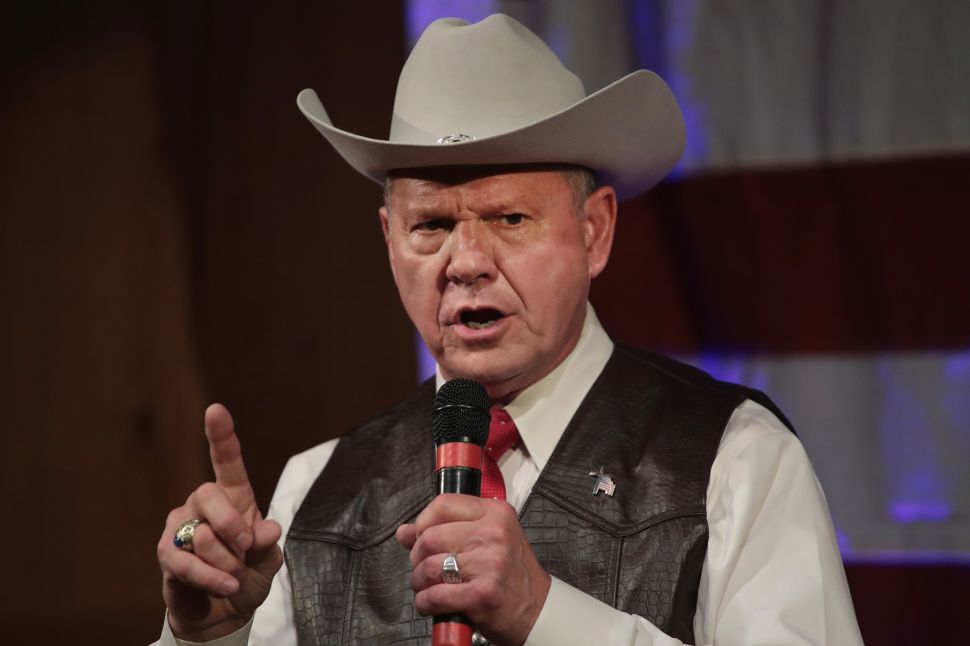 The sexual misconduct scandal embroiling Roy Moore is dragging him down in the polls. And it's not just female voters deserting him—his ratings are falling among men too, putting Jeff Sessions' former seat in play for Democrats in December.
After the primaries, times were good for Roy Moore, the former Chief Justice of the Alabama Supreme Court. Though he had been impeached and removed from that office, the voters had returned him to power. And he had just upset sitting Alabama Senator Luther Strange in the runoff for the nomination. Plus, he was averaging a nearly 10 point lead over his Democratic rival, former U.S. Attorney Doug Jones, in Real Clear Politics (RCP) survey averages.
But that gap narrowed in October, as Jones, best known for trying the Birmingham church bombing case that killed four young girls, pressed his case. Still, the average polls for the month showed the lead had shrunk, but Moore still had a 7.33 percentage point lead in RCP poll averages.
However, after the Washington Post reported that he sexually harassed a then-14-year-old, as well as three other teenage girls, Moore's lead plunged. He now sports a statistically insignificant 1.3 point lead, thanks to Emerson, which maintains the Republican nominee has a 10 point lead. Others aren't so sure. Opinion Savvy claims the race is tied, while JMC Analytics contends that Jones has a four point lead. These are the same firms surveyed in the September race.
When asked specifically about the scandal, just under 30 percent said they would support Moore despite the allegations, in the JMC survey, while 38 percent said those allegations would make them less likely to vote for Moore. A third of Alabama voters surveyed said the scandal would not affect their vote.
The Role of Gender in Closing The Gap
Female voters are more impacted by the revelations, but mens' attitudes have changed as well.
Before the revelations, the female vote was split between Moore and Jones, but now women support Jones 48 to 42 percent, a major swing in a short period of time. Clearly the sexual misconduct allegations played a role in Jones taking a lead in the JMC Analytics poll.
But mens' reactions are what's causing the race to be so close. In October, men backed Moore by a 54 to 38 percent margin, but support for Moore among men has fallen to a 47-47 percent tie, according to JMC Analytics.
What Is Likely to Happen?
Former Alabama state legislator, congressman and Secretary of State Glen Browder told Observer, "The situation is too volatile. And it's several weeks before the election. This seems to be developing into a mini-version of Trump versus the political-media establishment. I'll bet the Alabama Republican Party leaders are going nuts and looking for every poll available about how this is likely to turn out."
Browder added, "Really, they're in trouble whatever they do."
Given the gravity of the scandal, Republicans may not want to risk losing the seat by endorsing a write-in candidate. But the allegations against Moore are moving this race from likely Republican to toss-up. And should more evidence emerge, Republicans must ask themselves if they're better off without him in the U.S. Senate.
John A. Tures is a professor of political science at LaGrange College in LaGrange, Ga. He can be reached at jtures@lagrange.edu. His Twitter account is JohnTures2.