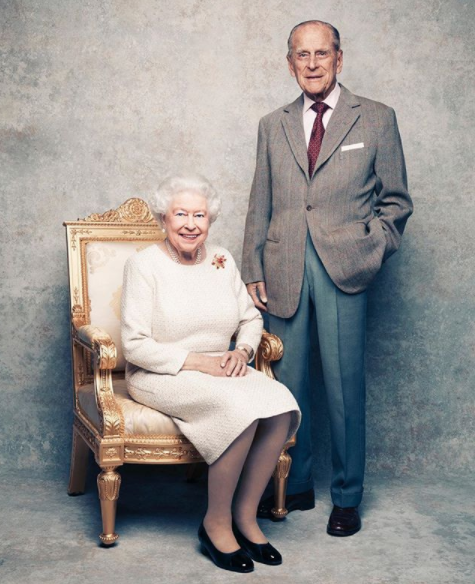 Queen Elizabeth II celebrated her 70th wedding anniversary by going horseback riding on the Windsor Castle grounds. Yes, while you still get winded walking up the stairs to the subway, the 91-year-old Queen easily takes her pony for a jaunt.
Of course, Queen Elizabeth is a notorious animal lover. Just look at her collection of corgis and dorgis, who we assume celebrated her anniversary by her side. The royal was spotted on horseback last in March of this year, after recovering from a winter cold. Each time she's been snapped, she's been wearing a silk scarf instead of a helmet. According to The Telegraph, it's because she doesn't want to ruin her hair, just in case she has any royal appointments later in the day.
Queen Elizabeth has been riding ever since she was three. Since then, she's galloped alongside President Reagan, and most recently with Head Groom Terry Pendry (unfortunately, Prince Philip did not join her, as her husband has been busy embracing his retirement). Her latest ride took place one day before her platinum wedding anniversary, which she celebrated with a series of portraits by Matt Holyoak. The anniversary will also be celebrated with a set of commemorative stamps with pictures from her wedding and honeymoon in 1947, so start preparing your love letters to Prince Harry in advance.
They continued their anniversary celebrations with a dinner party attended by the rest of the family, although there was no Meghan Markle sighting. Instead, Prince Harry rode alongside Kate Middleton and Prince William. Princess Beatrice and Princess Eugenie also attended the festivities.
Theirs is the longest royal marriage of all time, giving Prince William and Prince Harry something to aspire to. While Prince Philip has made some controversial comments over the years, he seems to be happily settling into retirement, with little dissension. And if he does say something disreputable, Queen Elizabeth can always simply take out her aggression during her horseback ride.