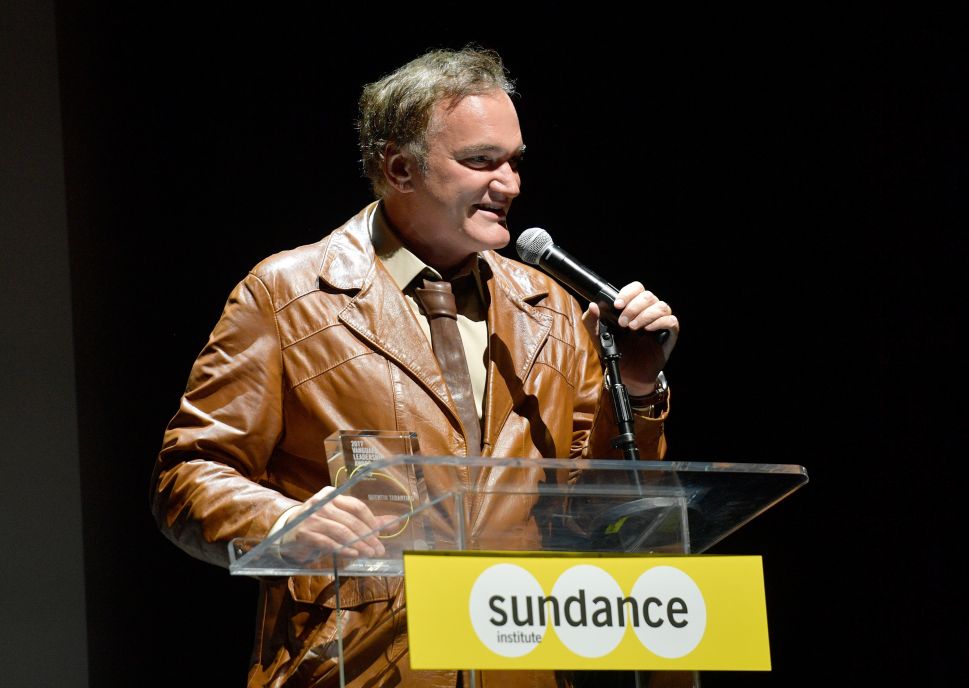 Oh Hollywood, you fickle beast with conflicting reports and mounds of misinformation. Will you ever not be entertaining?
Over the summer, it was reported that Quentin Tarantino's new film would revolve around the Manson Family. But it turns out that may not be 100 percent accurate.
"It's not Charles Manson, it's 1969," Tarantino said at an award-season post-screening brunch for Sofia Coppola's The Beguiled, per Indiewire. Interesting, very interesting. Those that have been tracking the project's development have been under the assumption for months that Charles Manson and company took center stage. If they aren't involved, or are only tangential to the main story, then what is the movie actually about? We won't lie, we're intrigued by this mystery, especially after the script leak of The Hateful Eight.
Recent reports have likened Tarantino's script, which he said he finished five months ago, to Pulp Fiction with multiple inter-connected stories taking place concurrently. Casting rumors have been swirling around Margot Robbie as Sharon Tate and Jennifer Lawrence, Brad Pitt, Samuel L. Jackson and Leonardo DiCaprio all being offered roles as well. The latter three are familiar faces to QT fans.
The untitled ninth directorial effort for Tarantino will be his first without the involvement of Harvey Weinstein. Per Indiewire, Tarantino recently wrapped up a round of pitch meetings last week set by WME from five studios with worldwide distribution. Given the family-friendly, four-quadrant strategy of Disney, it's no surprise that they are not bidding on the film. Perhaps a couple of the major studios who aren't doing so hot in Hollywood's franchise wars could take a crack at a much buzzed-about prestige project such as this. It can't hurt.
"It's a level playing field," Tarantino told the outlet of the courtship. However, when asked how he's going to make his decision, he simply said, "I don't know." For someone known for his dialogue, the director seemed to be quite picky with his words.
Tarantino has long maintained that he only plans to direct 10 feature films in his career. If he holds true to that ambition, this untitled not-a-Manson-family movie will be his penultimate effort. Cinema will miss his sharp wit and clever pop culture references.