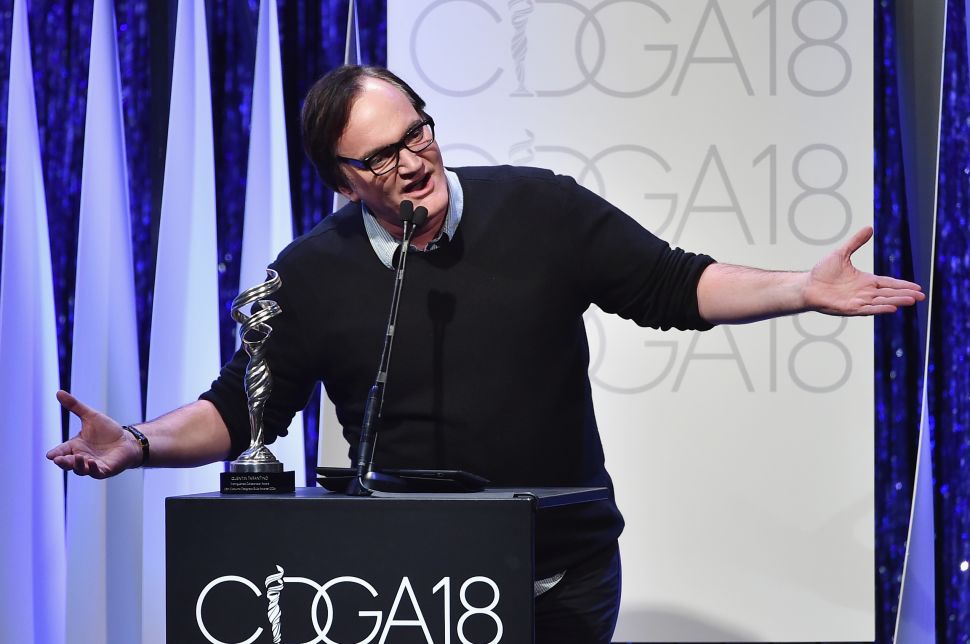 There's been quite a bit of talk about where Quentin Tarantino's next film will land following the Harvey Weinstein scandal. Up until this point, all eight of Tarantino's directorial efforts have come from Weinstein's Miramax or TWC. But with the director hitting free agency, nearly every big studio has been bidding for his services. It's easy to see why his availablity has stirred the industry into a frenzy as his last three films have averaged $300 million at the worldwide box office and won a combined four Academy Awards. This has been a big deal.
After much deliberation, Tarantino has finally chosen a winner and it is Sony Pictures.
THR reports that the studio will finance and distribute the director's next film, which is believed to be somewhat about the Manson family. It will be set in "1969" and, similar to Pulp Fiction, will reportedly feature several concurrent narratives. Tarantino has already started to put together an all-star cast, with Margot Robbie reportedly being offered the role of Sharon Tate. Jennifer Lawrence, Brad Pitt, Samuel L. Jackson, Leonardo DiCaprio and Tom Cruise are also rumored to be targets for the filmmaker as well.
This is a big get for Sony Pictures, which has been struggling in the ongoing Hollywood franchise wars of late. Though Spider-Man: Homecoming ended up as a big winner both critically and commercially (and gave the studio enough confidence to kickstart Venom with Tom Hardy), Sony is on the verge of losing the James Bond franchise. If you can't beat the other major studios in the clash of blockbusters and you can't join them on an even playing field, you might as well swing the other way and focus on smaller-scale prestige projects that make solid money and drum up serious awards buzz. Sony could do a lot worse than trot out a Tarantino Oscars contender every few years.
This deal opens to the door for Sony to potentially handle at least two films from Tarantino, who has long said he only plans to direct 10 features (the Manson family movie will be his ninth). It also helps the studio in terms of reputation. All in all, this is a great move for Sony. Hopefully the movie is equally as good.