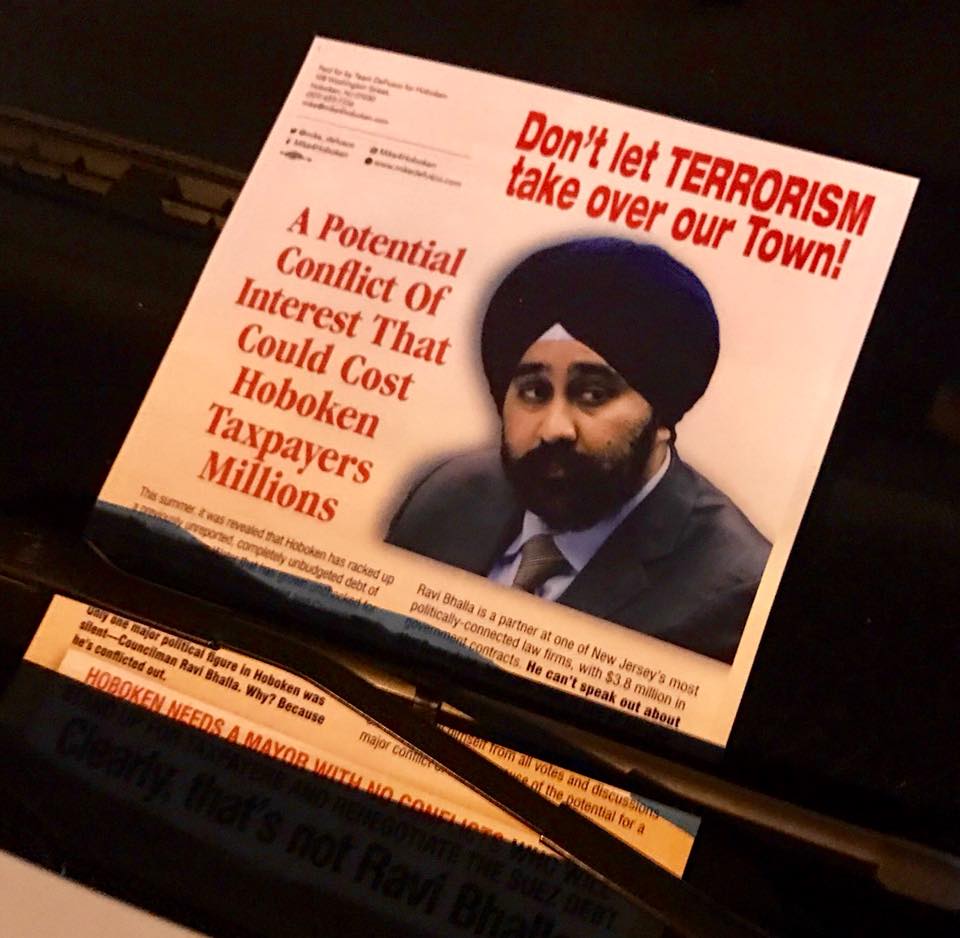 Racist campaign literature has been distributed in two New Jersey towns with large immigrant populations ahead of Tuesday's election, in both instances targeting Asian American candidates.
In Edison last week, an anonymously distributed mailer targeted school board candidates Jerry Shi and Falguni Patel, showing their photos with the word "DEPORT" emblazoned underneath in red capital letters. "The Chinese and Indians are taking over our town!" it read.
The mailer asked voters to "Make Edison Great Again" — riffing on President Trump's campaign pledge to "Make America Great Again."
In Hoboken, campaign flyers surfaced on Friday falsely sliming mayoral candidate Ravi Bhalla — a Sikh who wears a turban in accordance with his faith — as a terrorist. Above a photo of Bhalla, the flyer read, "Don't let TERRORISM take over our town!"
The Hoboken flyer, which was left on residents' windshields, superimposed the "terrorism" slur on an earlier piece of campaign literature from another mayoral candidate, Councilman Michael DeFusco.
"A disgusting, racist flier was found on car windshields tonight that altered one of my campaign's mailers and added a racist epithet aimed at Ravi Bhalla," DeFusco said in a statement. "I condemn this piece of racist garbage in the strongest possible terms."
The other candidates running for mayor, including Freeholder Michael Romano and Councilwoman Jen Giattino, also condemned the flyers and denied any involvement with them.
Hoboken Police Chief Ken Ferrante said on Twitter that his department is investigating the episode as a possible bias crime.
Hoboken police also posted security camera footage on Twitter of a man carrying what appeared to be the racist flyers, asking people to help identify the man.
In a statement responding to the flyers, Bhalla said Trump was a factor in the current political climate.
"I want to use this incident as an opportunity to affirm to each other and our children the value of living in a diverse community where we are judged by the content of our character — not by the color of our skin or how we worship," Bhalla wrote on Facebook. "At this time in our nation's history when we have a President who seeks to divide us, it is critical that we come together as a community and stand up for American values."
Representatives from the Lawyers' Committee for Civil Rights Under Law and the New Jersey Institute for Social Justice said in a conference call with reporters on Monday that the racist campaign literature coincided with an uptick in anti-immigrant sentiments and an increasing number of hate crimes in the United States following the 2016 presidential campaign. Trump famously campaigned on an anti-immigration platform.
"Emboldened coming out of the 2016 campaign cycle, these types of openly racist and xenophobic acts have become all too common," said Scott Novakowski, associate counsel for the New Jersey Institute for Social Justice, citing "the pervasive anti-immigrant rhetoric coming from the highest halls of power."
"It is incredibly disturbing to see this showing up on our own doorstep here in New Jersey where we are one of the most diverse states in the nation," he added.
Kristen Clarke, president and executive director of the Lawyers' Committee, called on federal and state prosecutors to investigate whether the flyers violate laws that prohibit intimidation and interference with elections. She also said that the flyers could potentially be seen as a way to undermine immigrant populations and discourage participation in Tuesday's election.
"The set of campaign appeals we are seeing in 2017 are naked in their animus and in their level of racial hostility," Clarke said. "We believe this is reflective of the intensifying hate crime crisis that we are seeing across the country and sadly a reflection of the discriminatory and sometimes anti-immigrant and xenophobic policies we have seen from this administration."
Both gubernatorial candidates, Democrat Phil Murphy and Republican Kim Guadagno, denounced the mailers after the Edison incident.
Guadagno's campaign has been criticized in recent weeks due to her tough rhetoric in a TV ad on undocumented immigrants who commit violent crimes. Guadagno has rejected those claims and said that the underlying issue — potentially making New Jersey a so-called sanctuary state — would be dangerous for residents.