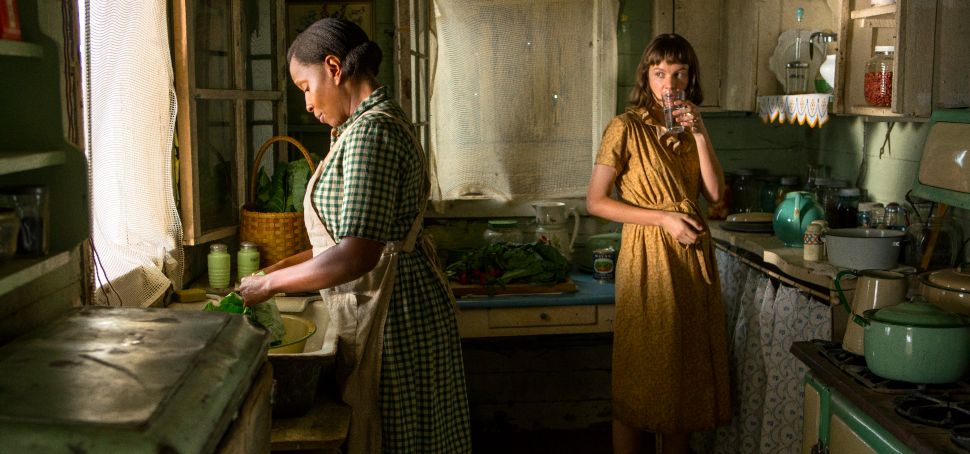 Mudbound is a sprawling epic about the complex relationships that connect two families of sharecroppers, one white, one black, in a rural, barren section of the Mississippi Delta in the years during and after World War II. Written and directed by Dee Rees from a labyrinthine novel by Hillary Jordan, it's the kind of movie they rarely make any more—heavy on plot and character development and more literary than cinematic—but so skillfully directed, photographed and acted that it sucks you into its powerful emotional storyline from the start and holds interest to the finish. Despite its length and intricacy, you can't call this one boring.
Carey Mulligan is Laura, the maternal centerpiece of the McAllan family—a bored but well-bred 31-year-old virgin from Memphis who marries Henry McAllan (Jason Clarke) out of desperation to escape an unhappy life, only to find herself bearing two children and whisked off to Mississippi where Henry has bought a cotton farm on a patch of barren land. Difficult as this is, Laura's greatest test of endurance is perhaps adjusting to living with Henry's vile, vicious and openly prejudiced father Pappy (Jonathan Banks).
Instead of being a landowner with a lucrative future, Henry discovers he's been swindled and Laura finds herself living in a run-down shack on the land without electricity or running water, where her only luxury is one hot bath a week. Living in equally abject poverty nearby is the Jackson family, headed by patriarch Hap (Rob Morgan), a preacher and tenant who labors over the 200 acres he will never own, and his hard-working wife Florence (Mary J. Blige) who plows the fields, raises her children, and works as Laura's maid. The film follows them all through tragedy and turmoil, connecting their fates through a thread of circumstances, some of which seem contrived and better suited to the pages of a book than the reels of a movie.
The long-winded trajectory spans several time frames, including the bombing of Pearl Harbor in 1941, which forces Henry's brother Jamie (Garrett Hedlund) and the Jacksons' oldest son Ronsel (Jason Mitchell) to leave home for the trenches on the European front. Ronsel is recruited to fight in a tank brigade, while Jamie trains as a fighter pilot in the air force. The film really gets started when the boys, now mature men with some age and life experience under their belts, return to Mississippi as psychologically damaged war veterans and slog their way through the challenges of civilian life in a postwar Deep South ruled by bigotry and ignorance. Jamie has turned to alcohol to mask his pain and Ronsel has discovered the true meaning of love and responsibility after falling for a white German woman. Forming a close bond based on their shared memories of war overseas, their unlikely friendship causes endless problems in a country town fueled by hate. Add whooping-cough, miscarriage, adultery and the Ku Klux Klan, and you've got the ingredients for a chicken-fried saga that takes place almost entirely in the mud.
---

MUDBOUND★★★
(3/4 stars)
Directed by: Dee Rees
Written by: Dee Rees, Virgil Williams (screenplay) and Hillary Jordan (novel)
Starring: Carey Mulligan, Mary J. Blige, Jason Mitchell, Jason Clarke, Garrett Hedlund, Rob Morgan and Jonathan Banks
Running time: 134 mins.

---
Dense plotting leads to melodrama that threatens to plunge the whole thing into a three-hankie tearjerker, and I could do without the awkward narration from three points of view that keep the parallel stories moving. But writer-director Dee Rees has a firm hand and a clear vision that gives Mudbound a balanced coherence that keeps you involved. She makes you feel the dirt and toil staged against a backdrop of poetic landscapes that look like primitive paintings ready for a gallery retrospective. There are so many things happening at once that it's not always easy to separate them. I was most often touched by the predicament of Ronsel Jackson, who comes home from the war a decorated hero and still has to sit in the back of the bus. On the European front, General Patton used him on the front lines, but back in Mississippi he had to use the back door to the general store.
Mudbound explores the plight of blacks and whites alike, united in their penury, and also movingly shows how oppressed and conflicted women from varied races and educational backgrounds formed sisterhoods out of mutual human needs. The relationship between Florence Jackson and Laura McAllan is undeniably intricate, both women throwing their lives away in different ways. It's always a treat to watch Carey Mulligan tackle any role, and although I consider rock singer Mary J. Blige a raspy and annoying musical aberration, her first screen role as the dignified, long-suffering Florence is mesmerizing. The other actors are all wonderful, but their big scenes are a long time coming. There are times in Mudbound when I felt like they should have called it Stuck-in-the-Mudbound.