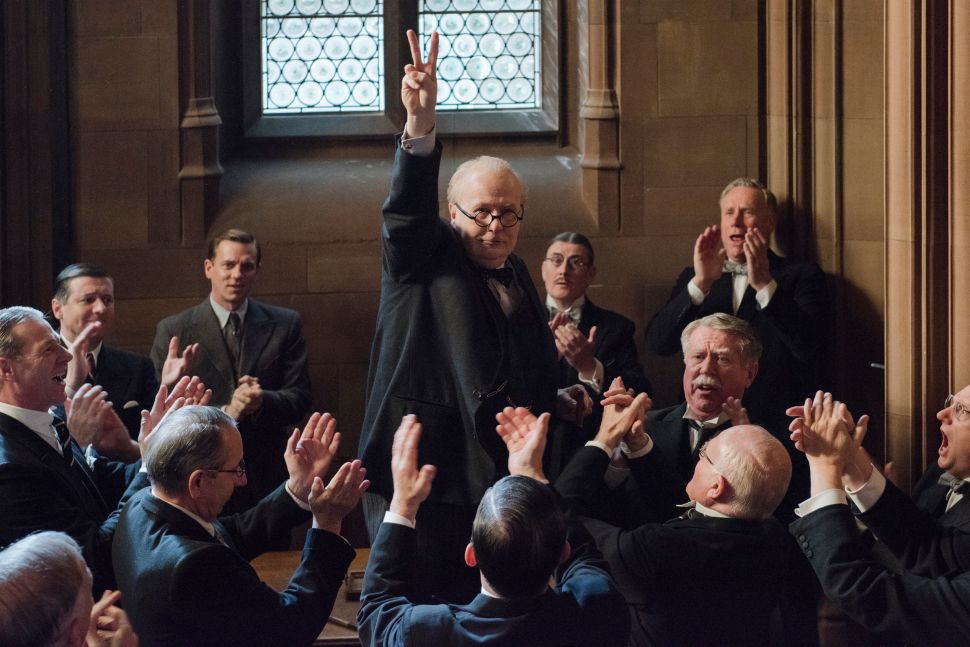 Gary Oldman is so consummate and magnetic as Winston Churchill in Joe Wright's Darkest Hour that his performance is almost a welcome distraction. Watching his gruff, ragged finesse as he orchestrates the behind-the-scenes strategy that led up to Dunkirk in this war picture without war almost makes you forget what a thumping bore everything is around him. I confess I had a tough time staying awake, but watching Oldman prove once again he can tackle any role (murdered gay playwright Joe Orton, robocops, apes, spies, Lee Harvey Oswald, Dylan Thomas, Sid Vicious, Ludwig van Beethoven and Dracula, to name a few) and make it a personal victory worth rejoicing is nothing short of electrifying. He charges every scene with dynamite, even when the movie does not.
It begins in May, 1940 when the threat of Nazi invasion is imminent. Parliament has lost faith in Neville Chamberlain and, amid much controversy, appointed Churchill the new prime minister. It's worth reiterating that America has always revered him with more fascination than the Brits. The screenplay by Anthony McCarten catalogues England's mixed sentiments. They resented his refusal to hold any peace talks with Nazi Germany and his unwavering passion for open war. His country took its time warming up to their leader.
Heavy losses at Dunkirk did not go down easy, but in retrospect, compared with the inevitable losses that would have added up without Churchill urging civilians pitch in with everything from canoes to ferry boats for one of the most heroic rescues in World War II, it was a major triumph. The film accomplishes all of this, mind you, without firing one shot. A war picture with no combat, or a film about London during the Blitz without an air-raid shelter guarantees a certain ennui, and Darkest Hour never completely soars above its moribund inability to move beyond a certain tepid paralysis.
Not that Churchill was the same one-man show Oldman is. He had trepidation and fear only his devoted wife Clementine could ease, although the patrician strength of Kristen Scott-Thomas is somewhat wasted in the role. "Here's to not buggering it up!" he toasted, when he faced the enormous job ahead. And he didn't. But waging war almost immediately, trying to please both houses of Parliament as well as the royal family, forming a new war cabinet that diplomatically included his old nemesis, Chamberlain, and keeping up England's flagging morale while a big chunk of Europe was either invaded or caving in to Adolf Hitler's tyranny with terror (Churchill never forgave France for the Vichy government) was a Herculean task.
The movie limits Churchill's dynamism to war rooms, historic Parliamentary speeches, and newspaper headlines. Instead of action, it's a talkathon. Kudos to everyone involved for adding enormous doses of humor. In one of his tense exchanges with King George VI (another great cameo by the versatile Ben Mendelsohn), he is challenged and sarcastically rebuked for guzzling whiskey before breakfast. "How do you manage drinking during the day?" asks His Royal Highness, whose disapproval of Churchill is one of the film's revelations. "Practice," the Prime Minister replies testily.
---

DARKEST HOUR ★★1/2
(2.5/4 stars)
Directed by: Joe Wright
Written by: Anthony McCarten
Starring: Gary Oldman, Kristen Scott-Thomas, Ben Mendelsohn and Stephen Dillane
Running time: 125 mins.

---
Gary Oldman delivers both the one-liners and the long, numbing speeches with equal brilliance. Portly, cigar-puffing, rude, irritable, and thick-jowelled with a thinning thatch of peach-fuzz hair, it's another sensational entry in Oldman's memorable portrait gallery. Stomping through 10 Downing Street barefoot, in his night-shirt, smoking those nasty foot-long cigars, he's a force for an entire nation to reckon with. Sometimes he plowed his way out of the bath soaking wet, flying into his secretary's typing alcove stark naked. Today he would surely top the list of deposed politicians accused of inappropriate sexual behavior. The film collates an imbroglio of impressions and facts, summing up Churchill's ability to instill courage and hope in his people in the face of defeat, without giving in or giving up, even in the "darkest hour." But even though it does so through a dull and talky haze of cigar smoke, it is always Gary Oldman's phenomenal performance that keeps the film airborne.