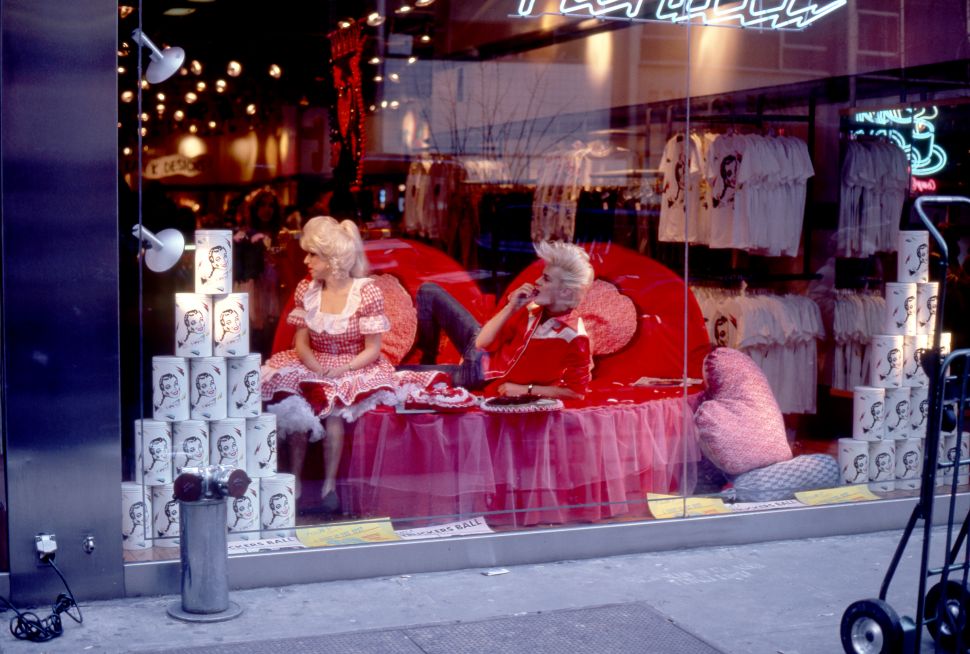 "Club 57: Film, Performance and Art in the East Village, 1978-1983," the salute to the East Village church basement space of the same name, snakes through the underground hallways that lead to the cinemas downstairs at New York's Museum of Modern Art.
In homage to the notion that anything can be a gallery, most of the wall space is covered with art or something like it, which used to be the rule in the small East Village warrens of the late 1970s and early 1980s.  At MoMA, it's an installation motif designed to give you the feel of bohemia from almost forty years ago. Today's MoMA of high-rise real estate is anything but that, but keep your eyes on the walls, and the gambit works while you're downstairs.
On view are a hodgepodge of things in the broad territory that extends from art to ephemera—paintings, drawings, xeroxed invitations, and a long ongoing loop of films from that era, which you can watch on chairs that are uncomfortable enough to take you back in time.
The exhibition is a time capsule. The first thing I felt in those galleries was the energy of the images on paper that seemed slapped on the wall. Invitations to performances, many of them by women, leapt off the 8 and a half by 11 sheets. Some artists' names may be familiar—Kenny Scharf, Keith Haring, John Sex, Ann Magnuson, David Wojnarowicz. And they may be less familiar—John Ahearn, Edward Brezinski, Stephen Tashjian.
The handmade work defies the art market. Not much of it—with some notable exceptions—would have much resale value today, but the archival value is tremendous. As the film critic J Hoberman said about the piles of what seemed to be trash left behind by the another East Village figure, Jack Smith—"it's worthless, but it's priceless."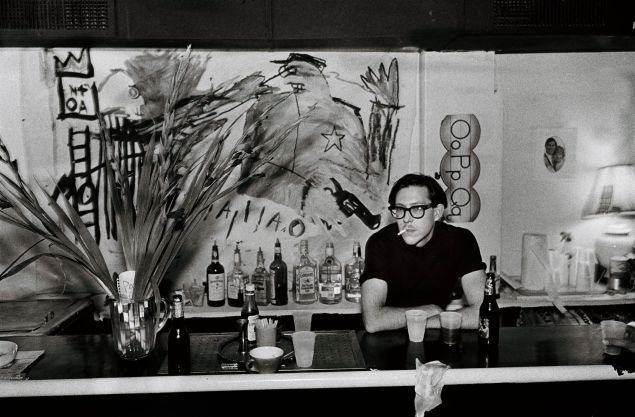 If there's value, it might be in the work of Richard Hambleton, the painter of ghostly ink blot figures—first on walls, then on canvas—who died last week. A collector of work by his peers, Hambleton sustained a drug habit by selling things when he needed a fix. "Meet me at a cash machine," he would often gasp over the telephone. He's represented in the exhibition by a single painting, Untitled Shadowman, a hauntingly symmetrical tremulous figure immersed in a centrifugal light. For a while, Hambleton was as celebrated as Haring or Jean-Michel Basquiat, who is represented by a single sheet of paper. The drugs that caught up with Hambleton (and with Basquiat) would take a toll on this generation. AIDS would take Haring and others.
Haring's work is all over the MoMA show, from videos to invitation flyers in the medium of Xerox. I was struck by For Kenny, an 8 and a half by 11 sheet in pencil, half of which is a maze of microscopic Haring figures, tiny enough to be grey filigree.
Scharf, an omnipresence at Club 57, brings a surprise with a series of 1979 satirical paintings of a stylish woman somewhere between a spaceship and the Bloomingdale's parking lot. You might call it Alex Katz in electric pastel, with some Devo thrown in.
A favorite of mine is Adolfo Sanchez (1957-89), who brings some imagination to the medium of graffiti. His Self-Portrait Montage, which spans a gender spectrum across sheets of copy paper, is guerrilla Warhol and more. Embellished Weber Poster (1985), is an annotated glossy fashion still that turns a hunk into a corpse.
On film, the standout was Bronx Subway by John Ahearn, a walk through a train that gets you back to New York grit, from the graffiti everywhere to the number of passengers who are either asleep or unconscious. Whatever the vital signs seem to be, the rudimentary camera makes skin look like marble. The range of reactions from passengers reflect a time before the iPhone loaded on the image glut.
I watched Ahearn's film and looped performances from Club 57 with Ann Magnuson, a co-curator of the show, a lender, and a performer and manager (1979-80) at Club 57. Magnuson's calendars for the club, on display, are wonderfully clever collages.
"We all found each other and just exponentially grew. I certainly encouraged everybody to participate, so I could fill up the calendar," she said, looking up at mute subject in John Ahearn's subway odyssey. "Now that was typical New York, a guy nodding out."
"There's so much obscure stuff that's been found. This is the tip of the iceberg," said Magnuson, who's lived in Los Angeles since she lost her New York apartment years ago, "there are hundreds of untold stories, hundreds of artists who have not been recognized."
Had Magnuson saved anything from that time? "Everything. My grandmother saved everything. My parents saved everything, so I have the rat-pack gene," she confessed.
Turning to the screen, where a video of Club 57 by Barry Shils was playing, she said, "This is John Sex's first strip-tease. This is where he became John Sex." The (then) young man's clothes were starting to come off.
Thinking of the artists in the show who were no longer around to experience it, she said, "I was just praying that we would survive through the night to see this."
Onscreen the music shifted to Donna Summer's "Hot Stuff," featuring a dance by none other than Magnuson herself, dressed in what looked like a cheerleader's uniform. "From a thrift shop, $2," she recalled. "Everything came from a thrift store. Those are tap shoes that I had in high school."
On screen, Magnuson pulled out a prop, a silver baton, and started twirling. She then took several balls, and juggled them with mixed results. "That, ladies and gentlemen, is performance art," she declared.
The on-screen entertainment shifted to a Club 57 spoof of the Lawrence Welk Show, led by Scharf with what looked like a Las Vegas spray-tan. Magnuson watched with a quizzical expression: "I didn't know it at the time, but he was on Quaaludes, and he did such a good job—maybe he only did one or two."
"There was more creative freedom because it was a different economic environment back then," she remembered, "you didn't need any money. My apartment was $150 a month, and I thought that was too much. I knew people who had $60 rents."
Around the corner, a white-bearded seventy-ish hipster looked at the raw display of images on the walls, and said of the curators, "I wish they had chewed their food a little better."
He had a point, but the chewing here is also a job for visitors to the show. That's how you get the flavor of what you're taking in.