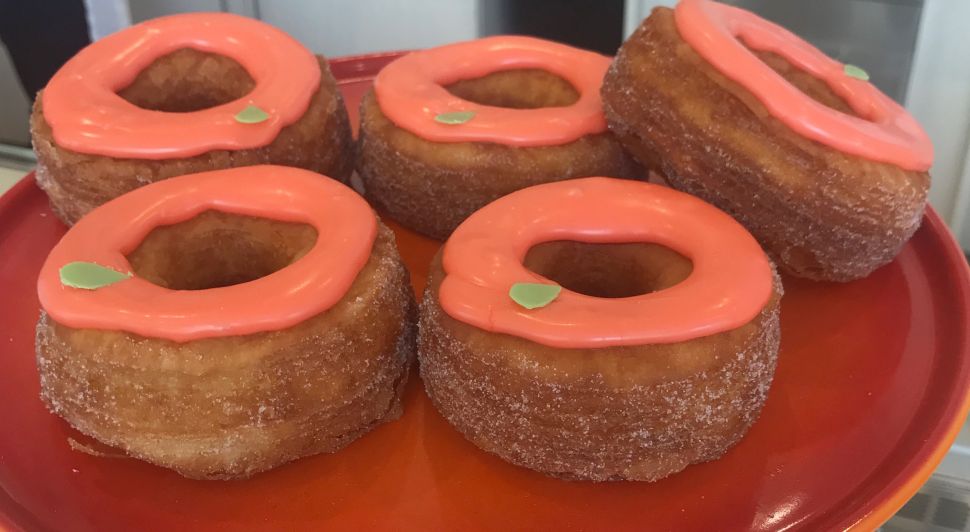 Give Dominique Ansel credit: He's not one of those out-of-town chefs mailing it in as he expands his empire.
He's a culinary icon who's considered The World's Best Pastry Chef, an A-list talent who will always be known for inventing the Cronut, even if he figures out cold fusion or personally builds the rest of the Second Avenue subway line by hand later in his life. He is a man with nothing to prove, a French chef who's already conquered New York, London and Tokyo, but who's never satisfied unless he's innovating.
So he's not just opening a bakery at the Grove in Los Angeles this week. He's also unveiling some whimsical and insane new treats that are exclusive to L.A. These include an avocado toast ice cream sandwich and a ruby tart (topped with pomegranate seeds) that (as per his Instagram) reminds him of Dorothy's slippers in The Wizard of Oz. L.A.'s Dominique Ansel Bakery opens Friday at 9 a.m., and you can expect lines from there to the Yellow Brick Road.
The craziest part is, Ansel's otherworldly bakery might be the most predictable thing he's doing in L.A. Upstairs is Ansel's first sit-down restaurant, 189 by Dominique Ansel, where brunch started this past weekend and where dinner will start on Saturday.
"I feel lucky to have a chance to do something new, something special," Ansel told Observer.
Ansel's brunch, which is known as Weekend Table, doesn't feature a traditional menu. Instead, there's a stamp card on each table listing the items that are brought around the dining room. It's like dim sum-style service, but featuring great fried oysters, merguez, roasted acorn squash, pancakes, cinnamon rolls and Ansel's famous DKA riff on a kouign-amman. It's an extravaganza (complete with a Bloody Mary cart) that feels like the love child of a buzzworthy downtown New York brunch and an over-the-top Las Vegas meal. It makes you realize that Ansel would absolutely crush it in Vegas if he ever opened on or around the Strip. (His skill at taking massive selfies would benefit him there, too.)
Dinner at the 150-seat 189 by Dominique Ansel (which includes beautiful terrace space) means tartines with baby eggplant and port-roasted figs. It means razor clams with chorizo and "a ton of garlic," as the menu describes. It means duck confit and slow-roasted lamb shoulder and grilled fruit-marinated short ribs and rotisserie baby chicken. You can also sit at the bar if you want a burger, an octopus corn dog or three different kinds of beets in a blanket.
But we understand if dinnertime guests are most excited by the new plated desserts from the chef who made the sweets at Daniel when that restaurant garnered not only its third Michelin star but also four stars from The New York Times. We're excited to try the dessert called The Well, which is milk granita, wildflower honey, passionfruit gelée and fennel. There's also a dessert called Knife Skills. It consists of apples five different ways, from a chef who's clearly making an effort. So playful. So serious. That's the Dominique Ansel way.
Andy Wang, the former real estate and travel editor at The New York Post, has covered West Coast food and drink for more than a decade.