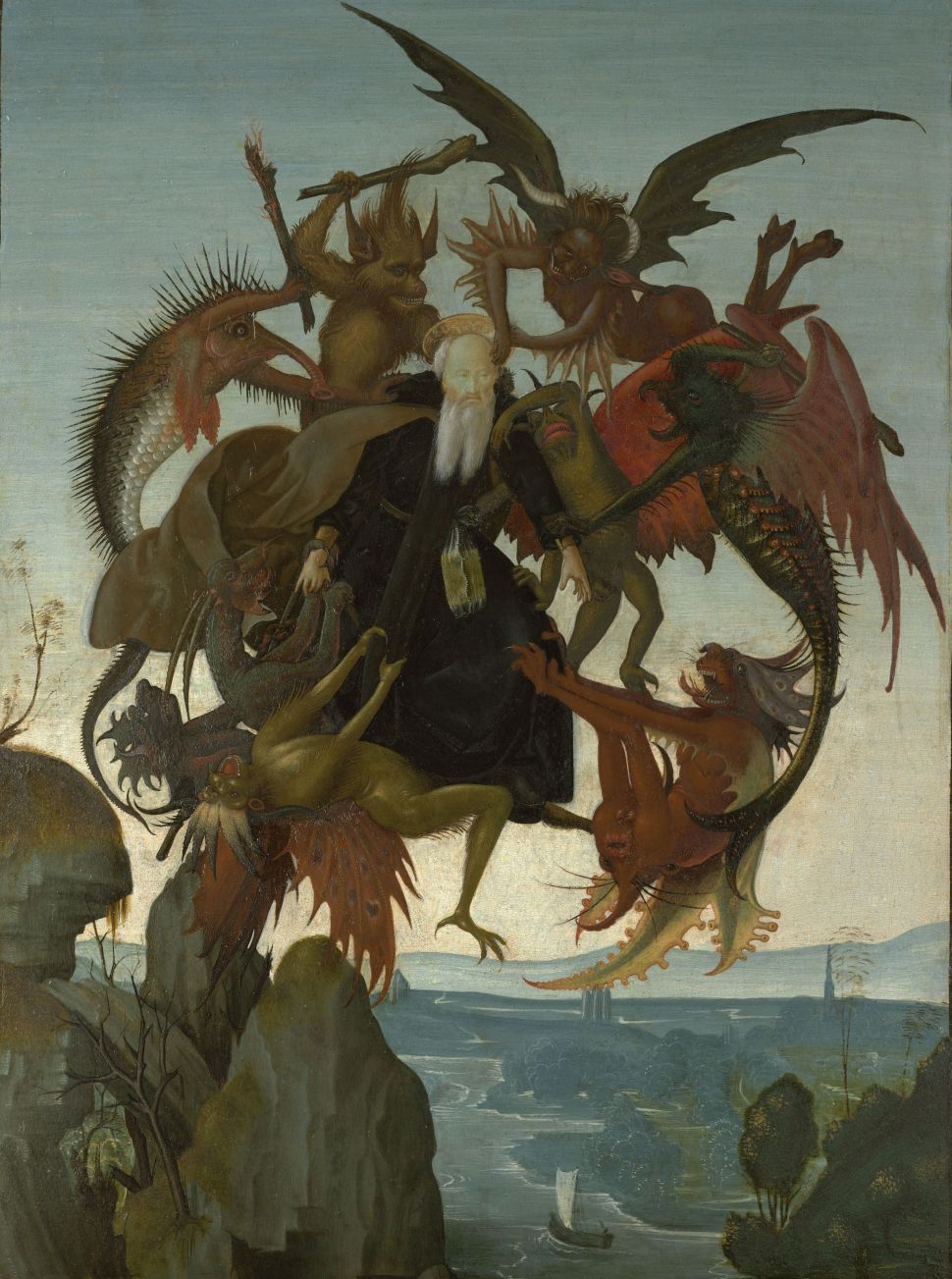 When you come upon "Michelangelo: Divine Draftsman and Designer" at the Met, you see a plastic sheet with the artist's name on it on a vast wall. The sheet suggests a project behind that frame of a barrier that's under construction, a work in progress.
That notion conjures up all sorts of things. As you walk into the show of 200 works, you see pictures by Michelangelo's teachers, masters like Domenico Ghirlandaio who influenced the young prodigy. You also see how drawing, disegno in Italian, would be Michelangelo's initial statement on any work that he made, even though he viewed himself, above all, as a sculptor.
We see his hand in plans for San Lorenzo, the Florentine church of the powerful Medici clan. We see it in the delicate sculpture of a child, Young Archer, 1490, and in the raucous The Temptation of St. Anthony, 1487-88, which he adapted from another artist's engraving when he was a teenager. And we see it in Portrait of Andrea Quaratesi, 1532, a drawing with the serene mystique of the Mona Lisa that Michelangelo made of a young man to whom he was attracted. Each of these works will stop you in your tracks.
A few words in Italian will help. Disegno means drawing or draftsmanship, but it can be understood broadly as the imagination as evidenced in the work of an artist's hand. Di sua mano, in his own hand, was what clients specified when they asked for a work by Michelangelo, or what they had when he gave them one.
Divino, or divine in the exhibition title, refers to Michelangelo's gifts and to the esteem for it among those around him. This is not a word that was used lightly.
Another key description for his work is terribile, which can mean terrible, or awe-inspiring or, to use an over-used approximation, going all the way. Terribilita is the Italian noun for that quality. The more you look, the more you'll get a feel for it.
The celebration of this exhibition in the past week is anything but hype. This is the show of the year.
In the massive catalogue, curator Carmen C. Bambach describes Michelangelo's hand incising, even excavating on the page. It's hard for a reproduction to show the topography of paper, as Bambach calls it, but you see it here in drawing after drawing. You also a see a poignant tenderness in Young Archer, the sculpture of a boy that echoes images of the Christ child, but also looks back to antiquity. You see the same soft innocence nearby in a Hellenistic sculpture from the Met's collection (third to second century B.C.) of a sleeping child.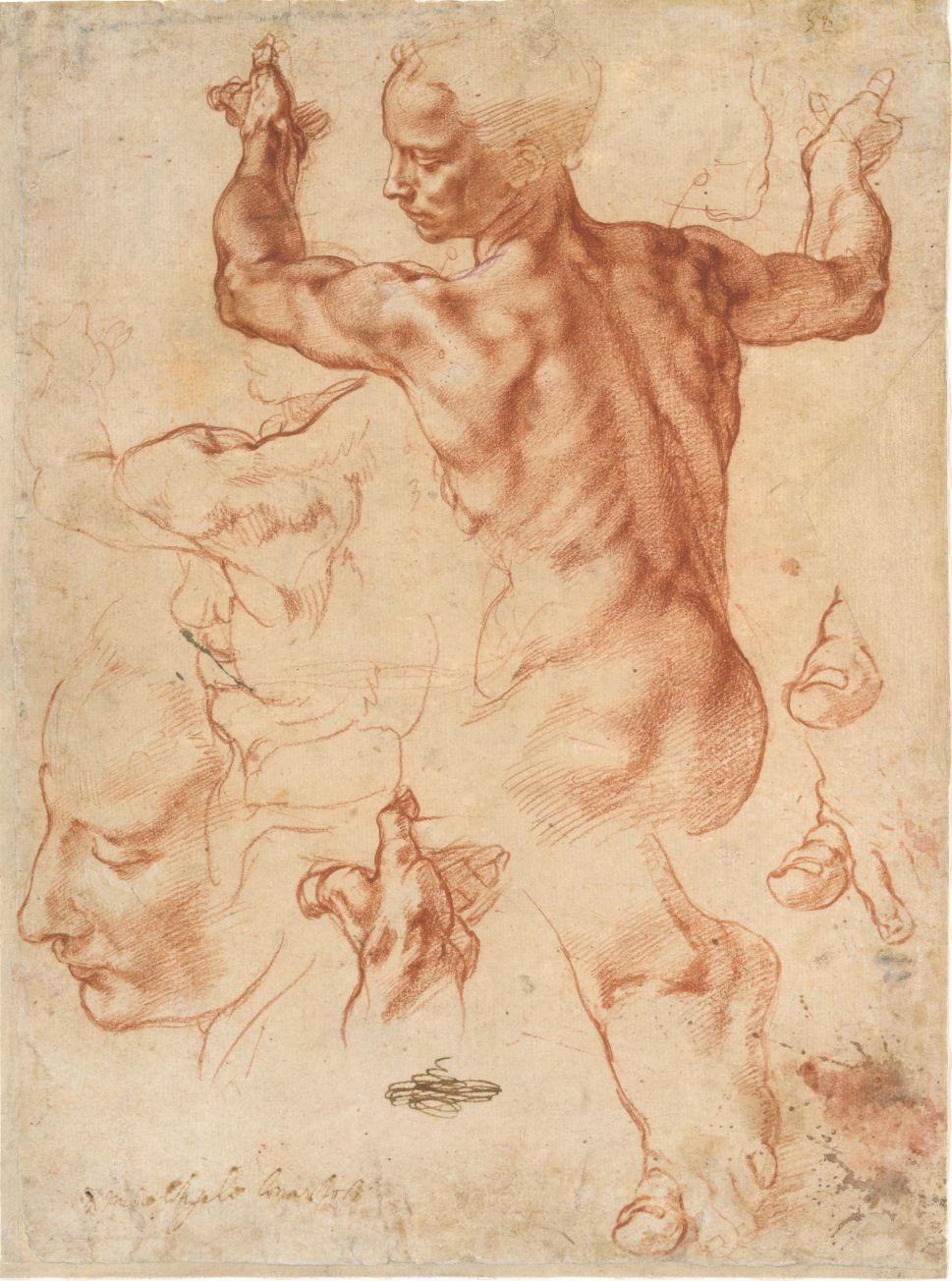 Innocent seems an unlikely word to apply to the ambitious and work-obsessed Michelangelo, yet he certainly knew how to depict it.
Then there's his terribilita. We see its sources in Battle of the Naked Men, 1470-90, an engraving of a ballet of swordsmen by Antonio Pollaiuolo, a contemporary of Ghirlandaio, his teacher. Naked men would indeed be a constant for him until he died at age 88. We reconnect with that sensibility in The Archers, 1530-33—reproduced on the catalogue cover—another elegantly choreographed ensemble of male warriors.
A notorious image among these is The Rape of Ganymede, seen in a drawing after Michelangelo's drawing of a young boy abducted by Jupiter who transformed himself into an eagle. In the stunning copy on view, dating from 1520-30 by Giulio Clovio, the eagle seizes the boy from behind. The description terribile seems to fit. Bambach suspects that Michelangelo's original may have disappeared because of censorship.
Censorship or not, the image endured in other forms. Also on view is a version of the Michelangelo Rape of Ganymede, a jewel, literally, carved in agate and barely more than an inch across. Like the drawings that Michelangelo gave to his friends, these made for distinctive keepsakes.
By the time you get to those objects, you've moved through originals and many contemporary copies (some very fine), and through sketches and finished paintings. My favorite pairing is Michelangelo's cartoon (sketch) of Venus Kissing Cupid, 1533, next to Michele Tosini's painting of the same scene. In Tosini's version, Venus's skin is a smooth as polished stone. Michelangelo's cartoon has her with the rippled bulges of his male figures. It's another reason to see the real thing, or to see the colossal fragment of another cartoon, Roman Soldiers from his Crucifixion of Saint Peter, 1546-50. Rarely has a drawing been so sculptural. This is likely to be its only trip to the United States.
On a grander scale is a vivid photographic copy of the Sistine Ceiling, on cloth, overhead in the show's central gallery. You'd call it a gimmick if it didn't make so much sense. This is the copy of copies in a show of inspired copies.
The idea behind putting a reproduction of the Sistine ceiling on the ceiling of the Met gallery, with drawings below of figures that end up in the ceiling, is to return to the theme of a work in progress. As you go through, you look at the figures in Michelangelo's drawings—sometimes several on a page—and then you look up to find those figures painted in color in the ceiling. Bambach and the exhibition designers have been kind to the public with their placement of the drawings. Most of the time, you don't have to look straight up and strain your neck to make the connections.
But back to the show's theme. The work in progress in "Michelangelo: Divine Draftsman and Designer" follows the artist's growth as he moves back and forth from drawing to painting, architecture and sculpture, and as he finds his own personal style, in which he carries much of what his teachers gave him.
The other work in progress is ourselves, the visitors and viewers, as we look and look again, and recognize what set Michelangelo apart from his peers.
That looking is one of the many pleasures of this exhibition, and it is what sets the experience of going through such a show apart from the drive-by gallery march through so much else. If art fairs (and museum shows that imitate that approach) are at one end of the looking experience, this extraordinary exhibition is at the other. We should all be grateful.
David D'Arcy is a critic and arts journalist.