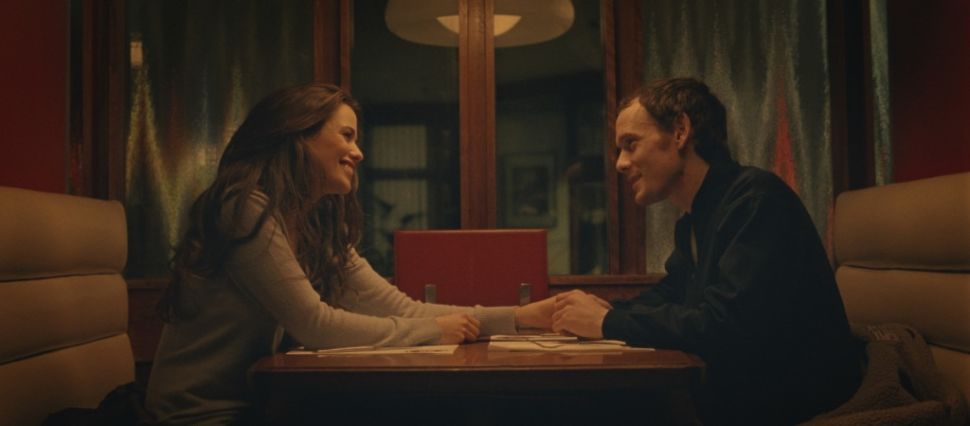 Anton Yelchin, the young Russian-born American actor who made a noise at the age of 11 costarring with Anthony Hopkins in Hearts of Atlantis, went on to featured roles in two Star Trek movies, and died tragically last year when his Jeep Cherokee slid down a steep driveway in reverse and crushed him, is now facing more bad luck, posthumously, with the release of his final film, a pretentious load of swill made in Portugal that should have been buried in a locked vault without a key.
Yelchin plays Jake, a lost, 26-year-old drifter estranged from his family and living hand to mouth in the town near Lisbon from which the film gets its title. Jake has no focus. He moves around loafing, doing odd jobs and reading. In an all-night cafe meets Mati, a French student in her 30s who has spent some time in a loony bin and is now having an affair with a much older professor she met while studying at the Sorbonne. She is a seductive cypher of a character nobody bothers to explain, played by Lucie Lucas, a terrible actress with an unidentifiable accent that cries out in desperation for subtitles. For reasons that are never explained, Jake and Mati hit the sack (or, to be truthful, a dirty mattress on the floor) and have sex so great that they fall in a swoon and start quoting Proust. The next morning, she leaves him naked and bereft, never wanting to see him again. She marries the bearded professor and has a baby.
Years pass. She's divorced, her daughter is a musical prodigy who plays the violin. It looks like they meet up and hit the sack again, but as the laboriously direction (by somebody demanding anonymity named Greg Klinger) and paralyzed writing (by Larry Gross) makes clear, all those scenes of fake orgasms are fantasy repetitions from the past. The movie shifts and shakes its way through myriad time zones. Whole scenes are repeated with halves of sentences missing for no purpose except to bore everyone to to tears. Fortunately, no scene lasts long enough to develop character or move the narrative along. It's a typical example of the kind of empty, lunk-headed movies that are made these days by directors who think it's interesting to watch two people walking down the street carrying boxes.
---

PORTO 
(0/4 stars)
Directed by: Gabe Klinger
Written by: Larry Gross and Gabe Klinger
Starring: Anton Yelchin, Lucie Lucas, Paulo Calatré and Françoise Lebrun
Running time: 76 mins.

---
For dialogue, get this. She: "Every word we are saying to each other and every gesture we make is to be exactly the way it is." He: "I'll tell you the really freaky part—it doesn't feel like a matter of choice."
This mess is made even more foolish by a dreadful score that features bad piano music that sounds like a beginning music student playing scales. Maybe Anton Yelchin made eccentric choices. How else do you explain getting involved in a movie this inconsequential? Famous for his sweet, baby-faced charm, he doesn't even look like his former self. Pale, gaunt and anemic, with his hairline receding to a V-shape and sharp, bony creases where cheekbones used to be, he doesn't look at all well. Maybe it was the script. But simply everything about Porto is so alarming, it borders on schizophrenia.