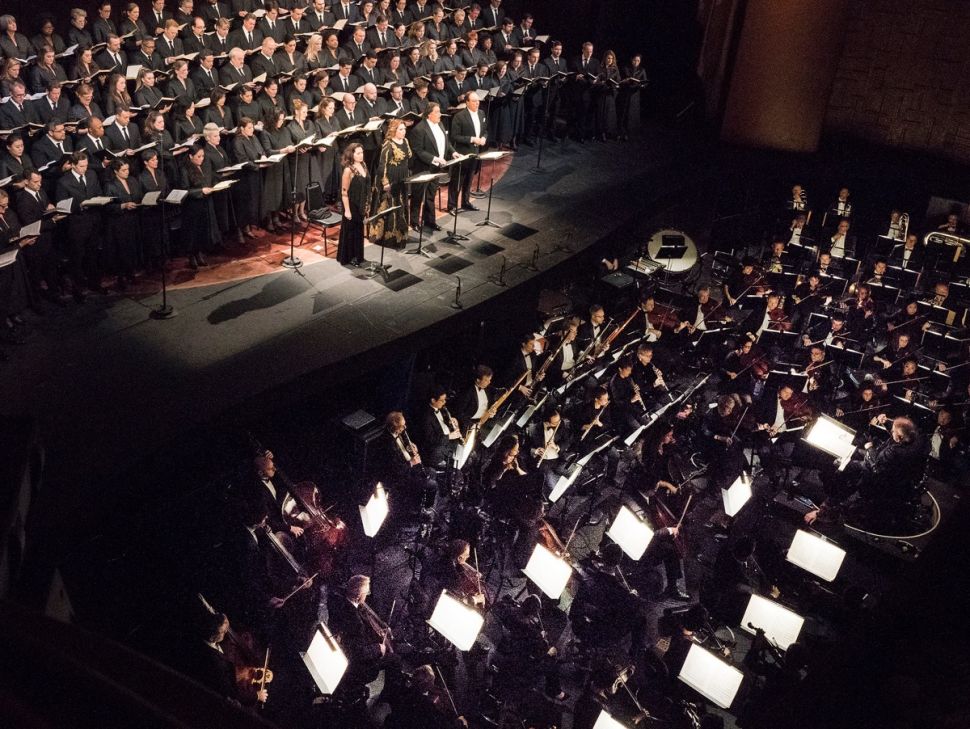 It's a depressing thought, but sometimes I feel like when the Met does something interesting or moving or even "right" in any sense it's pure happenstance.
The current run of performances of Verdi's Requiem, for instance, serves as a fitting and moving tribute to the beloved baritone Dmitri Hvorostovksy, who died last week after a long bout with brain cancer. Beyond this extramusical value, though, Friday night's concert was a dreary and substandard affair.
Even the presence of this piece on the Met's schedule this year is a letdown. The Requiem is a stopgap for a production of Verdi's mighty La Forza del Destino, which was canceled for budgetary reasons. (This staging, by the controversial director Calixto Bieito, was to have starred Hvorstovsky in the protean role of the vengeful Don Carlo.)
This Requiem could have been a towering event in its own right. Certainly the Met orchestra and chorus were in their customary titanic form, thundering in fortissimo and and ravishing in the more delicate moments of the score.
A disappointing roster of soloists rose above the mediocre only in the case of mezzo Ekaterina Semenchuk, who combined lush vocal glamour with incisive rhythmic attack. Soprano Krassimira Stoyanova's elegant musicality just missed compensating for a lack of vocal heft and her lean instrument was swamped by a wall of choral sound in the "Libera me" section.
It's hard to say which of the men was weaker: tenor Aleksandrs Antonenko, who warbled the "Hostias" in a cracked falsetto, or bass Ferruccio Furlanetto, whose admirably firm bass was undercut by glowering passive-aggressive body language.
But the real dilemma here is the current state of James Levine's conducting, a grab-bag of flashy effects adding up to a big zero. Some of the piece was very very loud, some very very soft. Muddled fast sections alternated with moribund slow ones.
The Requiem is supposed to be a mediation on the Day of Judgment, but under Levine's baton it sounded more like the soundtrack of a movie about the destruction of Earth by a giant meteor.
And so this concert demonstrated once again that Levine's career, even before his recent loss of technical control, has been something of a fizzle. It seems as if he stopped developing artistically around the age of 40, when most conductors (and other artists) generally bloom into deeper and more profound interpreters.
As he approaches age 75, Levine sadly remains an eternal adolescent, dazzled by surface effects but unable to plumb any deeper into the music.
An alternative scenario, a career tending toward greater and greater profundity, can be found documented in Warner Classics' Maria Callas Live Remastered, a set of 42 CDs and three Blu-ray discs surveying the Greek-American soprano's career from 1949 through 1964.
The 20 complete opera performances (from live radio broadcasts, often of the diva's first-ever attempts at these roles) begins with a 1949 Nabucco, with the 26-year-old soprano rattling the walls of Naples' Teatro San Carlo with a Godzilla of a dramatic soprano voice. At the other end of this sadly brief career stands a 1964 Tosca, with the diva weaving minature miracles with a mere wisp of sound.
In between are superb examples of La Divina's most important repertoire: bel canto and Verdi. She brings imaginative light and shade to La Sonnambula, Anna Bolena and of course her signature role of Norma, and her approach to Traviata, Macbeth and I Vespri Siciliani is always rigorously musical yet as spontaneous-sounding as an improvisation.
The remastering cleans up the source material somewhat, though it's always obvious that these recordings are based on soundchecks of AM radio broadcasts mostly from the 1950s. But at an astonishingly reasonable cost of less than $75, this set provides an extraordinary overview of the glorious arc of the comet called Callas.