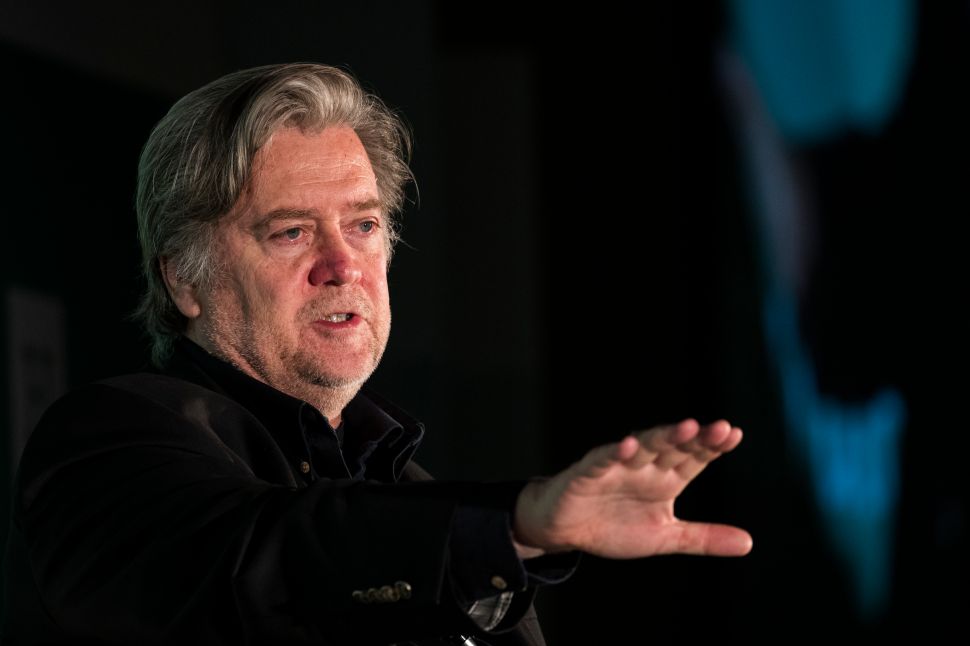 Republican megadonor Robert Mercer is stepping down as co-CEO of Renaissance Technologies. He is also diverting his shares in Breitbart News and distancing himself from former White House strategist Steve Bannon and right-wing provacteur Milo Yiannopoulos. In a letter to employees, Mercer clarified his role in the political arena while addressing recent reports that linked his financial investments in Breitbart and Milo Inc. with white supremacists.
"Of the many mischaracterizations made of me by the press, the most repugnant to me have been the intimations that I am a white supremacist or a member of some other noxious group," wrote Mercer. "Discrimination on the basis of race, ethnicity, gender, creed, or anything of that sort is abhorrent to me. But more than that, it is ignorant."
Mercer's resignation comes after an explosive Buzzfeed feature showed how Yiannopoulos used Breitbart as a platform to spread white nationalism, which Bannon regularly signed off on when he served as the outlet's executive chair. During his tenure as Breitbart's tech editor, Yiannopoulos regularly communicated with known white supremacists, including Andrew "Weev" Auernheimer (a hacker and system administrator for the Daily Stormer), Devin Saucier (a regular contributor to the alt-right mag American Renaissance), and neo-reactionary scribe Curtis Yarvin.
"I have great respect for Mr. Bannon, and from time to time I do discuss politics with him," wrote Mercer. "However, I make my own decisions with respect to whom I support politically. Those decisions do not always align with Mr. Bannon's."
In addition to investing heavily in Breitbart, Mercer also bankrolled Yiannopoulos' solo venture, Milo Inc., after the provocateur resigned from the outlet over comments many saw as encouraging pedophilia. Buzzfeed's report mentioned that Yiannopoulos used Mercer's private security firm during his right-wing rallies.
"I supported Milo Yiannopoulos in the hope and expectation that his expression of views contrary to the social mainstream and his spotlighting of the hypocrisy of those who would close down free speech in the name of political correctness would promote the type of open debate and freedom of thought that is being throttled on many American college campuses today," wrote Mercer. "But in my opinion, actions of and statements by Mr. Yiannopoulos have caused pain and divisiveness undermining the open and productive discourse that I had hoped to facilitate. I was mistaken to have supported him, and for several weeks have been in the process of severing all ties with him."
"I am grateful for Bob's help in getting me this far in my career. I wish him and the family all the best," Yiannopoulos told Observer.
Mercer will officially resign from Renaissance on January 1, 2018 and will be succeeded by Peter Brown. His stakes in Breitbart News will be sold to his daughters.