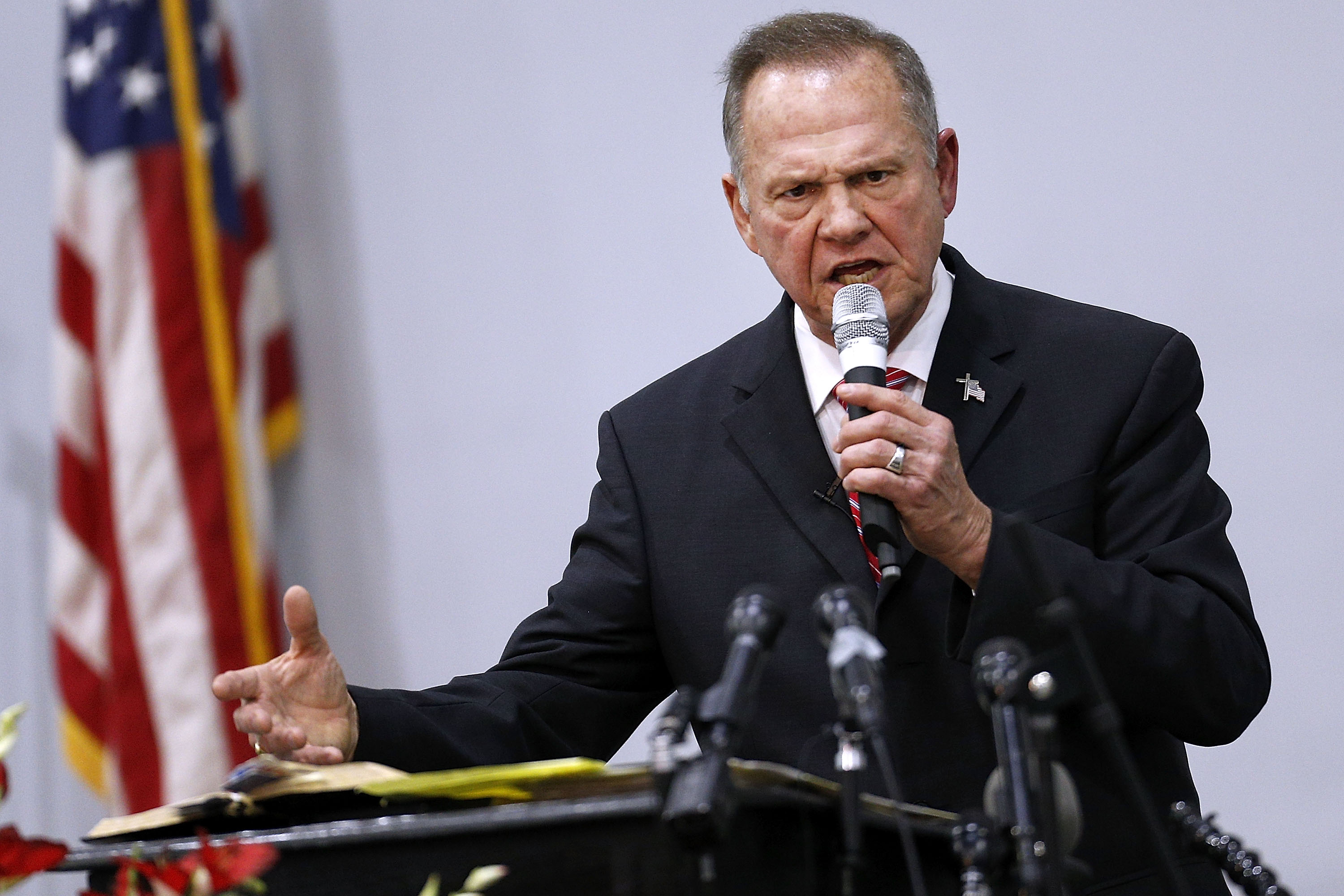 The Washington Post appears to be unbowed in the face of Roy Moore's promise to sue it for libel, since there's no muscle behind the threat.
Last week, after publishing its initial report of Roy Moore's sexual misconduct, the Post published new allegations by two more women accusing Moore of inappropriate contact. One woman claimed that she was unexpectedly called out of her high school math class to accept a call from Moore at school.
Roy Moore and his wife are defending his innocence and have accused the alleged victims and media of conducting a political hit job. Moore is continuing to run for Alabama's U.S. Senate seat, even though high-ranking members of Congress are demanding that he withdraw from the race. Despite his resolve to persevere, he has been silent on his threat to sue the Post for libel and to go after the press, which he claims is publishing false stories from untruthful women.
Libel consists of untrue written statements that are published or broadcasted and that damage a person's reputation as a result. Libel is much harder to prove when the speech is against a public figure because the law requires a higher standard of proof for someone who intentionally places himself or herself in the public spotlight. To prove libel of a public figure, a plaintiff must show that the press acted with malice, defined as an intent to harm, when it published the statement, which must be both damaging and untruthful.
Suing the Post for libel would be a very bad move for Moore because the paper has an absolute defense if it published the truth. All the paper has to do to prove the allegations are true is bring the women into court to repeat their claims under oath to see if a judge believes them. The newspaper can also bring in corroborating witnesses to back up the women's stories to further strengthen its case. And of course, Roy Moore, as a libel plaintiff, would be expected to tell his side of the story under oath.
The Washington Post, Alabama voters, and the American public would likely welcome hearing the accused politician swear to his truth in open court. If the finder of fact rules that the women's stories are credible and Moore's denial is not, he will have opened himself up to even greater harm than before bringing suit. A libel case could result in a finding that Roy Moore was indeed culpable for the allegations.
The Washington Post went forward with publishing a second set of allegations because it knows a libel suit will force a public confirmation about the truth of its reporting. A fact-finding mission in a court of law may prove to be much more damaging for Roy Moore than for the press.
Stacy Schneider is a New York City-based trial attorney and author who has provided legal analysis for Fox News, Fox Business News, CNN and HLN for more than a decade. She is the recipient of the Thurgood Marshall Award for Exemplary Service to the Cause of Justice in the United States.