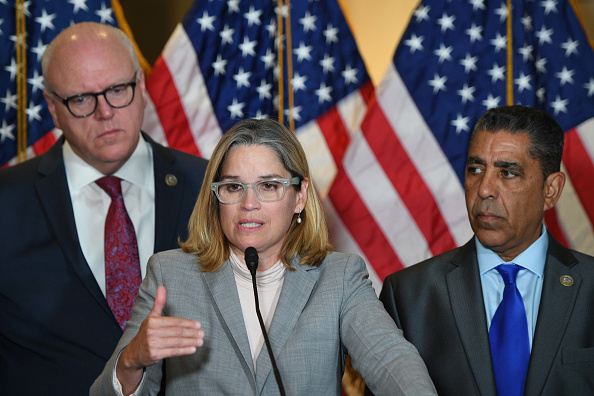 Carmen Yulín Cruz, mayor of San Juan, Puerto Rico, praised New York City for playing a key role in recovery efforts following Hurricane Maria, saying that New York officials were "the first ones that answered that call."
In the aftermath of Hurricane Maria, which struck the island on Sept. 20, de Blasio deployed members of the Urban Search and Rescue New York Task Force 1, New York City Emergency Management employees, and a team of police officers and firefighters to Puerto Rico.
In the November financial plan update for fiscal year 2018 that the mayor released last week, new spending in the $85.99 billion budget includes funding to assist with New York City Emergency Management's efforts to dispatch supplies and city workers to Puerto Rico. De Blasio said that the city will spend $4 million on those efforts.
There are roughly 700,000 Puerto Ricans living in New York City, according to the mayor.
Cruz received a proclamation from the City Council at a resilience-themed Puerto Rican heritage celebration hosted by de Blasio, Mark-Viverito and some Council members on Monday night.
"Somebody help us," she said before the crowd. "If anybody out there is listening, I'm asking the press to shout out an S.O.S. because we are dying here and you are killing us with your bureaucracy and your inefficiency. And the first ones that answered that call was New York City. September 20 changed the reality of San Juan and for Puerto Rico."
In the aftermath of the storm, Puerto Ricans have been coming to the United States. Cruz told reporters after the celebration that they "hate to see" people leaving Puerto Rico but that they "cannot judge" anyone who thinks they need or have to leave.
"We need to make sure that we take on anything that we have to take on and anyone we have to take on to ensure that the best place for Puerto Ricans is Puerto Rico and that they'll come back because we need them," Cruz said. "About 100,000 people have left Puerto Rico — the brain drain, it's amazing. So the message for you Puerto Ricans that are out there is don't forget us. You are a part of us, you're part of us always."
She again hailed the work of the city, noting that a team is going to San Juan on Tuesday to help them "navigate through the bureaucracy" of the Federal Emergency Management Agency "and help us get things done."
"We have to work very hard to ensure that we provide an equitable society that will invite people to come back," she continued. "And New Yorkers — I used to love New York. I adore New York now and I wanna thank Melissa Mark-Viverito for her leadership and for her voice because when we didn't have a voice, she used her megaphone and Bill de Blasio and the people from the Emergency Management Office, they've been great."
She also discussed the island's debt and told reporters she would like to see the withdrawal of the Jones Act, which forces Puerto Ricans to purchase goods from American ships and crews. And she said she does not want to see the education system privatized and called for using more solar power.
In the next few months, Cruz said, she wants to focus on establishing a more "dignified" relationship between Puerto Rico and the United States. She said that the island does not want to be a colony anymore.
"I personally believe in free association where we can have a partnership with the United States because many people in Puerto Rico, myself included, have a great admiration for the values that made this country possible," Cruz added. "I love them so much, I want it for my own and we can work together to transform that relationship into one that is dignified and one that is mutually beneficial."
Mark-Viverito, a Puerto Rico native, has traveled to Puerto Rico three times since the hurricane. She said that as the first Puerto Rican and Latina to serve as speaker of the City Council, she knows the responsibility she has to use her voice and the platform she has in her position "to amplify the voice of Puerto Rico."
She said that she's "glad" that Cruz "has the ovaries to stand up…and speak truth to power."
"We have to have leaders that are gonna call us to action, that are gonna call it out for what it is and say what is really happening and not be afraid, right of hurting these fragile egos and those that disrespect us each and every day," Mark-Viverito said.
She praised de Blasio for his swift response to the hurricane.
"He has been true to his word," Mark-Viverito continued. "We have sent personnel on the ground to Puerto Rico at his direction."
Cruz and Mark-Viverito are close and have both openly blasted Puerto Rico Gov. Ricardo Rossello's response to the hurricane. They are both rumored to be considering running for governor of Puerto Rico.
De Blasio, for his part, noted the "injustices that were being forced upon Puerto Rico by Washington, by Wall Street." He said that Mark-Viverito has always looked into what more she can do to support the island.
"She, before Hurricane Maria, did ask that very question," he said.