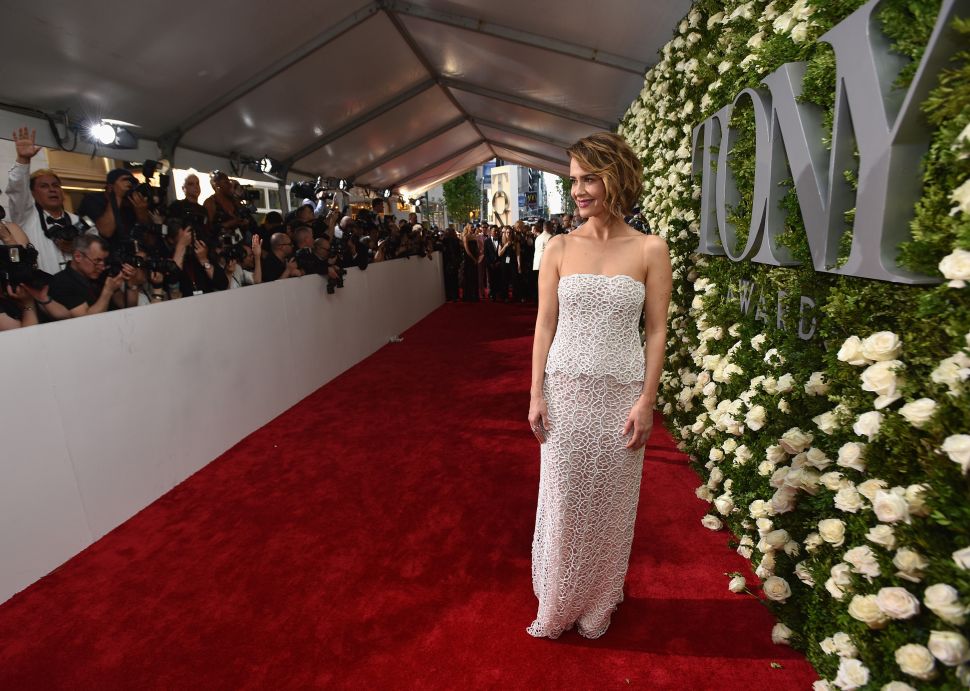 Sarah Paulson is a national treasure which is why we're in full support of casting her in everything. As it stands now, Paulson is anchoring FX's American Horror Story and American Crime Story. She'll lead Netflix (NFLX)'s One Flew Over the Cuckoos Nest prequel as a young Nurse Ratched and co-star in the upcoming all female Oceans Eight movie. She also has a role in Steven Spielberg's Oscar buzzy Pentagon Papers drama The Post and M. Night Shyamalan's Unbreakable and Split sequel Glass. That's a lot to juggle for one actress, but it's not slowing Paulson down at all.
Variety reports that she is in negotiations to join Warner Bros. and Amazon (AMZN) Studios' adaptation of The Goldfinch. Is there nothing this woman can't do?
The Goldfinch is a Pulitzer-winning novel written by Donna Tartt that centers on its young protagonist Theodore Decker, who survives a terrorist bombing at an art museum that kills his mother and leads him to move to Las Vegas with his downtrodden father. Paulson would play Xandra, the girlfriend of Theodore's father.  Ansel Elgort has already been cast in the lead role opposite Dunkirk's Aneurin Barnard. John Crowley (Brooklyn) is directing. The book was an international bestseller, staking out territory on the New York Times bestseller list for a whopping thirty weeks.
The film also marks a unique partnership between Amazon and WB. Per the outlet, Amazon agreed to finance upwards of a third of the film's budget, rumored to be $40 million. In exchange, it will receive exclusive streaming rights for the film on its Prime Video platform. It will also land the movie on home entertainment platforms similar to premium cable debuts on HBO.Warner Bros. is responsible for worldwide theatrical distribution.
As usual, we expect Paulson to be fantastic.