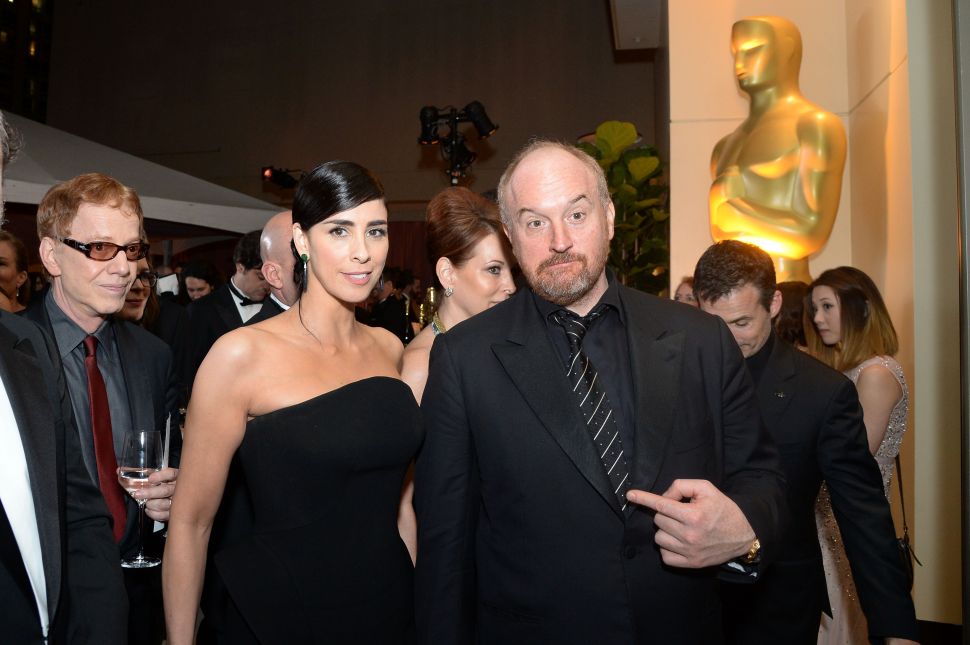 Actress and comedian Sarah Silverman has long been close with Louis C.K., who was recently accused of sexual misconduct by five women. Now, she's speaking publicly about her relationship to C.K. and the allegations levied against him for the first time.
"I've, of course, been asked to comment, and in full honesty, I really really really don't want to," Silverman says in a new episode of her Hulu talk show I Love You, America, airing Thursday night. "I wish I could sit this one out."
Silverman had not yet addressed the reports on C.K. up until this point and she does not shy away from explaining her apprehensiveness.
"It's a real mind fuck, you know, because I love Louis," Silverman says. "But Louis did these things. Both of those statements are true, so I just keep asking myself, 'Can you love someone who did bad things? Can you still love them?'
"So I hope it's okay if I am at once very angry for the women he wronged and the culture that enabled it," she continues, "and also sad, because he's my friend.
You can see Silverman's full comments below:
Silverman and C.K. have been friends for more than 25 years while she has even played a fictionalized version of herself on his critically acclaimed TV series Louie.
Fans have been wondering whether or not she would comment publicly on the scandal since reports first started breaking. On Friday, Silverman appeared on HBO's Real Time With Bill Maher, but the topic did not come up. Despite her close relationship with C.K., the comedian did stress the importance of being held responsible for your decisions.
"I believe with all my heart that this moment in time is essential. It's vital that people are held accountable for their actions, no matter who they are. We need to be better. We will be better. I can't … wait to be better."
She spent the remainder of the episode focusing on hate speech in America and exploring radicalism. The episode will become available for streaming on Hulu at 6 p.m. ET.