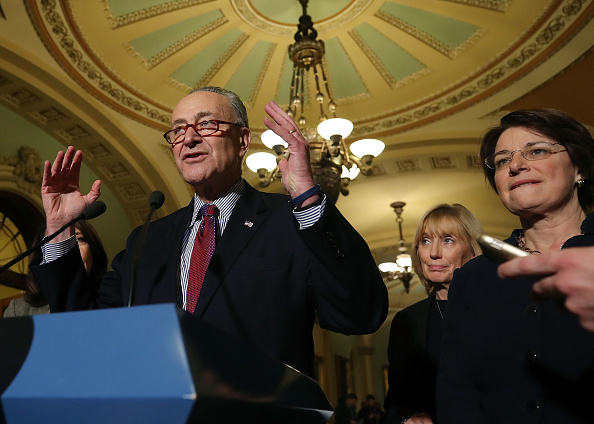 For the first time, U.S. Senate Minority Leader Charles Schumer is calling on a group of breakaway Democrats in the New York State Senate to rejoin the party's caucus, saying it's "the right thing to do."
The Independent Democratic Conference, led by Bronx State Senator Jeffrey Klein, has been allied with Republicans since 2011. Although they have fewer seats, Republicans control the chamber because of their alliance with the IDC. (Brooklyn state Sen. Simcha Felder, a conservative Democrat who is not part of the IDC, has caucused with the GOP since his election in 2012.)
"The IDC, they're elected as Democrats and they should caucus with the Democrats and create a Democratic majority," Schumer said at an event in Brewster on Monday. "That's the right thing to do."
At the Democratic National Convention in July 2016, Schumer concluded his speech by asking the state Senate Democratic leader, Andrea Stewart-Cousins, to join him at the podium. Schumer said, "God willing, this is going to be two majority leaders."
"I have worked very hard through the years to help elect Democrats and create a Democratic majority in the Senate," Schumer continued. "The IDC, they don't run as Republicans. They just caucus with Republicans. That's wrong. They ought to caucus and work with Democrats."
The Working Families Party praised Schumer for urging the IDC to return to the Democratic fold, and appeared to take a jab at Gov. Andrew Cuomo, who has found success working with Senate Republicans.
Klein, who was Schumer's first Bronx coordinator when he first ran for the U.S. Senate, told Observer that he has "the utmost respect" for Schumer and that he has a "long history with him." But he said that he does not agree.
"I do disagree with the context of what he said and the narrative, I guess, that he created because we don't caucus with the Republicans," he said.
He said that the IDC conferences separately from the Republicans and comes up with its own budget proposals and legislative agenda. The group successfully advocated for a $10 million immigrant legal aid fund and had a prominent role in raising the age of criminal responsibility from 16 to 18.
Klein said the IDC is focused on making sure that Democrats win the seat formerly held by Bronx State Sen. Ruben Diaz Sr., a conservative Democrat, and the seat of George Latimer, who will become Westchester county executive. He does not foresee any challenges with Diaz Sr.'s seat but said that Latimer's could go either way.
"I expect the IDC to engage in that election," he said.
Schumer's comments come just four days after two Brooklyn-based activists with Indivisible, wrote a New York Daily News op-ed blasting Schumer's silence on the IDC.
"Yet even though he is one of the nation's two most powerful Democrats, representing a state where registered Democrats outnumber Republicans 2-1, Schumer inexcusably tolerates illegitimate Republican control of one house of New York's Legislature, the state Senate, with the help of a group of breakaway Democrats," Christopher Denicola and Liat Olenick wrote.
An anti-IDC grassroots movement emerged following the election of President Trump, including groups such as No IDC New York, Rise and Resist and True Blue New York.
After the election last year, Cuomo, who has often been criticized for not doing enough to reunite the IDC with the Democrats, said that the two sides should come together. The governor has met with both groups.
At the end of July, Sen. Kirsten Gillibrand said that she does not support the IDC. In June, House Minority Leader Nancy Pelosi also weighed in, saying that she joins her New York Democratic congressional colleagues in urging all New York State Senate Democrats to caucus and work together.
Mayor Bill de Blasio has said that he works with the IDC and that there are times where he has found "common ground" with the members, noting their role in his universal prekindergarten initiative, but added that he believes they should return to the Democratic fold even if they want to keep an independent presence within the caucus.