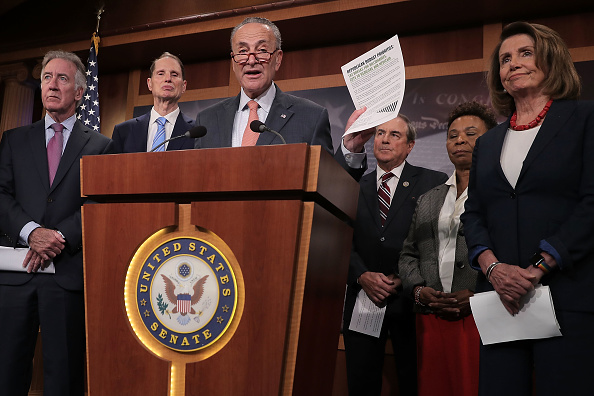 Senate Minority Leader Charles Schumer called on the GOP to "go back to the drawing board" and reassess its decision to get rid of a popular state and local tax deduction as part of its tax reform plan.
The Tax Cuts and Jobs Act, authored by Rep. Kevin Brady (R-Texas), chairman of the House Ways and Means Committee, eliminates the federal deduction for state and local taxes (SALT) and restricts the property tax deduction to $10,000. But the Senate version of the bill, unveiled last week, gets rid of all property tax deductions.
Brady said that the House will not accept a total repeal of the tax deduction in the final version of the bill. In response, Schumer called on Republicans to keep it.
"The House's so-called 'compromise' would be saying to the middle class, 'We'll only chop off four of your fingers instead of all five,'" Schumer said. "Republicans should go back to the drawing board and fully restore the state and local tax deduction."
The SALT provisions benefit high-taxed states such as California, New Jersey, New York and Virginia, enabling people to deduct state income taxes and property taxes. SALT has been in effect since the arrival of the federal income tax in 1913.
Repealing SALT would lead to a $7.1 billion tax increase for more than 1.1 million taxpayers in New York City, according to a New York State Department of Taxation and Finance analysis of 2010 Federal Statistics of Income. And New York sent $48 billion more in taxes to the federal government in federal fiscal year 2015 than it got in funding, according to a report by the Rockefeller Institute of Government.
New York City officials said that repealing SALT and capping the property tax deduction means that taxes on some homeowners will increase as the values of their homes decrease. The 617,000 filers who take the property tax deduction will see a net tax increase of $2 billion.
They also said that out of 3.9 million families that file federal income taxes, 760,000 families — most of whom make less than $75,000 a year — would see an increase averaging close to $5,000 next year under the proposed tax plan.
Schumer, along with Mayor Bill de Blasio and members of the New York congressional delegation and representatives from labor and other advocacy organizations, rallied at City Hall on Sunday to called attention to the need to safeguard working New Yorkers, small businesses and seniors by rejecting the GOP tax bill.