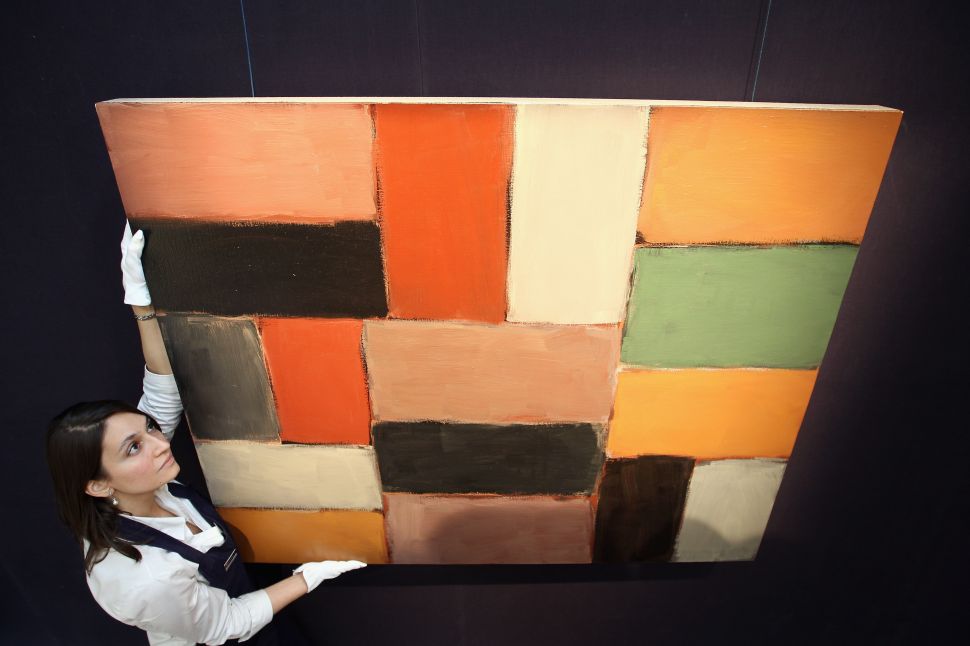 The basis of so many relationships is trust. We expect our doctors to try to keep or make us well and that our financial advisors will work to protect and grow our money. We assume our spouses are faithful and that the auto mechanic will know what that click-click-clack sound is and make the engine run smoothly again. Come on, I know these guys. It usually comes as a surprise when someone breaks your trust, as it must have for painter Sean Scully when he learned that a former studio assistant, Arturo Rucci, had stolen a three-panel painting from him and tried to consign it for a fall sale at Bonhams auction house.
Bonhams contacted Scully's studio in order to verify the triptych's authenticity, which is how the artist learned of the theft in the first place. In late October, the 50 year-old Rucci, an artist in his own right, was arrested for criminal possession of stolen property. The Scully painting had been valued at $400-600,000.
The problem of artists' assistants stealing from them happens with some unknown amount of frequency, because most instances are not reported in the media. But the arrests of assistants to photographer Steve McCurry, glassblower Dale Chihuly and artist Jasper Johns within the past several years for thefts of their work that they were able to sell suggests that what happened to Scully may not be altogether rare.
In the case of McCurry, whose best-known image is "Afghan Girl," which appeared on the cover of National Geographic in June 1985, his one-time manager of fine art print sales, Bree DeStephano, was sentenced to jail in 2016 for stealing photographic prints worth $628,000. A warehouse employee in the Chihuly studio with a drug addiction, Christopher Robert Kaul, took more than 90 pieces worth in excess of $3 million and was sent to jail for first degree theft and trafficking in stolen property earlier this year. In 2014, a Queens (New York) foundry owner whom Jasper Johns had hired to create a wax cast of a 1960 sculpture "Flag," was sentenced to 30 months in jail for making unauthorized copies of the piece that he attempted to sell.
Dan Ostermiller, a sculptor in Loveland, Colorado, has "changed the locks 20 or 30 times" over as many years ("If I have an employee leave, I change the locks"), and Shelburne, Massachusetts glassblowing artist Josh Simpson stated that two assistants with drug problems—one of whom had worked for him for a dozen years—pilfered an unknown number of his pieces in order to support their habits. "My work started to appear on eBay, $35,000 objects being sold for $250," he said.
Still, some artists just don't believe this kind of thing could happen to them. "I only employ people I really trust," sculptor Alice Aycock said, while sculptor Federico Solmi was more hopeful in his confidence: "I assume I work with loyal people. You never really know if something is stolen until Bonhams calls, I guess." Even more hopeful is multi-media artist Lesley Dill, who claimed that she has "been very lucky," especially since she gives her assistants "my keys and passwords."
Photographer and painter William Wegman claimed that he doesn't even know his own passwords, relying on other people to "do whatever you need passwords for." Inventory is better guarded than it used to be "when I used to keep stuff in cardboard boxes," tracked by a full-time registrar and his wife. Still, "we're very open here," adding that his principal form of security are "some big scary dogs who make a lot of noise when someone new comes in."
There have been no studies of art thefts from artists' studios, although a 2002 report by the art theft crime team of the Federal Bureau of Investigations found that "89 percent of thefts from institutions are inside jobs," said Robert Wittman, a former FBI agent and currently a security consultant to museums and art galleries. Thefts by artists' assistants, he claimed, follow the same logic. "Someone works his way into the confidence of the artist. Especially as artists get older and need more caretaking, this person knows where everything is and won't be missed."
He added that there is a "psychological aspect" to thefts by artists' assistants. "They feel they do all the dirty work, while the artist gets all the credit and most of the money, so they feel justified in taking things." Other artists' assistants, although claiming that they did not steal, noted that they had conflicted feelings about doing assistant work. While a benefit of the job is being able to work with a noted artist and have access to their contacts, it allows for little time for an assistant to do his or her own work while they're dedicating their artistic pursuits to contributing to the success of someone else's career. Perhaps that was part of the make-up of Arturo Rucci, Sean Scully's former assistant, himself a painter of large abstract works, which have been exhibited in small galleries around New York City, although sales appear to have been few and at a low price point.
Certainly, no one gets rich working as an artist's assistant, where the going rate of pay is usually between $10 and $20 per hour, often without benefits or health insurance. "It's hard to live on a small wage, especially in a place like New York," said Claire Taylor, an artist in Illinois who worked for artist Tara Donovan shortly after completing art school. "I finally found I couldn't afford it anymore and left." All of the assistants in Donovan's studio were "very trustworthy," she said, adding that "considering the scale of her sculpture, it would have been difficult to steal something."
Leaving art school does strike some graduates as a slap in the face. They go from an environment where professional artists are trying to help them to a world in which they are viewed as competition and judged on the basis of sales. They have left college art studios that have ample supplies and state-of-the-art equipment and now have none of those things. One of the possible perks of working as an artist's assistant is the opportunity to use the artist's tools and discarded materials on one's own time. "It's a perk or maybe just a justification for the low wage you get," one former artist's assistant said.
This type of encouragement helps, but maybe only so much. "In art school, you can experiment in all kinds of ways, making large-scale objects, and then suddenly you leave and your work becomes real small real fast," said Carmella Saraceno, a sculptor who had worked as an assistant to Vito Acconci, Alice Aycock, Joseph Beuys and Dennis Oppenheim and who, in 1990, founded Methods & Materials, a Chicago-based company that arranges rigging, assembly, installation, re-location, and de-installation of large-scale sculptures and objects. It is easy to become resentful, she noted, of the artists who are paying you to be their assistants, "because everyone wants to see their work and no one wants to see mine. Being exposed to so many successful artists really impacted my self-esteem in so many ways."
Daniel Grant is a freelance writer and the author of five books on business and fine art.