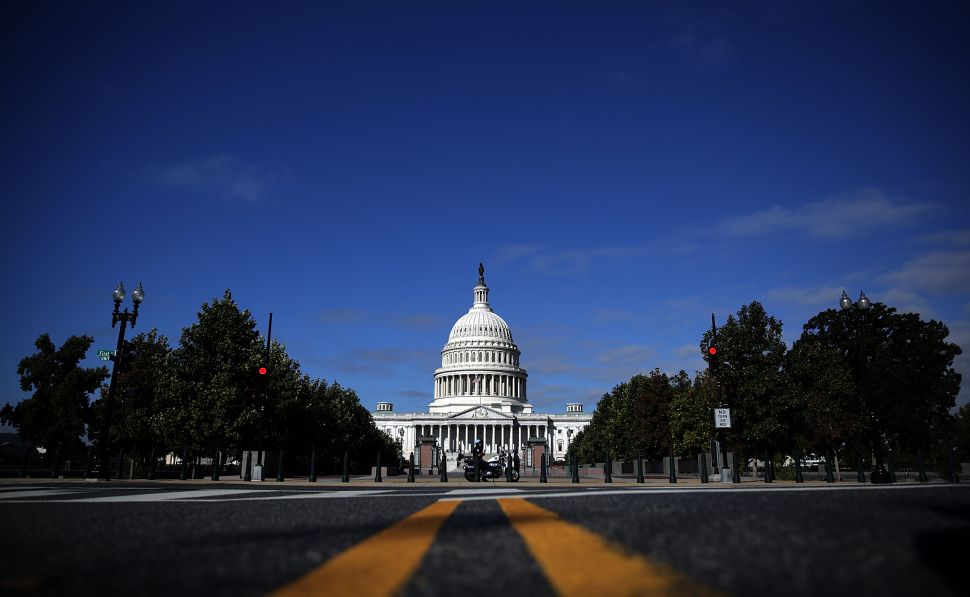 This week, Capitol Hill was swept up in a whirlwind of sexual harassment allegations. It's a widespread issue, unbeknownst to most Congress members due to the harrowingly secretive way it's pushed under the rug.
"In the last twenty years, there have been 260 settlements at a cost to the taxpayers of this country of $15 million. That $15 million has been there to silence victims of all types of workplace discrimination. Today, we are here to change that. Abusers and sexual predators have thrived in the shadows in our current system, where all the power is deliberately taken away from the survivor," said Rep. Jackie Speier (D-CA) in a press conference on Wednesday as she introduced legislation intended to change the way the government addresses sexual harassment cases.
That $15 million, paid out to victims by the U.S. Office of Compliance, encompasses all sexual harassment complaints and discrimination cases between the years of 1997 and 2016. Congresswoman Speier, a survivor of sexual assault, gave fervent testimony of how the current system is failing female lawmakers and staffers. Speier is calling for a total overhaul of the Office of Compliance, an entity she says is "constructed to protect the institution—and to impede the victim from getting justice."
"For all intents and purposes, a staffer in the Capitol is powerless and gagged," Speier testified on Wednesday. "Since I shared my own story on #MeTooCongress I've heard from survivors that they have been personally, professionally, emotionally and financially destroyed by the current process. Meanwhile, the harassers go on with his or her life, often times to prey on others."
Currently, 80 percent of victims that come forward with sexual harassment claims choose not to move forward with the formal process of filing a complaint with the Office of Compliance, frequently citing the antiquated methods imposed by the OOC. The requirements include 30 days of mandatory counseling before entering litigation, three-month waiting periods, and extensive non-disclosure agreements that forbid victims from disclosing complaints to friends, family, or even therapists.
"Can you imagine a victim who's been sexually harassed who attempts to file a complaint and then is told they've got to go through three months of biting their tongue and continuing to work in that kind of environment?" she exclaimed in an interview with Politico. "You've just been sexually harassed and you're told you have to be 'counseled' for 30 days. Are you kidding me?"
House Speaker Paul Ryan announced that sexual harassment training will be mandatory for the House of Representatives. Such training is common on college campuses and workplaces across the country yet has somehow not made it into basic government training protocols until now. However, it's still a first step toward preventing misconduct in a system severely lacking in resources: "I didn't even know it existed as a resource," a former female staff member and sexual harassment victim told Politico in reference to the Office of Compliance. "You don't have an HR Department on the Hill. There's no one place that you go. Nobody on the Hill has any idea how you report and deal with sexual harassment."
The new legislation and training policies came in the wake of Speier and California Democrat Rep. Barbara Comstock accusing two unnamed sitting male lawmakers, a Democrat and Republican, of "pervasive" sexual harassment. Speier and Comstock relayed the details of misconduct before the House administration committee, recounting disturbing incidents in which one of the Congressmen exposed his genitals to a female staff member and instances of "victims having their private parts grabbed on the House floor."
On Thursday, the still anonymous lawmakers were joined by Minnesota Democratic Sen. Al Franken after broadcaster Leeann Tweeden came forward with allegations that he groped and kissed her without her consent while she was sleeping backstage during a USO overseas tour in 2006.
As more stories of sexual harassment on Capitol Hill emerge, it's becoming clear that female lawmakers and staffers have been suppressed by a culture of secrecy for decades. By reforming the Office of Compliance, Speier aims to reverse a hostile work environment that enables a patriarchal culture of sexual predation with little to no consequences.
Francesca Friday is New York City-based National Politics contributor for Observer. Follow her on Twitter: @friday_tweets_