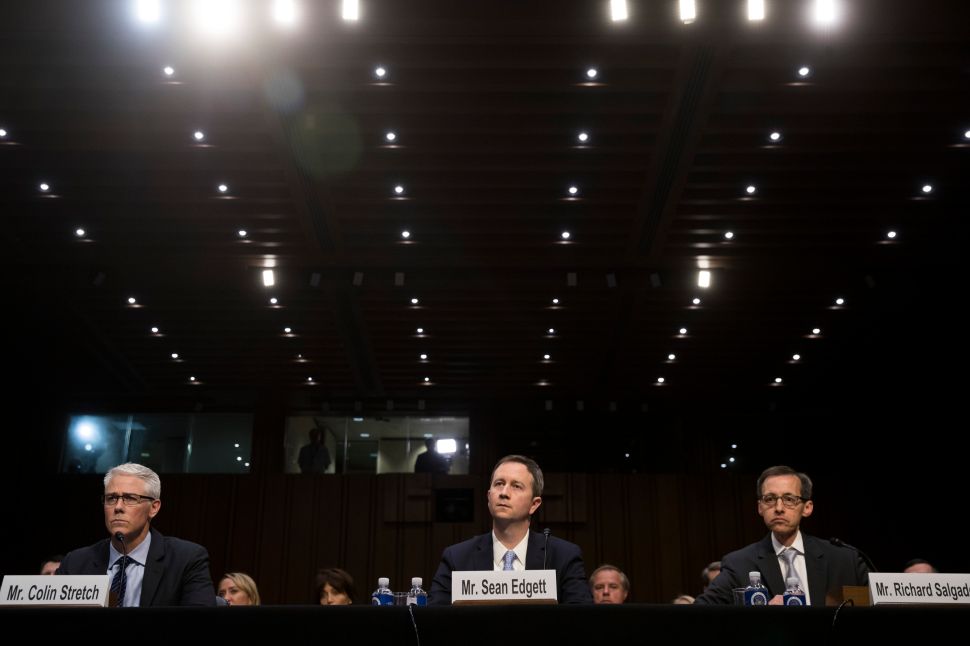 Silicon Valley spent the week on Capitol Hill explaining to lawmakers how their platforms were subverted into disinformation tools by the Kremlin. The hearings educated the American public on the specifics of disinformation warfare, revealing how Russian content reached a larger audience than previously reported. From troll farms to Jesus memes, this week's hearings were a bleak analysis of a new cyber-landscape driven by partisanship and irony. In this surreal intersection of politics, Internet culture, and tech, here are six moments perfectly embodying the post-satire world.
Ads to Rubles: Sen. Al Franken Eviscerates Facebook Rep. While most lawmakers exchanged pleasantries before lightly posing questions and their own conclusions, Minnesota Senator Al Franken emasculated Facebook's general counsel Colin Stretch on the onset. "Google has all knowledge man has ever developed. You can't put together rubbles and a political ad and go, "Hm… those two data points spell out something bad?!" yelled Franken. A cherry faced Stretch stammered, "Senator…it's, it's a signal we should have, uh, been alert to. And in hindsight, it's, uh…" Alas, the counsel's floundering explanations were bulldozed by the senator's theatrics, especially as Franken hammered Stretch on how Facebook would proceed if advertisers started using North Korean currency.
Facebook, Twitter, and Google Reps Unable to Answer Whether Tech Companies Profit From Advertisements. California Senator Kamala Harris thew the Silicon Valley representatives a freebie. "How much money did you make off of legitimate ads that ran alongside the Russian propaganda?" the senator asked. None of the representatives could provide an answer and told Harris they'd have to follow up.
Sen. Dianne Feinstein: "I Don't Think You Get It." California Senator Dianne Feinstein chastised the representatives for their careless in overseeing global platforms. "I must say, I don't think you get it," Feinstein said. "You're general counsels, you defend your company. What we're talking about is a cataclysmic change. What we're talking about is the beginning of cyber warfare." "We are not going to go away, gentlemen," Feinstein continued. "And this is a very big deal."
House Intelligence Committee Releases Russia Political Ads. On Wednesday, the House Intelligence Committee released a sampling of ads a Russian troll farm purchased on Facebook before and after the U.S. election. Among them was a petition to remove Hillary Clinton from the presidential ballot (paid for in rubles), a 'Black Lives Matter' campaign (paid for in rubles), and a meme of Jesus arm wrestling Satan (Clinton was the Satan and the ad was paid for in rubles equating to $1).
Sen. Mark Warner Shows Real World Consequences. During Senator Mark Warner's (D-VA) opening remarks, the lawmaker referenced an incident when two Russian troll groups created competing events on May 21, 2016 at an Islamic center. A page called "The Heart of Texas" created a Facebook event "to stop the Islamization of Texas" while the "United Muslims of America" page created another counter event. The clash received media coverage and exacerbated local tensions in the region. "Candidly, your companies know more about Americans than the United States government does and the idea that you had no idea that any of this was happening strains my credibility," Warner told the representatives.
Facebook Stocks Reach Record Highs. Even with Facebook testifying on Capitol Hill, the company's stock reached a record high on Wednesday. The next day, it dipped following Mark Zuckerberg's announcements that Facebook would invest more heavily in security efforts to fight against disinformation attacks.