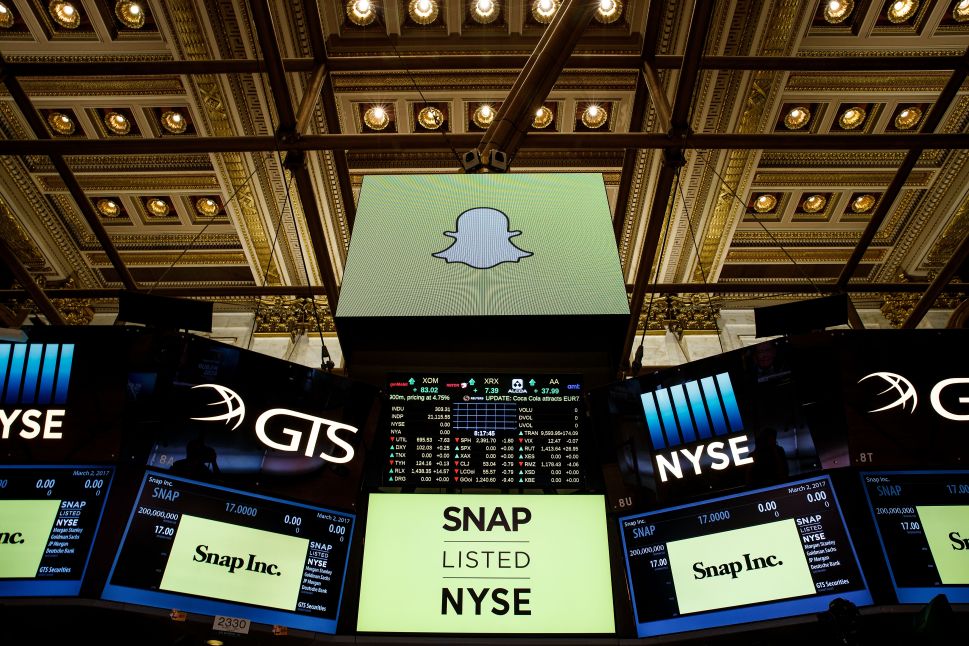 Snap, Inc., parent company of Snapchat, suffered blow after blow last week.
Its redesign was universally judged a flop, with users complaining about notifications and other functionality. Unfortunately for advertisers, the revamp's user journey gives Snapchatters little incentive to visit the stream where brands' activations live.
There was bad news, too, for the company's progress: Snapchat fell 12 percent short of Wall Street analysts' revenue forecasts and their domestic Daily Active User (DAU) growth saw the fifth consecutive quarter of decline.
Finally, it emerged that Snap, Inc. is taking a hit for all the pairs of its much-hyped Snap Spectacles nobody bought—to the tune of $40 million. CEO Evan Spiegel admitted the company had gotten carried away: "We were very excited about Spectacles and by the initial reception, and because we were so excited I guess we made the wrong decision."
The bankers who invested in Snap can relate; the company's share price plunged to its second-lowest value since its March debut on the market. The same bankers were very wary of Snap's nonnegotiable terms for their IPO. But with deep fear of missing out, and nearly $100 million in fees at stake, they invested anyway. The shares skyrocketed 44 percent on the first day of trading.
Bankers aren't the only ones who've invested heavily in Snapchat. Many brands and agencies were all-in on the platform long before its IPO. Whether spending on experimentation, customized content, or media buys with unclear metrics, many marketers fell into FOMO frenzy—and took their budgets with them.
Sir Martin Sorrell, chairman of WPP, recently announced his group would double their annual Snapchat spend. "It's $200 million versus $6 billion or $2 billion for Facebook. So, you're talking about a flea on the elephant's backside," he said.
Most marketers are smart enough not to be so cavalier about throwing restricted resources into such a murky space.
The temptation of a new platform can be hard to resist, as hundreds of millions of dollars in wasted budget can attest. For every CMO who's just happy to get a few thousand tweets about her cool Snapchat activation, there are dozens of others who know you can't pay the bills with retweets.
No wonder CMO churn is higher than ever.
The truth is, only a minute fraction of brands vying for attention on Snapchat can get any ROI for their efforts. The environment is way too crowded. Even if you manage to engage users with your content, how many of them will remember it's for your brand, be persuaded to consider it, and eventually to buy from you?
No wonder Snap, Inc. has historically been wary to guarantee minimum views to advertisers—even while demanding minimum spend from them.
And even if Snap could guarantee a minimum number of verified views, they'd still be unable to tell you if your KPIs for engagement, brand association, persuasion, or tapping into System 1 dynamics have been met.
How many CMOs among the first brands to buy Snapchat ads—at a 93% mark-up—have ever been able to justify that spend? Some, no doubt egged on by "innovative" agencies, will say it constitutes "test and learn" marketing. But without meaningful metrics from Snapchat, there's no way to measure what you're testing or learning.
The ad buy is just one expense. Vast sums are also being spent creating platform-specific ads to reach relatively few people. All those vertical videos and other custom content can't be repurposed for other venues, adding to the sheer extravagance of Snapchat for advertisers.
Unless a brand—and its agencies—resolve to measure what matters and spend accordingly, it's a safe bet that Snapchat won't be the only misguided investment they make. It might not be sexy or "disruptive" to invest in brand-building creative for media known to drive ROI, but the point of advertising isn't to be sexy or "disruptive." The point is to deliver on business objectives. Any brand that forgets this might just find their fortunes plummeting even faster than those of Snap, Inc.
Jeri Smith was with Communicus for more than a decade before spending 15 years at DDB Worldwide. She rejoined Communicus as CEO in 1992. Jeri provides research-based consulting, helping brands identify strategies to produce better returns on marketing communications investments. She is a leading industry voice on advertising effectiveness and has been featured by outlets including Fox Business News, Advertising Age, Wall Street Journal, Forbes, and others.