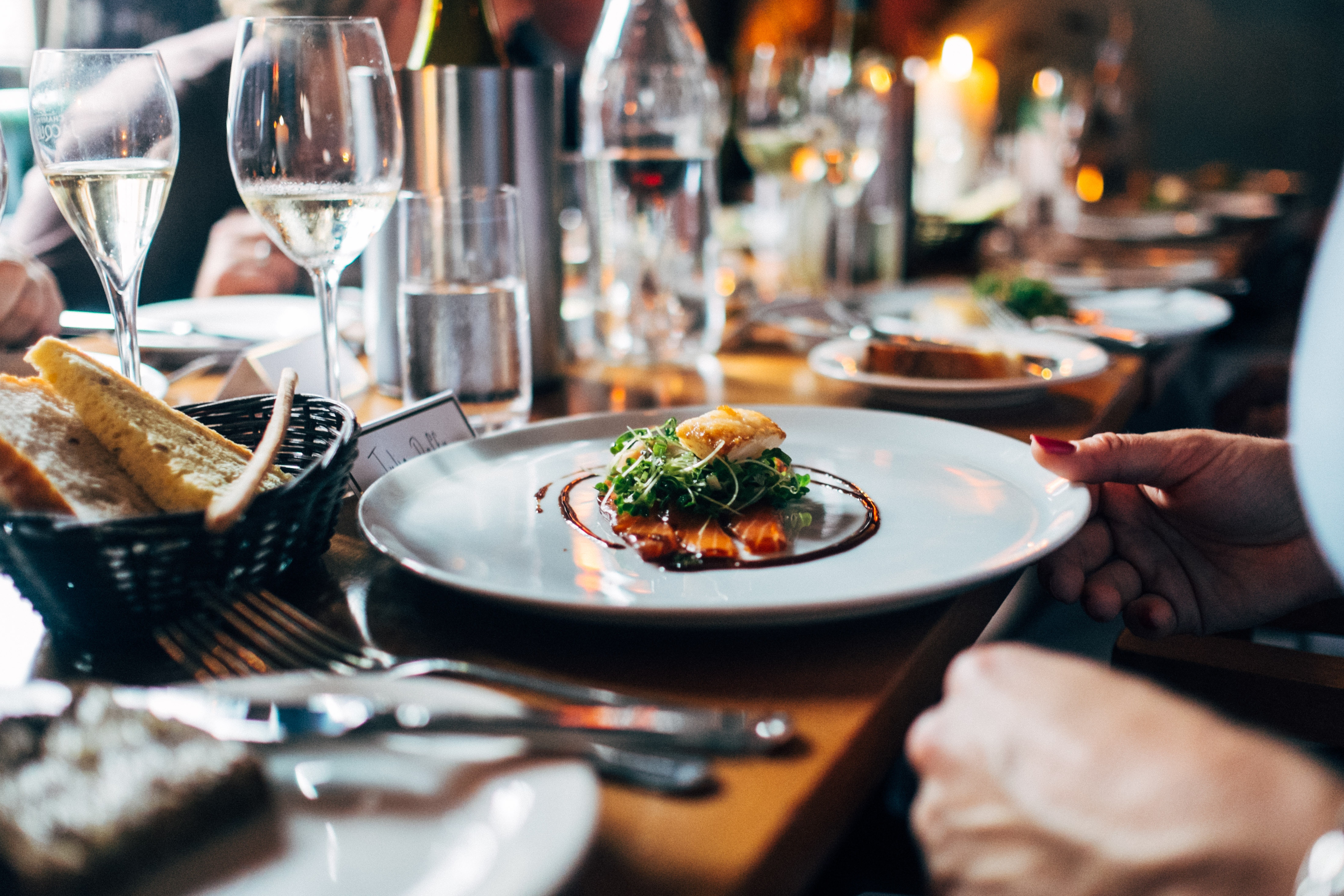 When it comes to holiday dishes, every cook knows that they'll need to contend with a lot of flavors, a lot of personal preferences and a lot of strongly-held traditions. These specialties only appear on most tables once a year, so the pressure's on to deliver a meal that's bold and memorable, but also comforting and familiar. Because holiday dishes often involve unusual taste combinations and seasonal spices, it can be a real challenge to find wine pairings that work in harmony with these courses.
So we surveyed a group of top NYC sommeliers to get their informed opinions on the best wines for some of the most notoriously-difficult holiday food items. There's no reason to resort to the cheapest bottle at Trader Joe's or the one with the most whimsical label, although that's far from the worst strategy for choosing a bottle—you've got the pros guiding you through the Most Wonderful Drinking Time of The Year.
The Feast Of The Seven Fishes
A Christmas Eve standard among Italian-American families, The Feast of the Seven Fishes is a relatively lax meal. As long as there are at least seven different types of seafood present, and no meat or land-animal fat of any kind, in keeping with Roman Catholic tenets, the Feast will fall in line with traditional rules. Because the Feast of Seven Fishes can incorporate any number of different pescatarian dishes, the selected wines must be flexible enough to highlight a range of flavor profiles. Our experts recommend whites with solid minerality, light-bodied reds and lively sparkling varietals.
Georgia Harrison, Sommelier at Marta: "Made from 100% Chardonnay, Chablis is an easy-drinking apéritif which can also be complex enough to stand up to a variety of savory fishes—seven, perhaps? Clotilde Davenne Chablis ($24.99, Astor Wines) is full of ripe apple, Meyer lemons and a salty minerality on the finish. Plus, the grapes are farmed sustainably and chemical-free by a bad-ass lady winemaker!"
Victoria James, Beverage Director at Cote Korean Steakhouse: "For this Italian holiday specialty, go with a slightly-chilled, Italian Rivera varietal: Rossese. This light and mineral-driven red is the perfect lip-smacking wine to go with the versatility of dishes offered during the Feast of The Seven Fishes. I especially recommend the Rossese di Dolceacqua 'Beragna' from Ka Mancine ($24.96, Astor Wines)."

Phil Johnson, Owner & Sommelier at Gloria: "The Feast of The Seven Fishes may sound like a tricky meal to pair with wine, but there's no need to fear. I can't help but think of Italian wine and Costadilá makes some fun and quaffable Prosecco in the Col Fondo style ($29.95, Cordial Fine Wine & Spirits). These sparklers are made with indigenous yeasts and little or no added sulfur, undergoing a secondary fermentation in the bottle; the yeast remains inside the bottle instead of being disgorged and removed, as it is with Champagne. Costadilá Proseccos have a cloudy amber, jewel-like appearance that is quite striking, and they're definitely a conversation piece. These Proseccos are funky, dry, with fascinating aromas and bright acidity."
Latkes with Applesauce and Sour Cream
A classic Hanukkah treat, fried-potato latkes paired with sweet and tart applesauce and savory sour cream makes for a complimentary taste experience—it also offers an unparalleled level of homey warmth and comfort. Our group of sommeliers suggest crisp whites and vibrant sparklers to pair with this cultural-touchstone dish.
Erica O'Neal, Sommelier at Italienne: "Orange wines are always a great option for the holidays, and I feel that the Skerlj 2013 Vitovska Carso from Friuli-Venezia Giulia ($69.99, North Berkeley Imports), in particular, would be great with latkes and applesauce. With its salty and orange-peel notes, this wine has a refreshing quality that will clear your mouth of every bite of latke. A dip in the applesauce will bring out the slight spice notes from the wine's extended maceration."
Harrison: "Bubbles make everything better, especially fried food! Eating something crispy and starchy and delicious like latkes, you want great texture in your wine to complement the richness of the dish. This Albert Mann Extra Brut sparkling Pinot Blanc from Alsace ($23.99, Liner & Elsen) is made in the style of Champagne but has the bonus of a bargain price tag. Albert Mann is a Biodynamic estate that produces one of the best Crémants on the market; dry and citrus driven with notes of yellow plums, this sparkler will cozy up to the potatoes and pair nicely with a dollop of applesauce."
Sam Ehrlich, Wine Director at Blue Ribbon Restaurant Group: "When it comes to latkes, the real challenge for pairing wine isn't the pancake itself, but the applesauce and the sour cream. One is tart and sweet, the other tart and rich, so this can be difficult. But then, off-dry Chenin Blanc steps in to save the day. [I suggest] François Pinon Vouvray Demi-Sec 'Les Trois Argiles' from 2015 ($19.98, WineWorks), which has the acidity to cut through the sour cream (and the schmaltz that the latkes are cooked in). The naturally-oxidative character of Chenin will also match well with the apples."

Roast Christmas Goose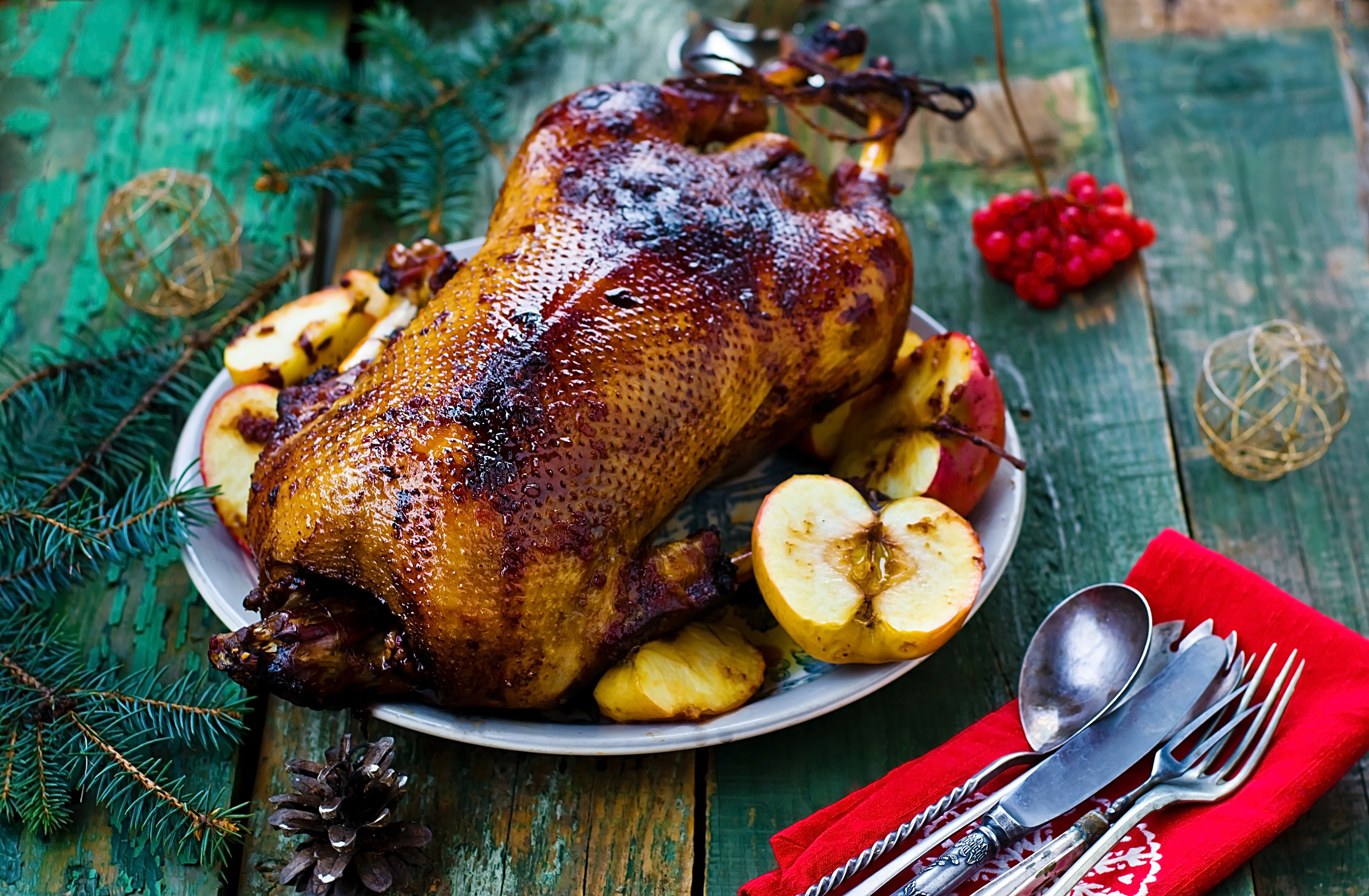 Anyone who's ever seen or read A Christmas Carol knows roast Christmas goose is a rich and luxurious holiday dinner specialty. Although this type of bird is less popular than turkey, plenty of modern-day families serve this unctuous poultry; and due to its relatively high-fat content and gamey undertones, goose can be tough to pair with wine. However, our somms have abundant recommendations, primarily lightweight and medium-bodied reds with plenty of personality.
Ehrlich: "I grew up eating goose at Christmas. My mother is from England and she went to great lengths to prepare very traditional Christmas dinners. It's perhaps the most difficult of birds, prone to simultaneous over- and under-cooking. With regard to wine, the challenge is finding something that matches goose's natural gaminess and keeps your palate fresh for the long meal. [I recommend] you try a single-vineyard 2015 Grenache from Birichino in Santa Cruz ($24.99, Mission Wines). Made from 100-year old Grenache vines planted in sandy soils, the wine is full of very pure red fruit flavors, an elegant silky texture and a great sense of energy and vitality."
Ashley Santoro, Regional Beverage Director at The Standard: "With such a classic dish, I would want the wine to mirror the history and tradition of holiday goose. My top choice would be the 2013 Château Carbonnieux, Pessac Léognan Grand Cru Classé de Graves Rouge from Bordeaux ($38.99, GetWineOnline) an estate that dates back to the 13th century. This cuvée is Cabernet Sauvignon dominant with dark fruit, herbaceous notes and just the right amount of tannic grip."
Lilly DeForest Campbell, Sommelier at The Milling Room: I've come up with two different pairings for the roast Christmas goose. The first is the 2015 Domaine Julian Sunier, Regnie ($25.99, WineMadeEasy). The most recent Beaujolais region to be elevated to cru status, Regnie splits the difference between the body and structure of a Moulin a Vent and the fruity drinkability of a Brouilly.  This, accompanied by its characteristic note of spice, makes it a perfect accompaniment to lighter preparations of this delicious holiday dish. For more robust preparations of roasted goose (and on a slightly more robust budget), I would recommend the 2010 Cascina Fontana Barolo DOCG ($61.99, Millesima). Don't let the light color of this wine fool you; it's packed with silky, lingering tannins and enough acidity to balance the fattiness of the fowl.  
Fruitcake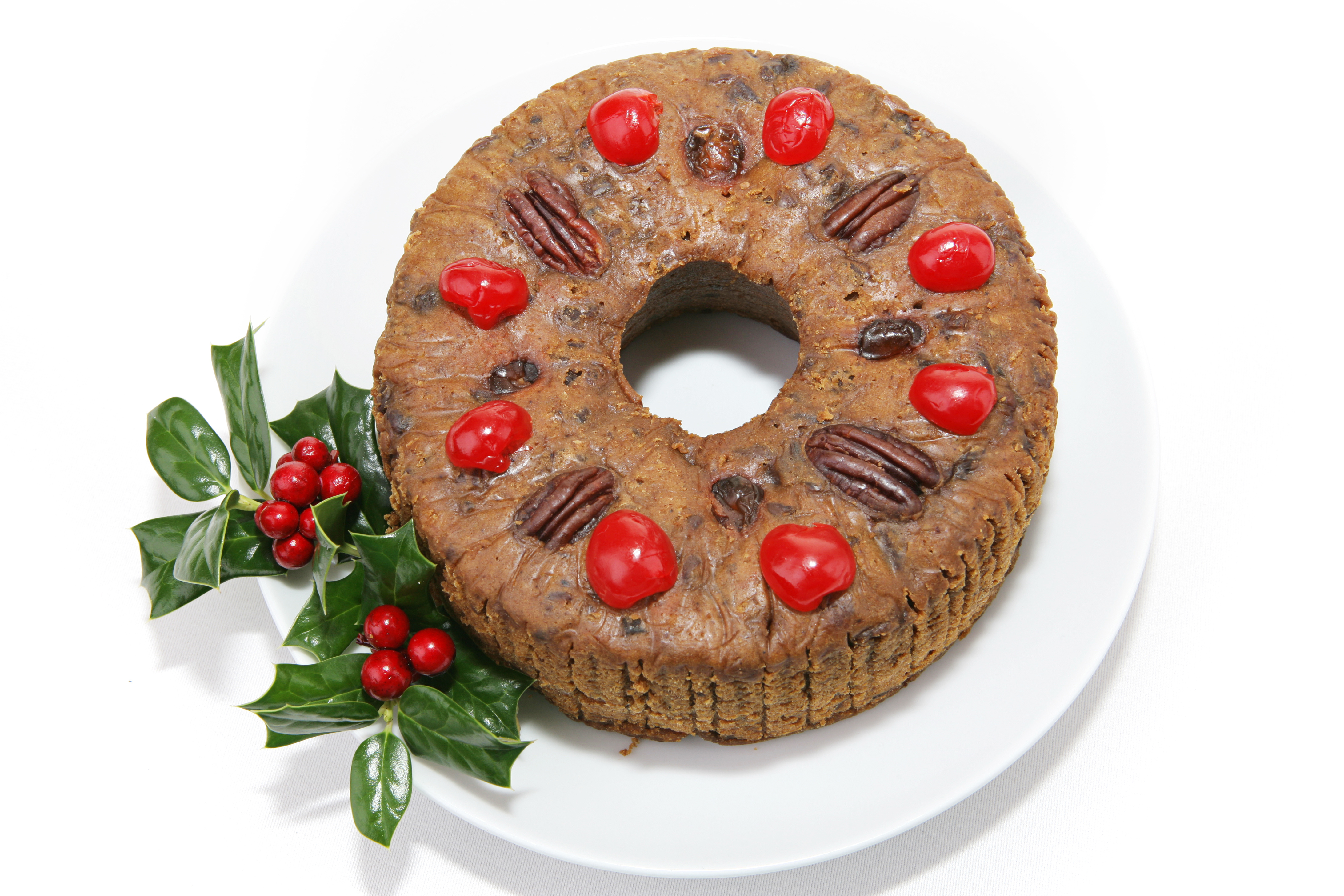 Although certainly notorious for its identity as the redheaded stepchild of the holiday dessert table, good old fruitcake doesn't seem to be disappearing anytime soon. Studded with candied fruit and nuts, this sweet is often soaked in brandy, resulting in plenty of spice to temper its sweetness. This unlikely flavor profile is what makes the dessert an interesting candidate for eclectic wine pairings. According to our sommelier panel, dessert wines like port and sherry are the way to go here.
Zachary Gross, Beverage Director & Sommelier at Sen Sakana: "If you are looking to pair a wine with fruitcake, you'll want a bottle with a range of complementary notes, like dried fruit, spice, marmalade, cinnamon, and coffee. I'd recommend the 1991 Dalva Port ($150, Schubi Weine), which is full of these flavors."

Michael Engelmann, Master Sommelier at The Modern: "[For a fruitcake pairing,] I would love to see something like a PX Sherry, maybe an older vintage that would naturally match the dried- fruit notes of the cake. A Malmsey Madeira could also be interesting. I'd particularly suggest the Toro Albala Don PX Gran Reserva from 1987 ($27.89/half-bottle, Wine O Mart)."
James: "To match the aromatics of the cake—spices, nuts and dried fruit—go with an Oloroso Sherry from southern Spain. The flavors perfectly align; the sherry is a bit nutty, and it has aromas of dried fruits and caramel. While it holds a bit of sweetness to match this dessert, it also has refreshingly-high acidity. I'm particularly partial to the Oloroso Sherry from Valdespino ($24.99/half-bottle, Astor Wines)."
Taylor Tobin is a food writer living and working in Brooklyn. She's an NYU graduate who loves bikes, books, and (especially) bourbon.