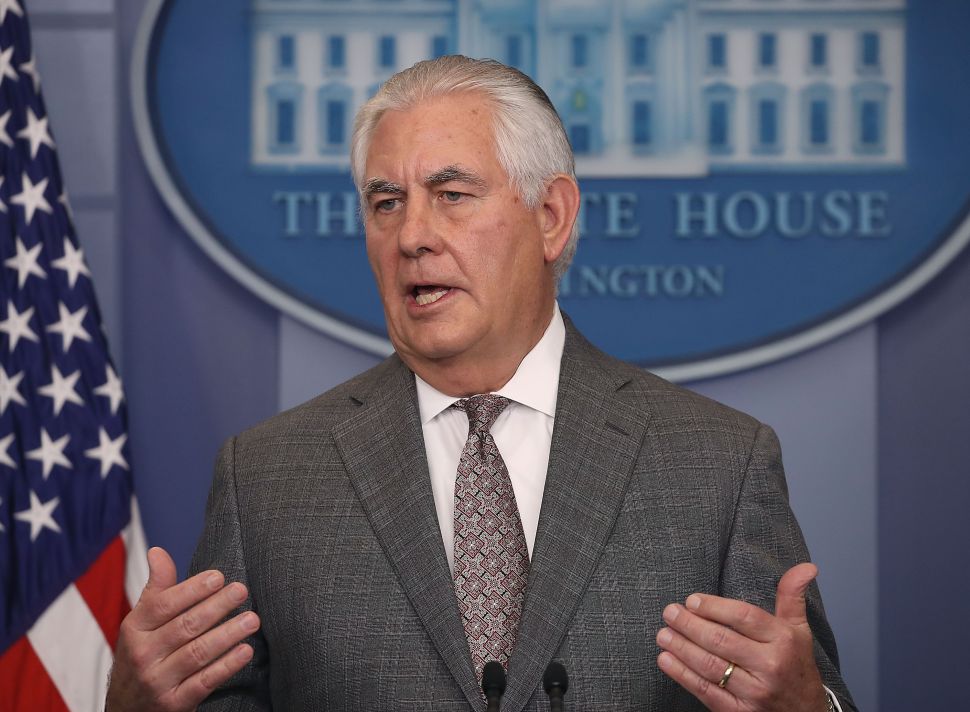 U.S. State Department officials have formally accused Secretary of State Rex Tillerson of violating a federal law designed to stop foreign militaries from enlisting child soldiers. According to internal government documents obtained by Reuters, Tillerson breached the Child Soldiers Prevention Act by excluding Iraq, Myanmar, and Afghanistan from a U.S. list of countries enlisting child soldiers. The law requires that children under 18 not be "recruited, conscripted, or otherwise compelled to serve as child soldiers."
Though the state department publicly acknowledged that children were conscripted in those countries, Tillerson removed them from the list to continue supplying U.S. military assistance in the fight against Islamist militants. Tillerson's decision was reportedly at odds with a unanimous recommendation to keep the countries on the list by State Department heads.
"Beyond contravening U.S. law, this decision risks marring the credibility of a broad range of State Department reports and analyses and has weakened one of the U.S. government's primary diplomatic tools to deter governmental armed forces and government-supported armed groups from recruiting and using children in combat and support roles around the world," stated a July 28 memo.
A State Department spokesman told Reuters that Tillerson "thoroughly reviewed all of the information presented to him and made a determination about whether the facts presented justified a listing pursuant to the law."
In a September 1 memo, Tillerson's advisor, Brian Hook, said that although the countries removed from the list use child soldiers, there was a difference between countries that are "making little or no effort to correct their child soldier violations … and those which are making sincere — if as yet incomplete — efforts."