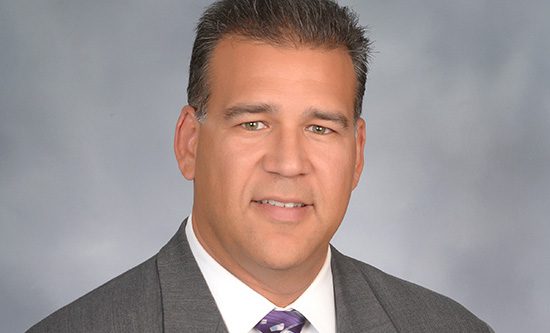 Doug Steinhardt was elected the new chairman of the New Jersey Republican State Committee on Tuesday — and he's got his work cut out for him, leading a party that just lost the governorship and several seats in the Legislature.
"It is interesting because these are challenging times for Republicans in New Jersey," Steinhardt said in an interview. "I think that the opportunity to take on a task at a point in time when you have to look at things like rebuilding and rebranding and re-energizing — if it was easy, anyone would do things like that. Those tasks are much more interesting and intriguing when they are hard."
Gov. Chris Christie will leave office Jan. 16, leaving behind a state government in which all three branches will be run by Democrats. Governor-elect Phil Murphy is a Democrat, and his party gained a net two Assembly seats and one Senate seat in the Nov. 7 elections.
Assemblyman Jack Ciattarelli (R-Somerset), who lost the 2017 Republican primary to Lt. Gov. Kim Guadagno and is leaving the Legislature, said changing the direction of the party will be key to its growth.
"While there are many good people and elected officials representing the NJGOP, the party's brand is in absolute shambles," Ciattarelli said in a statement. "Hoping Phil Murphy unpopular and Donald Trump popular isn't a strategy. We need to rebrand. We need to present bold ideas that take our state in a new direction. We need to outline a very clear vision that appeals to all New Jerseyans. I am ready to roll up my sleeves and be part of the solution, and look forward to working with our new chairman to do just that."
In June, Guadagno selected Steinhardt, a lawyer in private practice and the Warren County Republican chairman, to run the state party. But he was unexpectedly ousted shortly before taking over in favor of another Warren County lawyer, Michael Lavery. At the time, Guadagno cited Christie's nomination of Steinhardt's wife to a Parole Board position as the reason for the last-minute swap. But many Republican insiders complained that Guadagno had caved to pressure from Ocean County GOP Chairman George Gilmore, who favored Lavery.
"Back when we were originally going through this in June, Michael was there with me in June to become counsel to the Republican Party — he was my pick," Steinhardt said, noting that the two men are friends. "When there were questions about potential conflicts, it was easiest to avoid those questions and have someone else step in, it always being the intention of the lieutenant governor and those around her to be able to transition back when we got through this election cycle."
According to Steinhardt, Lavery will continue with the state party as counsel. "We just kind of swapped roles," Steinhardt said.
While the Republicans are shuffling the deck, the New Jersey Democratic State Committee is likely to remain under the leadership of Chairman John Currie. Murphy has endorsed Currie for another two-year term as chairman, and the governor-elect's endorsement is considered a decisive advantage. Currie was first elected to his position in 2013. He is running for re-election with current Vice Chair Lizette Delgado-Polanco.
"Most people do not stop to appreciate that state parties are expected to do a lot without any major, dedicated source of funding," Currie said. "That said, we're in really good shape moving forward. Over the last several years we have made consistent electoral gains. The majority of people in New Jersey recognize the long-term damage and pain the Christie-Trump agenda has caused and are ready for change. Together with my leadership team, I am eager to carry the Murphy-Oliver banner, as we get the Garden State back on track."
Currie added that he is "honored to serve, and humbled by the broad base of support his team has received from the Democratic leadership and organized labor."