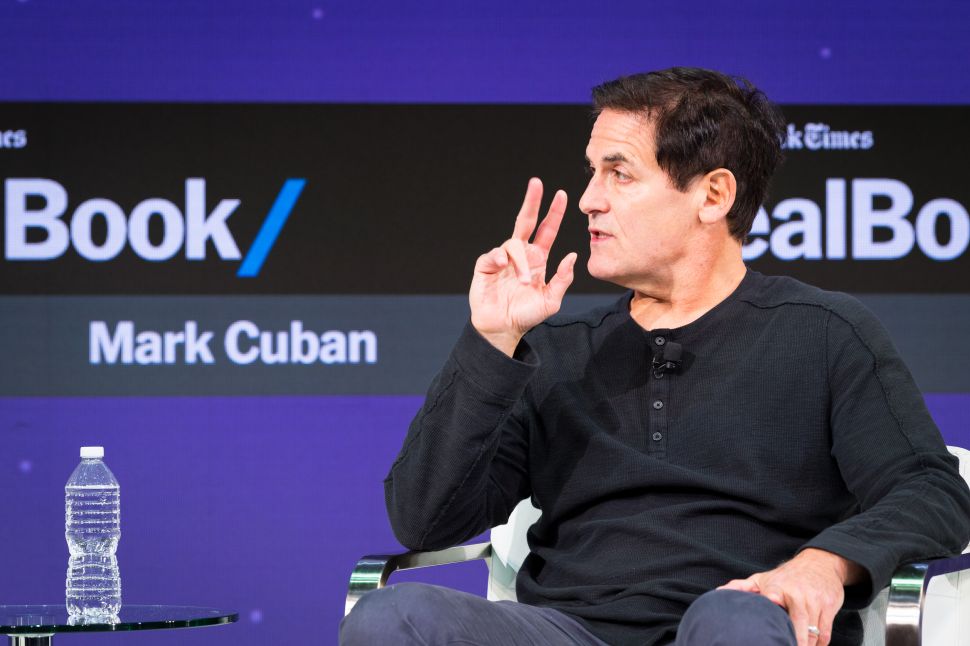 Former White House chief strategist Steve Bannon is eyeing a new racehorse to further upend D.C.'s political establishment. Dallas Mavericks owner, billionaire entrepreneur, and Shark Tank star Mark Cuban confirmed to The Daily Beast that he has been in touch with Bannon since the 2016 election. In an email exchange with the outlet, Cuban claimed to have "texted with him a few time[s]" but that none had "been more than one full sentence."
But according to sources familiar with their relationship, the two have communicated for months about the possibility of Cuban running in 2020. Bannon reportedly encouraged Cuban to run as a Democrat, though Cuban denies the former strategist suggested so outright. Following the election, both were photographed together at the King Cole Bar in Manhattan's St. Regis.
"They talk regularly," former Trump adviser Sam Nunberg told The Daily Beast. "They're very similar. They have a lot of synergy there. Even when [Steve] went to work for Trump, Mark would be interviewed and say nice things about Steve."
As Bannon and Cuban have corresponded, Breitbart News has provided the billionaire with favorable coverage. Cuban even appeared on the site's SiriusXM radio show, Breitbart News Daily, to discuss the current political climate, saying that he was willing to "learn from people who disagree with" him. Bannon serves as the outlet's executive chairman.
Like President Donald Trump, Cuban has used media appearances to tease the possibility of a presidential run. He has rebranded himself as a centrist political outsider concerned with the direction of the country and has regularly castigated Trump for his behavior, calling him "the Zoolander president" at South by Southwest in March. During the 2016 election, he campaigned heavily for Hillary Clinton and was the Democratic nominee's guest during the final presidential debate.
In a surely overcrowded race to dethrone Trump, the speculation hype of another billionaire reality television star entering the ring further rewrites the rulebook of modern politics. While the theatrics are intoxicating, we now stumble drunkenly into the future's wilderness sickened from oligarchy, disinformation, and narcissism.