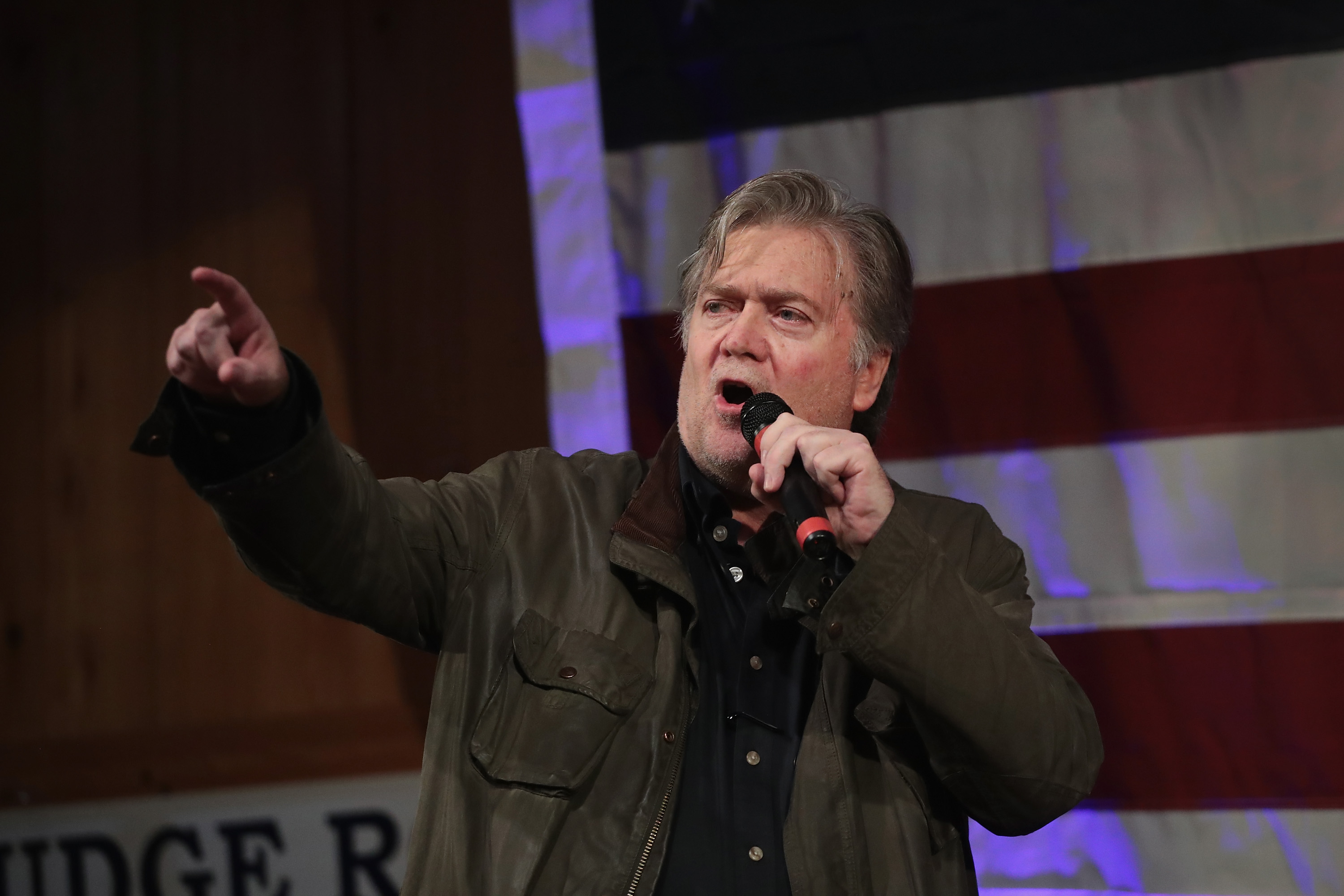 The day before the Washington Post broke the story of Roy Moore's sex scandal, Steve Bannon spoke to feisty Republicans in Macomb County, Michigan and told them that Moore is a victim and so is amateur President Donald Trump.
"In Alabama, it's the politics of personal destruction," Bannon said. "It's to destroy them as people… They tried to destroy Donald Trump and they tried to destroy Judge Moore."
At that moment, Bannon spoke only of the unsuccessful efforts by Senate Majority Leader Mitch McConnell to defeat Moore in Alabama's Republican primary against Luther Strange, who temporarily holds the seat vacated by Attorney General Jefferson Beauregard Sessions III.
But the narrative intensified Thursday when the sanctimonious Moore—a Bible beater from the Bible Belt—was accused of sexual contact with a 14-year-old girl when he was a 32-year-old man.
Three other women also told the Post that Moore hit on them when they were in their teens and he was in his 30s. Moore is a longtime controversial figure, a down-home, cowboy-hat wearin', horse-ridin', pistol-totin', reg'lar feller.
Until now, his backward legacy as a judge in Alabama included anti-Muslim comments, opposition to abortion and to gay sex and the use of the Ten Commandments as a divisive prop.
The sex stuff is new. As Church Lady Laura Ingraham should have put it on Fox News Channel, "Judge not that ye be not judged."
Despite expressions of disgust from potential Republican colleagues Thursday, Moore denied the charges as "fake news" and vowed to stay in the race, which will be decided on Dec. 12 against Democratic candidate Doug Jones.
And he still might win.
Just as President Donald Trump survived his "grab 'em by the pussy" recording in 2016, so, too, may Moore survive this scandal and thrive in a state full of evangelicals and neo-Confederates.
He certainly has the support of Bannon, the former Trump campaign CEO who served briefly as Trump's chief strategist in the White House.
Now back at Breitbart News and crusading against enemies of Trump, Bannon appeared in New Hampshire Thursday night. On CNN, Don Lemon showed Bannon speaking there and implying that the Post might have an agenda because, after all, it revealed both the Trump "pussy-grab" tape year and this Moore story now.
The day before, Bannon was in Macomb to celebrate the one-year anniversary of Trump's upset of Hillary Clinton. Once known as the homeland of the "Reagan Democrats" of the 1980s, Macomb was a crucial county in Trump's Michigan upset.
With about 200 protestors outside, a cavalry of mounted police warily watched the banquet hall while other cops kept protestors apart from diners. Among the signs to greet Bannon were "No Bannon, No Wall," "No Hate in Our State" and "Shame on Macomb GOP." Another spelled only Bannon's name with swastikas in place of the middle letters.
One young woman dressed as a banana and carried a sign that said "The GOP Has Gone Bannon-nas." Another woman held a bullhorn and led chants of "No KKK! No racist, fascist USA!" and "Bannon, Bannon, go away! Racist, sexist, anti-gay." Helicopters thrummed overhead.
Inside the banquet hall, about 700 diners ate well and hooted support. When Bannon mentioned Clinton, there were shouts and chants of "Lock Her Up!" Bannon ridiculed Morning Joe on MSNBC and mocked the idea of cable news that he and Trump have used so well for propaganda.
"What you watch on cable TV every night is pro wrestling, OK?" Bannon said.
Right after finishing, Bannon ducked into a room for a live TV hookup with Sean Hannity in the 9 p.m. hour on Fox. Hannity gave Bannon more than a quarter-hour to say things like "we started a civil war against the Republican establishment" and "the entire Russia collusion thing is a joke."
Over on MSNBC, Lawrence O'Donnell spoke on The Last Word with David Frum.
"Steve Bannon uses words to try to conjure feelings, to elicit reactions… to rev people up," Frum said. "These are the tones of grievance and anger…. What he cares about is mobilizing rage. He's a nihilistic spirt of destruction. He's not left or right. He comes from a dark place."
By Thursday night, commentators on CNN were suggesting Bannon come to the GOP's rescue by demanding that Moore leave the race.
David Gergen even suggested Sessions might go back to his old job. What he might have added is that this would leave Trump with an opening at attorney general to appoint someone who might fire special counsel Robert Mueller.
"The best thing that could happen from a Republican standpoint," he told Anderson Cooper, "is for Steve Bannon—Steve Bannon, of all people—to stand up and say, 'This is important for the party. We believe you, Roy, but, for the good of the party, step aside.'"
And Scott Jennings, a former aide to President George W. Bush, told Cooper, "This is a lot about Steve Bannon right now. He is making the argument to Donald Trump, his former boss, and to the Republican Party, that he and he alone should be able to vet and choose the Republican nominees for the United States Senate in 2018. That was his first project and it has tonight blown up the Republican Party."
Dana Bash of CNN, after speaking with what she called "Bannonworld," doubted that Bannon would turn on Moore.
"Don't hold your breath," Bash said she was told.
On MSNBC, Chris Hayes on All In called Bannon "the strategic genius who's managed to maneuver the Republican Party into being all in on a man who stands accused of molesting a child." Hayes played a Hannity radio tape in which Trump's lead fluffer said, "I don't know how you find out the truth" about Moore.
Later on MSNBC, after a muddled edition of The Rachel Maddow Show, O'Donnell called Moore "the holiest man in America" who should have appeared in person Thursday if only to recite a Bible passage to justify his behavior.
O'Donnell played a September video of Bannon calling Moore "a good man, a courageous man and, most importantly, he's a righteous man." O'Donnell also talked to Daniel Dale, a Toronto Star reporter covering the story.
Dale told O'Donnell that his reporting indicated that Alabama Republicans will support Moore and probably elect him while he denies the accusations.
"Local leaders, not just average Joes, are willing to vote for a literal child molester," Dale said. "He's good at defiance. He's good at projecting righteous anger."
But no one is better at that act than Fox News, especially its prime-time personalities, Hannity, Ingraham and Tucker Carlson. Curiously, in the 8 p.m. hour, Carlson avoided the subject of Moore until, literally, his last minute, when he read a brief, dry summary.
Hannity spent the next hour allowing various guests to cast innuendo at Moore's accusers. He led them into comments about how "some" women make false accusations for the money and that the timing is curious so close to the vote.
He read a written quote from Moore about how "forces of evil" are trying to "silence and shut up Christian conservatives." And Hannity concluded, "Nobody should be pointing fingers."
Agreeing with him was Sebastian Gorka, another displaced Trump hack who has landed on Fox. "Absolutely, Sean," Gorka said. "Is this another smear campaign?"
On The Ingraham Angle, the Church Lady avoided the Moore subject for most of the show but slipped a brief Moore reference into a larger conversation with Ann Coulter about Louis C.K., the comedian accused of sexual impropriety.
Ingraham—usually quick to push an "offended Christian" line of debate—was curiously quiet about Moore, her fellow Pharisee.
Joe Lapointe spent 20 years as a sports reporter for The New York Times and worked as a segment producer for Countdown With Keith Olbermann. Recently, he has taught journalism at New York University, Rutgers and Long Island University-Brooklyn. follow him on twitter: @joelapointe