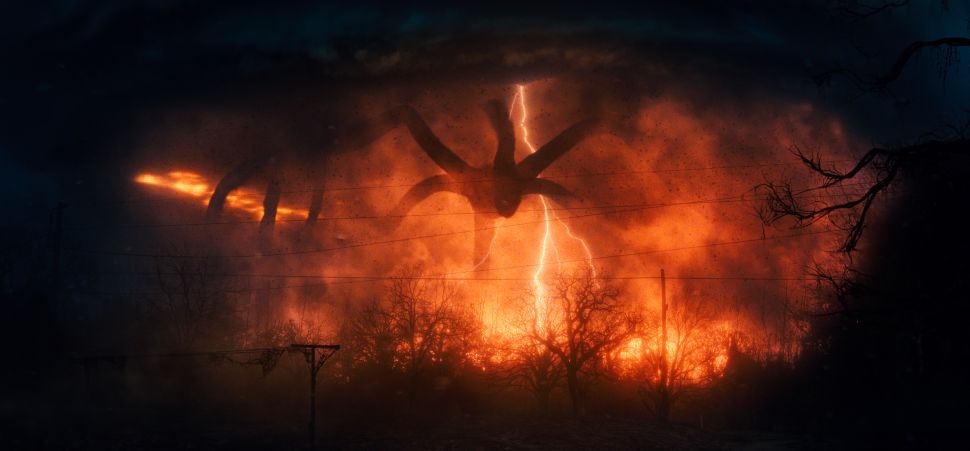 The unheralded and little-promoted first-season of Stranger Things debuted on Netflix in summer 2016 and quickly became the breakout series of the season. As one of the company's most-watched originals, the hype for season two was massive. And, for the most part, Stranger Things 2 lived up to the expectations. More importantly for Netflix, it delivered a commercial hit. According to third-party data, season two is the most in-demand show among U.S. viewers.
Per Variety, Parrot Analytics determined that Matt and Ross Duffer's Stranger Things 2 generated 69.9 million average "demand expressions," which measure viewing or intent to view, during the week of October 29 to November 4 (the season debuted October 27).
That number marked a dramatic 60 percent rise from the week before and slated the nostalgia-driven 80s sci-fi series as the most in-demand show in America. Rounding out the top five in Parrot Analytics' rankings are: HBO's Game of Thrones (53.5 million), CBS' Star Trek: Discovery (52.4 million), AMC's Preacher (40.6 million), Netflix's Mindhunter (26.1 million) and Adult Swim's Rick and Morty (23.3 million).
While Netflix has consistently dismissed third-party viewership measurements over the years, Nielsen—the standard-bearer when it comes to TV ratings—recently began tracking the streaming platform's programming. With north of 52 million U.S. subscribers, the mystery surrounding Netflix's viewership has long intrigued fans and insiders alike. According to Nielsen, Stranger Things 2 garnered upwards of 4 million viewers per episode within three days of the season's release and nearly 9 million viewers overall. The premiere drew a massive 15.8 million viewers within the first three days. For comparison, the season seven finale of Game of Thrones set a series record with 12.1 million live viewers.
As per usual, however, Netflix disputes these number (even though they paint the streamer in a very favorable light).
Per Variety:
"Netflix has called Nielsen's figures well off the mark, pointing out that its audio-based content recognition methodology for TV households doesn't measure viewing on mobile devices. It's also worth noting that Nielsen and Parrot Analytics' data cover only the U.S., and Netflix streams its original programming to members worldwide.

Meanwhile, Parrot Analytics' data doesn't represent a measure of actual viewing. The company bases its rankings on more than 1 billion daily data points to gauge overall demand for a title, from sources including YouTube, Facebook, Twitter, Instagram and piracy services. Parrot Analytics weights different data sources based on relevance."
Which measurement may or may not be accurate, it's clear that Stranger Things is a hit no matter how you slice it.