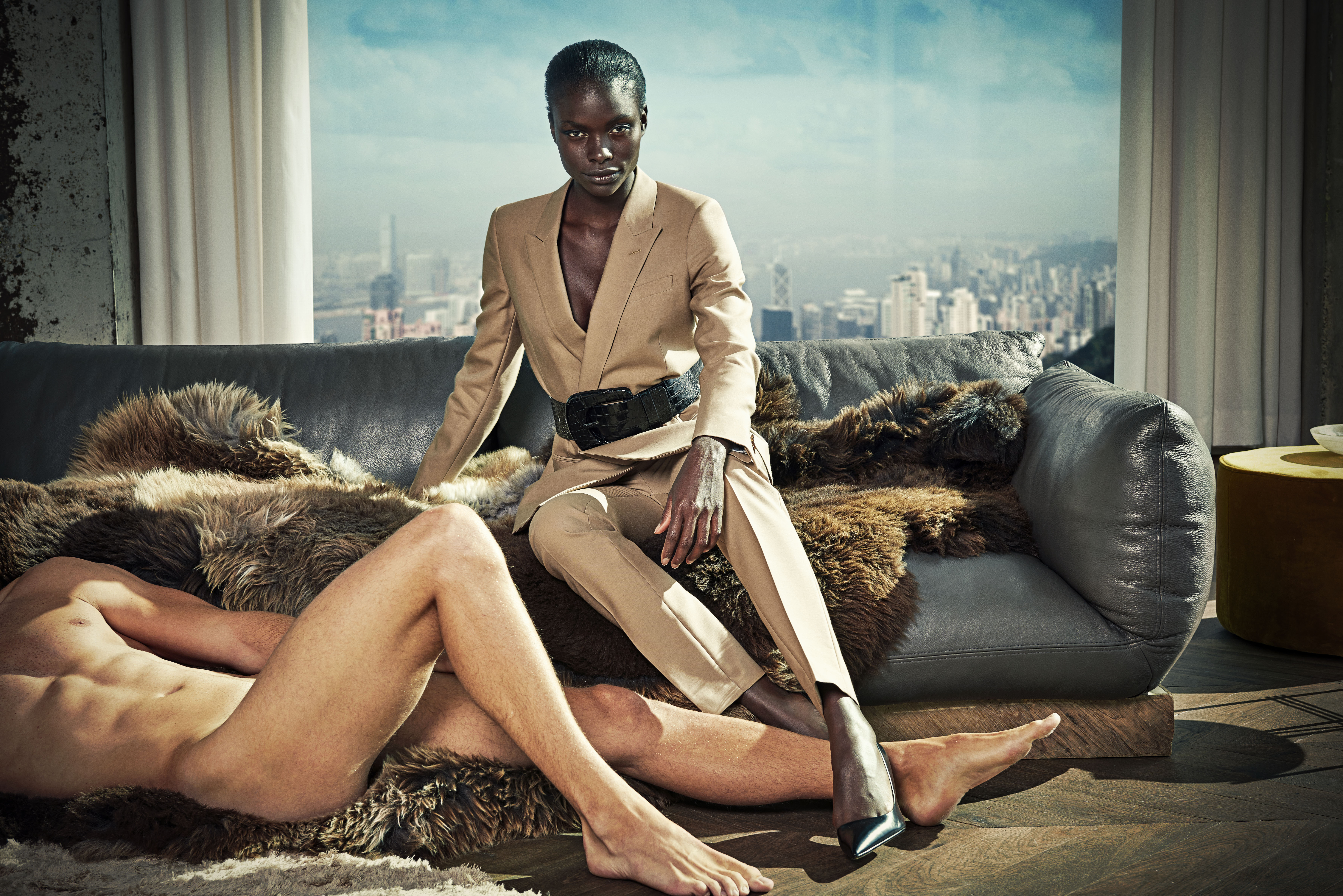 It's a rather fitting time for classic men's suiting to emerge as a big trend for women. Many months ago, major designers such as Céline, Jacquemus, Alexander McQueen, The Row, Altuzarra and Tibi sent women down the runway dressed in their take on the typical pairing of a blazer and slacks, perhaps in a nod to then-presidential hopeful Hillary Clinton. Or, designers were using these powerful costumes as a way to mark their support for ladies aiming to crash through the glass ceiling and for those who plan on becoming the next dozen female CEOs of Fortune 500 companies. Now, amid rampant sexual assault accusations against some of the country's most powerful men, wearing one of these masculine-inspired getups can almost feel like a suit of armor.
If you haven't already given this sartorial tool a try, there's a new spot that's worth a visit: Suistudio. It's a sister label of Amsterdam-based menswear mainstay Suitsupply, the brand known for delivering high-quality suits with impeccable fit, at attainable prices. They also offer on-site tailoring and tweaking, that can be completed in the time it takes to take a power lunch.
But don't assume that Suistudio is simply taking Suitsupply menswear pieces and shrinking them down for the ladies. "Men's suiting is a strong influence, but I don't think it defines how we design the line. Everything we do and everything we touch at the studio is focused on the idea of integrity, when it comes to design, the quality of the fabrics, the pattern and the stitches," Kristina Barricelli, vice president at Suistudio, tells Observer.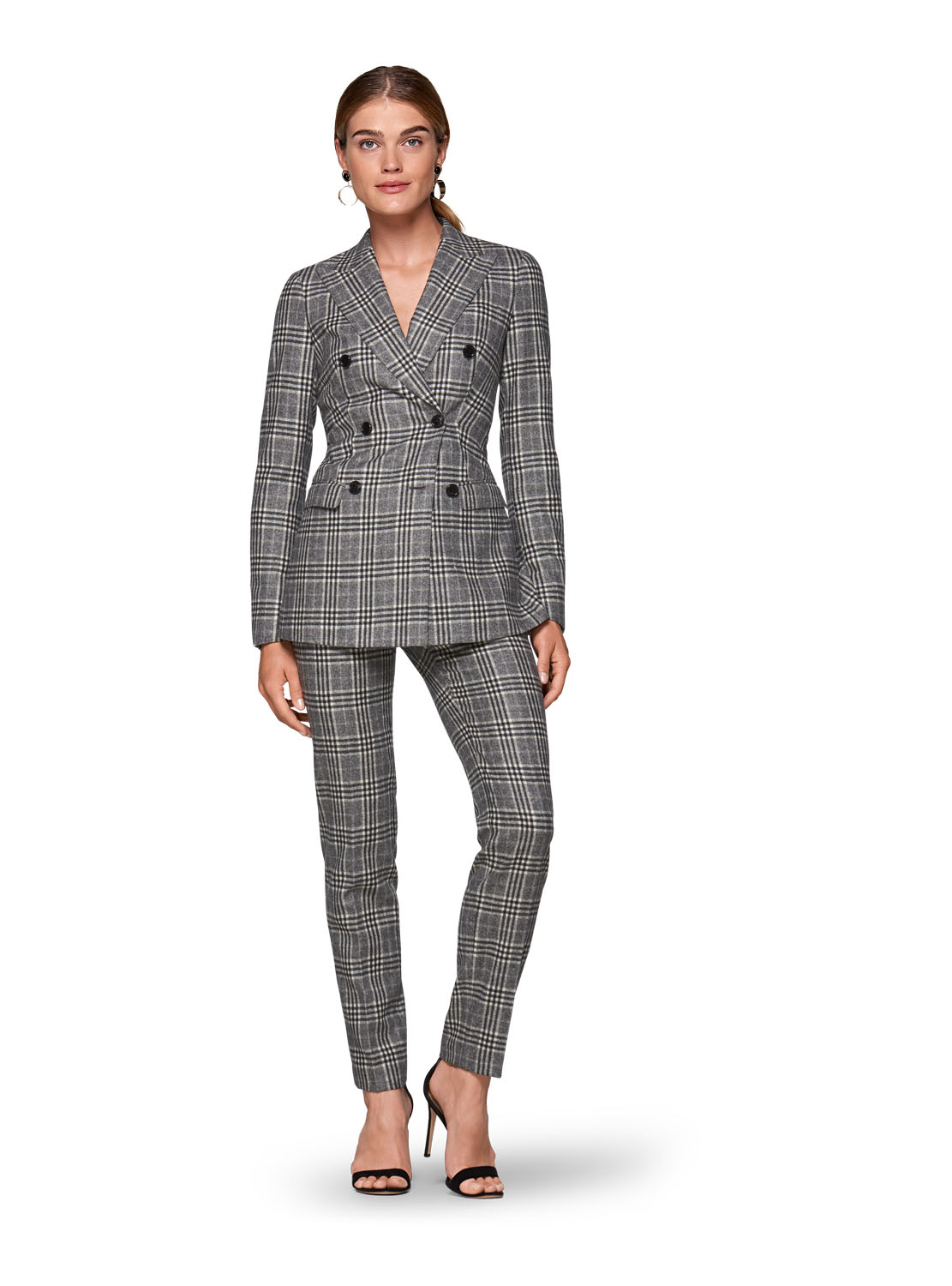 The last time I wrote about Suitsupply in October 2016, I admitted that I was "not inclined to donning a two-piece costume." Well, things have changed. Fast forward to this October, when I slipped on a navy pinstriped suit and glanced in the three-way mirror. Behind me, a man who stood about a foot taller than I did the exact same thing, though I assume he wasn't fixated on how the jacket accentuated his bust or how the pants hugged his hips. Usually, Suistudio customers fulfill their appointments in a space on the fourth floor of the Soho store on Broome Street, which is dedicated solely to the female clientele and has been aptly decorated with ladylike details like a teal tweed wall, colorful stacks of books and a smattering of fresh bouquets.
On the day of my appointment, however, the fitting rooms in the Suistudio space were being used by customers who seemed to be trying on the entire range—and buying half of what they slipped on. I was relegated to the men's floor, and I have to say, I was kind of happy about it. I received the same attentive service, as the sales associate offered her honest take on the windowpane checked suit that wasn't quite my style and the navy double-breasted jacket that was a bit too overpowering for my short frame. She pinned pants that were too long and offered styling tips that would pertain to my everyday life.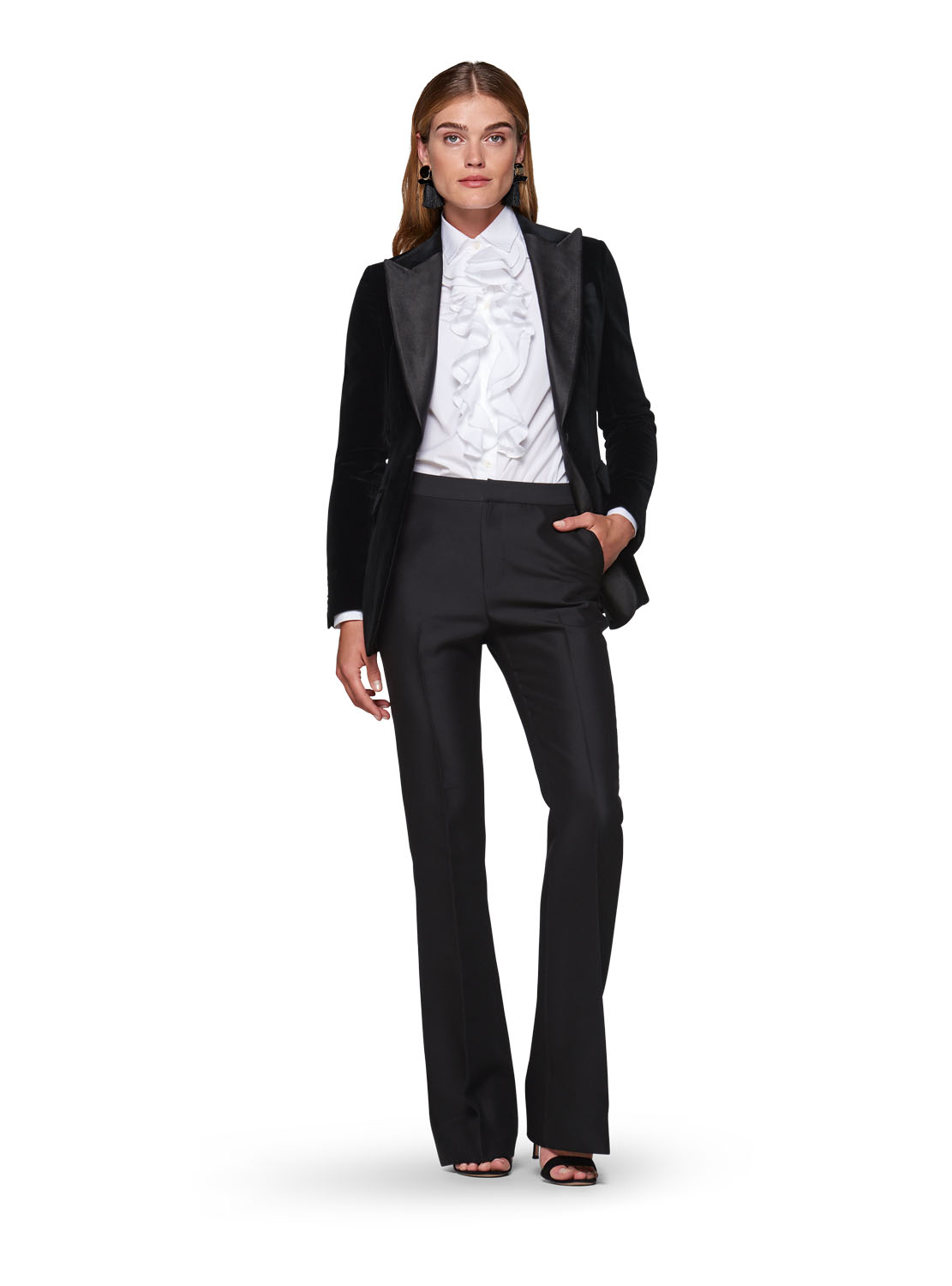 I walked out that day with the Joss Navy Striped Suit, which includes a boxy cropped jacket, that somehow made me appear taller and pants that were perfectly hemmed by a mere inch and a half. I have gotten quite a bit of mileage out of the trousers that fit just right and the blazer that dresses up even the grungiest of band t-shirts. I can wear the suit as one—for formal cocktail events and big interviews—or separate the pieces as needed. It's an aptly multitasking addition to the modern woman's wardrobe.
Shoppers at Suistudio can stock up on more than just menswear-inspired pieces when perusing the well-curated racks; there's a fuzzy mint green wool overcoat, frocks that will easily transition from the boardroom to the cocktail bar, colorful knit sweaters that cost only $79 and a black tie tuxedo playsuit. These are the pieces that will build a polished and professional work wardrobe—one that feels entirely different from those acquired from J.Crew or Ann Taylor.
For one, Suistudio's ad campaigns are far racier than those used by Middle America's go-to work retailers. In fact, Suistudio juxtaposed their flawless tuxedos alongside the nude posteriors of very buff males and it was a campaign that, naturally, ruffled a few feathers. For another, Suistudio's offering of on-site alterations promises to make each purchase fit like a glove; services offered include leg tapering, sleeve shortening, armhole enlarging and waistband lowering, among others.
Suistudio is also expanding rapidly; earlier in November, they opened up at Brookfield Place, in a spacious shop packed with suits, which are priced between $399 and $699, as well as other apparel and various leather accessories. And even though Suitsupply was founded in 2000, the company took their time expanding into the women's side of things; during which they fielded many requests from hopeful female customers.
"Basically, it's been something that we considered for a long time," Barricelli explains. "But we wanted to provide the perfect fit, and that actually turned out to be a more difficult thing to achieve for women, so we really took the time necessary to ensure that we were delivering on that promise." Now, with a dedicated design team and shops of their own, Suistudio is poised to become the go-to shop for putting powerful women into the power suits they deserve.