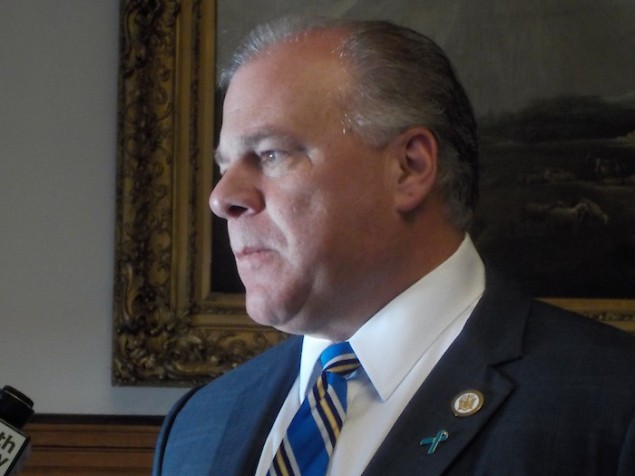 ATLANTIC CITY — Senate President Steve Sweeney said Wednesday that a Republican tax overhaul up for a vote in Congress could affect Democrats' plans to raise taxes on millionaires in New Jersey.
Sweeney (D-Gloucester) has said an increase in the marginal tax rate on income above $1 million would be the first bill the state Senate passes when Governor-elect Phil Murphy takes office in January.
But, during a panel discussion with other legislative leaders at a League of Municipalities conference in Atlantic City, Sweeney said increasing taxes on the wealthy needs to be considered within the context of a GOP tax reform bill that could negatively affect New Jersey.
In its current form, the Republican tax plan backed by President Trump would cap the popular State and Local Tax (SALT) deduction at $10,000. High-tax states such as California, New Jersey, New York and Virginia would be particularly hard-hit by the move, and 10 out of 12 New Jersey members of Congress have opposed the plan.
"I'm actually very concerned for the people of this state if this Trump tax happens, and I think we're going to have to re-evaluate everything once that happens," Sweeney said when asked about the millionaires tax. "Because if you're going to add thousands of dollars to people's budgets, then we're going to have to sit down with Phil Murphy and say, 'How do we go forward and how do we make it work?'"
Taxpayers in the state could end up sending $137 million more to the federal government in taxes over the next decade, according to a report from the Institute of Taxation and Economic Policy.
Sweeney emphasized that he wasn't backing away from his support of the millionaires tax, but said the Republican tax bill "has to be taken into consideration." There would be "all kinds of bad things happening" if the GOP legislation becomes law, Sweeney said.
"I voted for it seven times. I've said it's the top priority," Sweeney said of the millionaires tax. "But I'm actually getting very, very nervous now with what's happening in Washington."
Sweeney in 2016 reversed course on a proposed constitutional amendment to guarantee state funding for its cash-starved pension system. He said then that a deal to round up new revenue for the Transportation Trust Fund forced him to pull the plug on the amendment, since it involved cutting hundreds of millions of dollars in taxes and the state would not be able to afford the extra pension funding.
Increasing taxes on the wealthy was a major plank of Murphy's campaign, which pledged to use the money to pay for a long list of liberal policy promises. Sweeney said the new income tax could generate $650 million a year, which would go toward increased state aid for underfunded school districts. Under the most recent version of that plan, the marginal tax rate on income above $1 million would rise from 8.97 percent to 10.75 percent.
The League of Municipalities panel included Sweeney, Assembly Speaker-elect Craig Coughlin, Senate Republican Leader Tom Kean and Assembly Republican Leader Jon Bramnick. All four said the current SALT deduction levels must be kept in place.
"I hope that our representatives stand up in Washington. This is something we have to fight against," Bramnick (R-Union) said. "It's not just [me] concerned about my on district. What you want is fairness and fairness should be across the country. We should not — not state should be punished. Whether it's us, New York or California, we should no be punished. At this pint, the way it's drafted, we get punished."