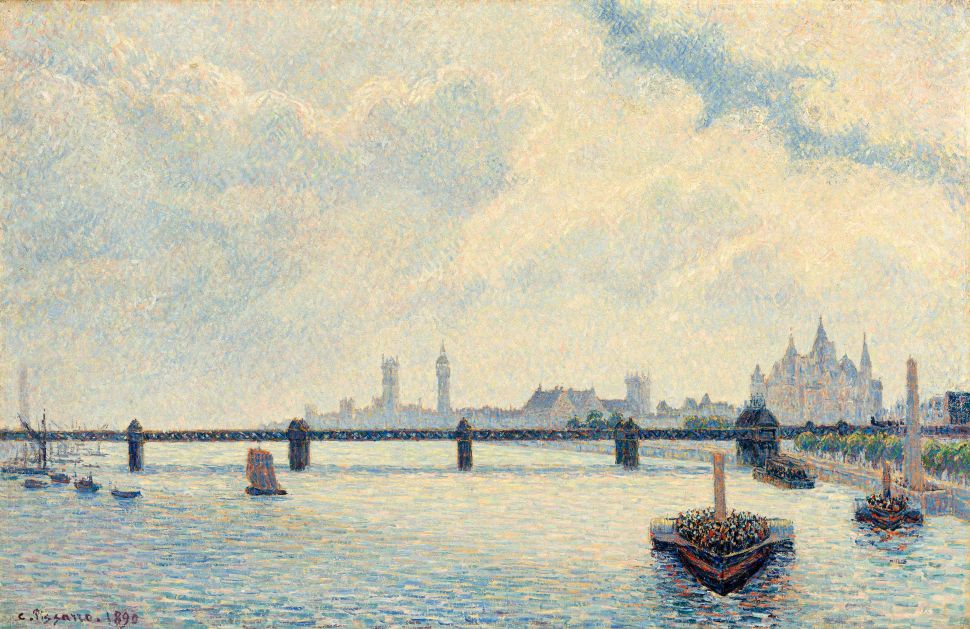 Monet. Renoir. Degas. They're some of the most highly recognizable French artists in the world today thanks to their preeminent, if posthumous, success as founders of Impressionism. Works by artists of this 19th-century French art movement not only changed the course of art history in their day, they now draw crowds to museums like moths to flames, fetch obscene prices at auction, and decorate millions of mass-produced coffee mugs with with painterly water lilies.
As much as the this seismic artistic trend toward semi-abstraction is associated with the cultural legacy of France at the fin de siècle, some of the major artists behind it actually fled their native land just before the Impressionist exhibitions that occurred between 1876 and '84, from which the movement derived its name.
At London's Tate Britain, a recent exhibition unearths the migration of artists like Edouard Manet, Camille Pissarro and Alfred Sisley across the English Channel during the Franco-Prussian War, which lasted from 1870-71. Featuring roughly 100 works by Monet, Pissarro, and James Tissot, among other contemporaries, Impressionists in London, French Artists in Exile (1870-1904) is the first large-scale exhibition to map the artistic networks some of France's most iconic artists built in Britain, and the influence London had on them—and they on London.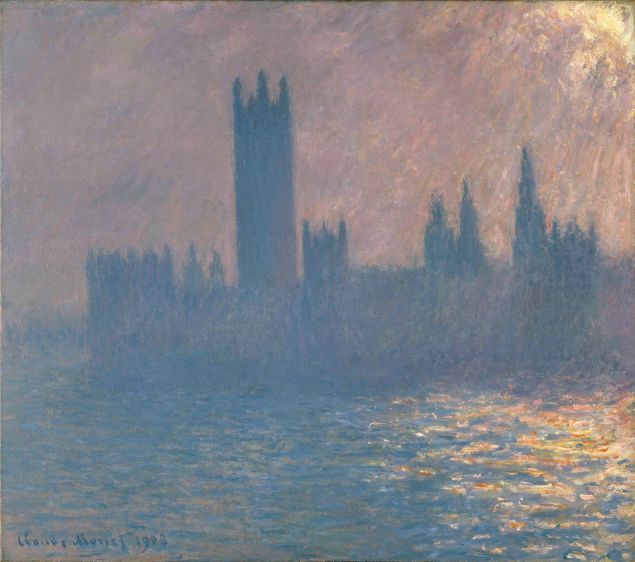 "Paris was not the only art center in the 19th century," the exhibition's lead curator, Caroline Corbeau-Parsons, told Observer. The year-long Franco-Prussian War, known as "The Terrible Year," saw France's defeat and left its capital city destroyed and drained of resources, prompting many French artists to flee to Britain, if only temporarily. When they arrived, they were confronted by a culture far different than they might have expected.
Yet many continued painting the themes they focused on in France, such as regattas and boating excursions, which were always popular, according to Corbeau-Parsons. "If you look at Monet's Regattas at Argenteuil from 1872, the scene couldn't be more peaceful. But if you look at Tissot's and Sisley's London "regattas," they're much more boisterous," she explained, noting the attention to London society's primped pageantry and pristine gloves.
The exhibition also boasts an entire sections devoted to crowd and park scenes, including a painting of Leicester Square at night by Monet which isn't very well known. "London was the biggest metropolis at the time and Paris was, to an extent, quite provincial in comparison," said Corbeau-Parson. An unusual panoramic painting of Hyde Park by Manet underscores the significance of such London sites beyond their novelty to the French emigres. "Public gardens were small in Paris, and you couldn't walk on the grass or lounge," Corbeau-Parson said. "I think there were associations of leisurely freedom with these big, open parks at a time when France was held hostage by violence."
"Impressionists in London" ultimately seeks to reconnect Impressionism to its larger socio-historical context, from which Corbeau-Parsons says it is often divorced, with museums and their audiences often more interested in the movement as a purely aesthetic style and its decorative qualities. The displacement of peoples from war-torn countries is a constant throughout history, and "there was so much happening at this time; these artists fleeing their country were able to see London in such a different way—it changed the way London saw itself, too," she said.
For example, Sisley's Molesey Weir, Hampton Court, Morning, 1874, depicts the newly built Hampton Court Bridge, seen as an eyesore by most Londoners, instead of the adjacent palace, which any English Victorian artist would have focused on instead, Corbeau-Parsons said, no matter how many times it had been done before. She also noted that the Houses of Parliament feature prominently in the works of many Britain-based French artists, especially Monet, whose series of multiples depicting the imposing building in cloaked in the River Thames's mists fill nearly a whole room of the exhibition. "I believe the fascination for these French artists with Parliament had to do with the fact that Paris was in ruins at the time," said Corbeau-Parsons.
"We wanted to have a more international view of what British art is, and these artists completely changed the way Britain was represented," Corbeau-Parson said, which is a timely if not intentional aspect of "Impressionists in London," given the current tense Brexit negotiations that would drastically alter the U.K.'s relationship with the rest of Europe and ostensibly make it more difficult for EU nationals to cross the country's borders. "There was a tradition in this country during the 19th century of welcoming refugees—that's just factual."
Margaret Carrigan is a freelance writer and editor. She planned to go to law school but she did terribly on the LSAT, so she got a master's in art history instead. She lives in Brooklyn with her cat, who is named after Alyssa Milano's character from the early aughts CW smash hit series Charmed.