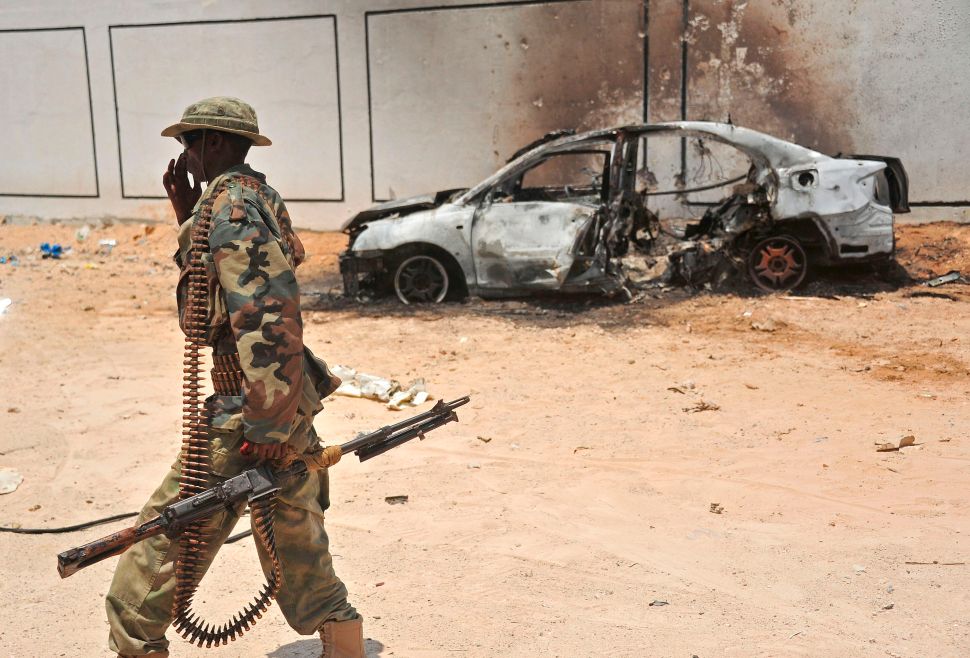 Three weeks ago, Somalia's seaside capital, Mogadishu, experienced its worst attack in decades when a truck bomb detonated at one of the busiest intersections in the city, known as K-5 (Kilometer 5), leaving 358 people dead and more than 500 injured.
Two weeks later, another truck bomb was set off at a hotel in the city frequented by government officials and businessmen, with gunmen moving in immediately afterward, shooting into the stunned crowd. That attack left 23 dead and 30 wounded.
According to one Western medical worker who has worked in the country for a dozen years and spoke to Observer on the condition of anonymity because his employer bars speaking to the media, the blast from the K-5 bombing could be felt throughout the city, including in the military compound where he stays roughly a mile and a half away, he said. Within minutes, he was at ground zero administering first aid.
"Anyone close to the truck itself was vaporized," the source told Observer from Dakar, Senegal, adding that local intelligence and forensics analysts estimated the bomb on the truck used roughly 500 kg detonation material—"100 kg of high-grade military explosive and another 400 kg of secondary explosives, like Anfo. Anything within 20 meters would have been obliterated. There was a fuel truck nearby, too, that complicated the situation."
The medical worker said it was by far the worst attack he'd ever seen in Somalia.
The strikes were the work of Africa's deadliest Islamist extremist group, al Shabaab, who for 10 years now have steadily become a deadly foe to regional governments, transnational shipping companies, and Western politicians looking to keep them contained to the African continent.
Over the 2006 Christmas and New Year's holidays, Ethiopia launched a massive invasion of Somalia after a grouping of Sharia judiciaries—known as the Islamic Courts Union (ICU)—formed a competing governmental administration to rival the then-Transitional Federal Government (TFG), which was comprised largely of Somali Diaspora and elected in neighboring Kenya. Many of them were plucked from obscurity by the U.S. and other European governments.
Since the TFG was new and the nation had essentially been in a state of anarchy since the collapse of the central government in 1991, their rule was weak and limited to Mogadishu. The Ethiopian invasion routed the ICU and their Shabaab fighters, allowing for the TFG to finally move into the city rather than rule from Nairobi, Kenya's capital.
It worked only briefly, as the Shabaab regrouped with vigor. They became a de facto government agency, enforcing punishment of broken laws and taxing overland shipping in areas they controlled.
Somalia's chaos continued. Since 2007, al Shabaab have staged increasingly brazen attacks in country and across the region.
Under that courts union, a militant youth wing known as al Shabaab did the bidding of the elders, fighting the poorly-trained government police and Somali National Army, eventually taking control of large swathes in the southern region of the Horn of Africa nation and becoming a regional terrorism threat.
Next door, the Ethiopians laid out and executed a plan over Christmas 2007, easily handing the Shabaab a defeat and withdrawing not long after the invasion, as the pan-continental African Union, headquartered in Ethiopia's capital, Addis Ababa, moved a multi-national military intervention force into Mogadishu to keep the peace.
The UN Monitoring Group for Somalia and Eritrea kept tabs on illicit activities, issuing annual reports and recommendations. The U.S. and UK poured billions into nation-building projects to restore electricity and restore infrastructure to a capital city utterly scarred from years of clan warfare and failed intervention attempts.
Fast forward to 2017 and the Shabaab have been a well-funded Boogie Man of sorts, operating in areas the government can't go and receiving funding from actors interested in making Somalia a Sharia government, akin to the same plan as the Islamic State, who the Shabaab have pledged loyalty to.
The U.S. steadily ramped up military efforts in Somalia over the years to counter their attacks.
AFRICOM officials in Europe confirmed to the Observer that the command carries out a host of partner training, advisement, equipping of partner troops and improved professionalism awareness with the Somali National Army and police.
"Our (AFRICOM) Theater Campaign Plan, which outlines how we will accomplish our mission on the continent, of the five lines of effort (LOE)—one directly points to neutralizing Al-Shabaab while we move toward transitioning to AMISOM," command spokesperson Robyn Mack said by email on Tuesday. "We welcome AMISOM's success in driving the al-Shabaab terrorist organization out of strategically important population centers, and have underscored the continued U.S. commitment to support AMISOM and the Somali National Army in their responsibility of extending security throughout Somalia."
As for Somali culture, clans form the foundation of Somali society and identity, and any decisions about most aspects of life are made collectively within those clan boundaries. And it makes for a fiercely competitive society—especially since there are few resources.
A simple land dispute can turn Somali against Somali, complicating an already convoluted situation with several layers of conflict interwoven into the fabric of society. And there are thousands of land disputes, according to a recent report by Reuters.
Resolving these problems isn't easy. Some disputes go back decades and it's a murky process, according to Kenneth Menkhaus, a political science professor at Davidson College in North Carolina, who recently spoke to Reuters.
"It's a mess," he told the wire service. "Armed settlers' claims on land are illegitimate—they are just a form of land grabbing. One's claim to land is anchored pretty strongly to one's clan. This is rights by blood."
If Somalis are willing to go to war over a patch of parched, brown earth, how can their insurgency and security issues be resolved?
In the end, it's always been up to the Somalis to be their own problem solvers. But graft inhibits that process. The nation routinely ranks the as worst in the world on a corruption index published annually by the Fund for Peace.
Until Somali government officials can learn to walk away from bribes, militants like al Shabaab will flourish and Somalia will never see peace.
Les Neuhaus is a National and International Politics contributor for the Observer. Follow him on Twitter @LesNeuhaus