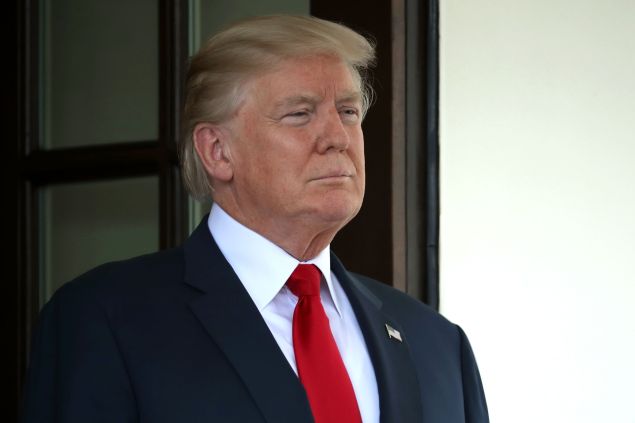 Turkey and Trump don't mix, and now we have the data to prove it.
Economists M. Keith Chen of UCLA and Ryne Rohla of Washington State University used location records from 10 million smartphones and precinct-level voting data to prove that Donald Trump's election shortened Thanksgiving dinners by 62 million hours nationwide in 2016. Their working paper is currently under review by the journal Science.
The research showed that politically divided families cut their parties short by an average of 20 to 30 minutes and that Republican voters were more likely to leave parties in Democratic households than Democrats were to leave Republican ones. The partisan divide was even more pronounced in areas with heavily targeted political advertising.
Chen and Rohla started their research by using anonymized data from Safegraph, which collected more than 17 trillion smartphone location markers in November 2016. These statistics allowed "observation of actual (not self-reported) movement behavior, at extremely precise spatial and temporal levels," they write.
The duo identified individuals' home locations, which they defined as the places people were most often located between 1 AM and 4 AM.  Then they looked at where those same people were located between the hours of 1 PM and 5 PM on Thanksgiving Day.
If those locations differed from the "home" location, Chen and Rohla inferred that people had traveled to visit friends or family for the holiday. They then used the phone data to determine when people arrived for Thanksgiving dinner and when they left.
To approximate families' political leanings, the researchers collected precincts' voting data. They assumed that people from precincts that voted for Trump were Republicans, while those who lived in areas where Hillary Clinton won were Democrats.
Since Democrats live in Republican-leaning areas and vice versa, Chen and Rohla compared their randomized party preferences to actual state and national vote tallies. The results were accurate within one percent of the vote margin.
Once they gathered and analyzed all the data, the researchers found that Democrats spent less time at Thanksgiving dinners in Republican households than in Democratic ones. Voters in red states also left parties earlier if they disagreed with the host's politics.
Additionally, while Republicans were more likely than Democrats to travel long distances for Thanksgiving, they were also more likely to leave early. "Travelers from Democratic precincts do not significantly shorten their visits to Republican hosts, while Republican-precinct travelers shortened their visits by over 40 minutes," the paper found.
In all, Chen and Rohla estimate that partisan differences cost American families 62 million hours of Thanksgiving time in 2016—56.8 percent from individuals living in Democratic precincts and 43.2 percent from Republican precincts.
The volume of political advertising in a given area also affected the results. Chen and Rohla found that Thanksgiving dinners were shortened by 90 seconds for every 1,000 political advertisements aired in the traveler's home media market. In practice, that means that a person who traveled from an ad-saturated state like Florida to visit family with different political leanings spent an average of 72 fewer minutes with them.
The ad factor eliminated 3.3 million hours from Thanksgiving gatherings in all, 52.8 percent from Democratic precinct residents and 47.2 percent from Republican residents.
Those who left early didn't just miss another conversation about work or their kids—they wasted 27 million hours of "cross-partisan discourse," according to Chen and Rohla.
This discomfort with political discussions "may provide a feedback channel by which partisan antipathy reduces opportunities for close cross-party conversations," the researchers wrote.
So while some etiquette experts recommend "never talking Trump" at holiday parties, science shows that discussing politics over pumpkin pie may help heal family divides. Good luck to anyone who tests out this theory on Thursday.