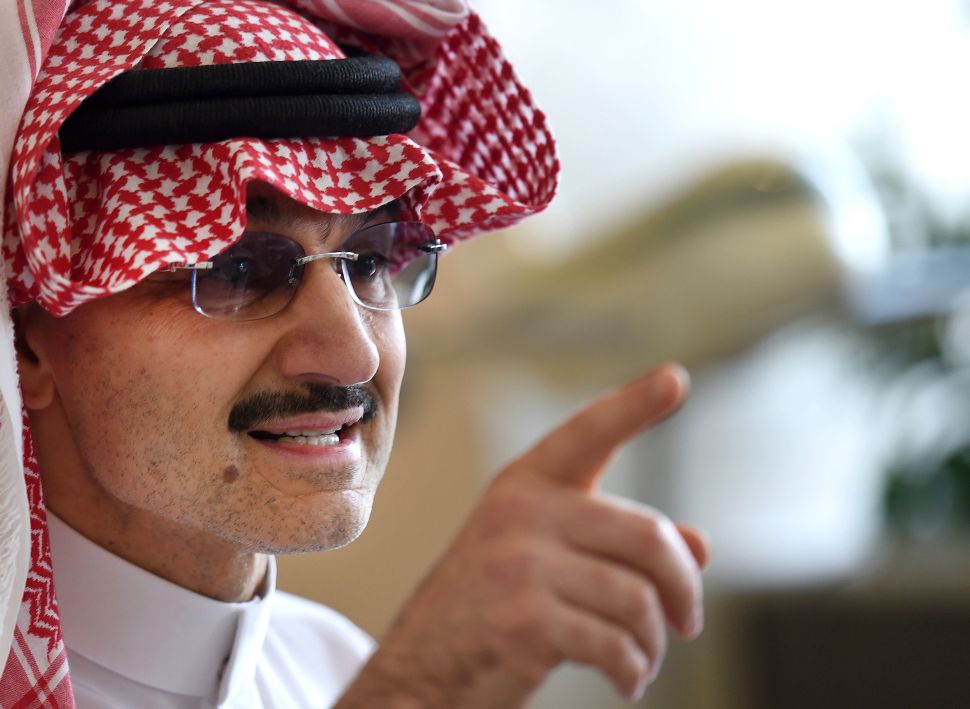 On Saturday, Saudi Arabia ordered the arrest of dozens of royal members and current and former government ministers over corruption charges, The New York Times reported. The list includes Prince Alwaleed bin Talal, a billionaire investor with tangled business ties with American companies.
CNBC said in a report that arresting Prince Alwaleed is "like arresting Warren Buffett or Bill Gates in the U.S."
Forbes estimated Prince Alwaleed's net worth at $18.7 billion before the arrest was made public on Saturday. Hours after the news broke, the share price of Saudi-listed Kingdom Holding Company, of which Alwaleed owns 95 percent, plunged by 10 percent, causing a $2 billion contraction in his net worth.
Kingdom Holding is a $33 billion conglomerate founded by Prince Alwaleed in 1980. It's one of the largest private investment companies in the world, with investments across a wide range of industries and geographies, including American companies large and small.
Here is a list of U.S. companies Prince Alwaleed has significant stakes in, and the year he invested:
Citigroup (C), 1991
Saks Incorporated (Saks Fifth Avenue), 1993
The Plaza Hotel New York, 1995 — The Plaza was owned by Donald Trump from 1988 to 1992. Prince Alwaleed purchased a controlling stake in 1995.
News Corp, 1997 — Prince Alwaleed owns 5.5 percent of Rupert Murdoch's News Corp.
Time Warner, 1997 — Prince Alwaleed owns 5 percent.
AOL, 1997
Apple (AAPL), 1997 — Prince Alwaleed purchased more than 5 percent of Apple's shares in 1997 for $115 million.
Motorola, 1997
ebay (EBAY), 2000
Twitter, 2011 — Prince Alwaleed raised his Twitter stakes in 2015 to 5 percent. He is the second largest shareholder of the company.
Snap Inc., 2015
Lyft, 2015 — Prince Alwaleed, along with General Motors and other nine investors, chipped in $1 billion in Lyft's series F capital raising.
Sources: Kingdom Holding Company website, Crunchbase