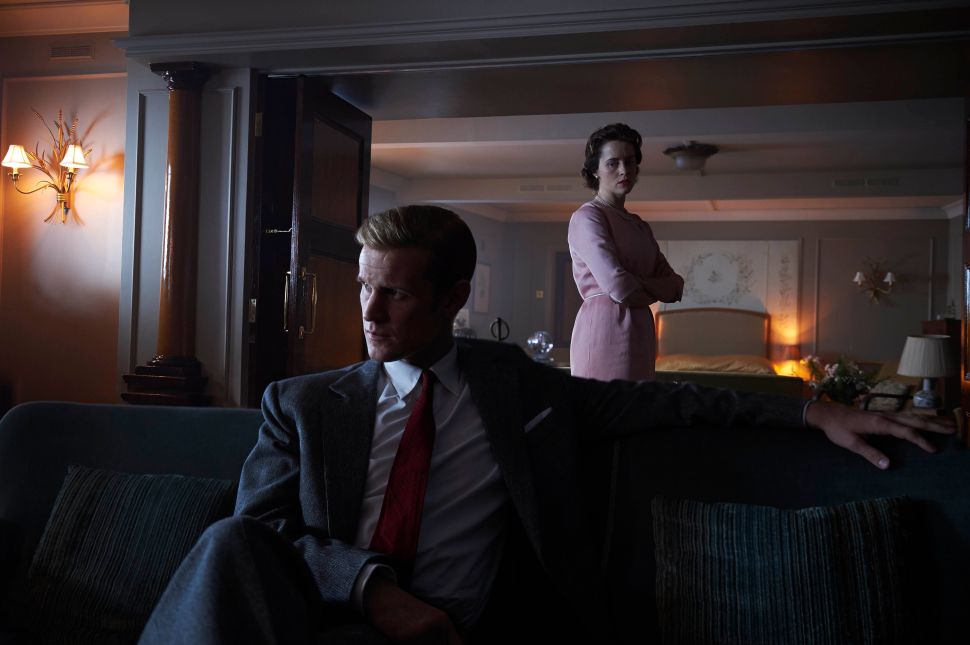 Netflix must be fond of the adage, "You gotta spend money to make money" as the streaming platform has a well-earned reputation of shelling out whatever it takes to land original content (they're prepared to spend $8 billion in 2018 alone). In the short-term, that's helped the company race out to a considerable lead in the competitive streaming wars. In the long-term, however, Netflix will eventually have to address the massive debt its building. So is spending a whopping $130 million on 20 episodes (two 10-episode seasons and counting) of The Crown a smart move for the company? Season one justified that expense with quality reviews, a Golden Globe win for star Claire Foy and 13 Emmy nominations.
Does season two?
The Crown's sophomore effort, of which I've seen the first five episodes, debuts on Netflix on December 8 amid a particularly tumultuous time for the streaming service. With the future of its flagship series, House of Cards, up in the air and Stranger Things 2 having come and gone, the streaming service could use a quality Return on Investment, even if it's only in the cultural reputation sense. Fortunately for them, The Crown's second season delivers.
We've seen far too many TV shows about rich white people problems to the point that it has become as generic as the characters are name brand. But unlike, say, Downton Abbey, which waned in its later years, The Crown more deftly pieces together royal, political and personal stories into what feels like an intricate weave. In other words, it does rich white people problems better than just about any other current show.
Elizabeth (Foy) and Philip's (Matt Smith) marriage continues to be the source from which all other storylines flow. Like last year, Foy is the driving force. It's devastating to see Elizabeth force her emotions deep within herself so as to never betray the truth to the public as her marriage alternately calcifies and melts. It must be exhausting to be perpetually on guard and to mask any and all pain for an ideal greater than yourself. It must be even more taxing and difficult to concede that there even exists an ideal more important than one's own life. What kind of toll would that take on you over time? The character work in season two attempts to answer that.
Just as interesting as Elizabeth this season is Philip, who at one moment can be remarkably petulant and the next showcase a more complicated and fragile interior. A particularity revealing run in with a journalist in the second episode helps to explain some of his behavior and round out a more sympathetic characterization, even as Elizabeth tells him flatly that he's "lost in yourself."
As their marriage ebbs and flows, so to does the state of the country. Early episodes leave you wondering whether personal issues are impairing their judgement when it comes to their royal duties and if the reverse is true as well. It's interesting to see how their relationship bleeds into national concerns and how the outside worlds continues to pry its way into their union. Credit executive producer and showrunner Peter Morgan for blending all three major focuses well and to Foy and Smith for helping to bring it all to life.
Season two's major arcs show you how wealth and prestige, what many of us lust after in life, can have debilitating downsides.
The Crown takes advantage of its historical setting by molding drama to real life events that helped define and shape the second half of the twentieth century. Imagine the responsibility of literally making history with your every waking day and you may be able to approximate just a fraction of what these characters' lives were like. Every decision is magnified to the utmost degree and even though Twitter wouldn't be invented for another 50-plus years, it feels like the entire world is chirping their opinions and say-sos. You'll have to forgive the series if it takes a few creative liberties with real life events such as the Suez Crisis and the political shakeups of the United Kingdom, but for a historical layman such as myself, it's all informatively entertaining.
However, season two is not as pristine as the immaculate production value would have you believe.
The historical and political plot deviations feel light in comparison to the royal and personal drama afoot. There's no doubt that season two misses the weight of John Lithgow's Emmy-winning Winston Churchill. None of his would-be replacements can effectively fill his void, an inevitably that the series wisely acknowledges. Season two's domestic and international affairs just don't carry the same important pluck as season one. Morgan also seems unwilling to delve deeper into uglier aspects of Britain's history and the crown's support of such endeavors.
While explaining the goal of the Royal international tour, Elizabeth says it's important for all of Britain's territories to feel valued in the mother country's eyes, lest they get any "silly ideas like independence." The casual support of colonialism, which was often achieved through the bloodiest of means, is a darker aspect of Britain's history that I'd like to see explored further in The Crown, especially given Elizabeth's nonchalance on the matter. Unfortunately, it doesn't look as if season two is very much concerned with that issue.
To be fair, the series is still concerned with quite a lot, but it often comes to the detriment of season two's pacing. Each episode seems determined to squeeze out every single penny of the budget by gorging themselves on screen time. Several episodes stretch on far too long and fail to end on the right note, which is leaving viewers wanting more rather than with an overstuffed Thanksgiving dinner feeling. Like the Royal family, it feels as if The Crown relishes its indulgences once in a while.
While The Crown may not be an heir apparent to House of Cards as a true flagship series, it is a remarkably well put together historical drama that delicately entices our intellects and emotions. Season two continues to raise up the three pillars of royal, political and personal drama that is sure to tickle the fancy of Emmy voters and sit well with audiences. Strong performances anchor the series once again as do the potent themes of the time that are well set up and executed.
In the end, another quality season justifies the expensive leap of faith Netflix took with The Crown. But before the show's coronation, let's just see what happens to those subscriber numbers after season two hits the streamer.