American suffragists Rosalie Jones and Ida Craft lead a march from New York to Washington DC in time for the National American Woman Suffrage Association parade on March 3, 1913.
Bain News Service/Buyenlarge/Getty Images
Outside Buckingham Palace, English suffragette Emmeline Pankhurst is arrested and carried away at a march, organized by Pankhurst, to petition King George V, London on May 21, 1914.
Jimmy Sime/Central Press/Hulton Archive/Getty Images
Suffragettes hold a jubilee celebrating the passing of the 19th amendment in 1920.
Bettmann/Getty Images
President Kennedy hands out pens during a ceremony at the White House signing into law a bill aimed at assuring women of paychecks equal to those of men doing the same work on June 10, 1963.
Bettmann/Getty Images
Portrait of American journalist, political activist, and one of the founders of the modern feminist movement Gloria Steinem in 1965.
Yale Joel/The LIFE Picture Collection/Getty Images
Trainer Jock Semple enters the field of runners to try to pull Kathy Switzerm (261) out of the race. Male runners move in to form a protective curtain around female track hopeful until the protesting trainer is finally wedged out of the race on April 19, 1967.
Bettmann/Getty Images
Demonstrators remove their brassieres during an anti-bra protest outside a San Francisco department store on August 1, 1969.
Bettmann/Getty Images
To commemorate the 50th anniversary of Women's Suffrage in the United States, record numbers of women march along 5th Avenue in New York City on August 26, 1970.
Fred W. McDarrah/Getty Images
Women march through downtown St. Louis as part of women's liberation demonstration on the 15th anniversary of ratification of the Nineteenth Amendment on August 26, 1970.
Bettmann/Getty Images
Members of the National Women's Liberation Movement, on an equal rights march from Speaker's Corner to No.10 Downing Street, to mark International Women's Day in London on March 6, 1971.
Daily Express/Hulton Archive/Getty Images
Women march holding a banner reading 'It's Hard To Get Equal Rights For A Piece Of Meat' during a demonstration for sexual equality in New York City in 1975.
Jill Freedman/Getty Images
Delegates in the New York section cheer the passing of a resolution supporting the Equal Rights Amendment at the National Women's Conference in Houston November 19, 1977.
Bettmann/Getty Images
Women outside the House of Commons, campaigning for their rights to legal abortions on March 19th, 1980.
Evening Standard/Getty Images
Thousands of demonstrators gather in Washington protesting policies of the 104th US Congress regarding poor women, abortion and violence against women on April 9, 1995.(Photo credit should read JOYCE NALTCHAYAN/AFP/Getty Images)
JOYCE NALTCHAYAN/AFP/Getty Images
Activists rally during a protest against presidential candidate Donald Trump for his treatment of women' in front of Trump Tower on October 17, 2016 in New York City.
Drew Angerer/Getty Images
Protesters walk up Pennsylvania Avenue during the Women's March on Washington on January 21, 2017.
Mario Tama/Getty Images
Protesters take part in the Women's March on January 21, 2017 in London, England.
Dan Kitwood/Getty Images
Many prominent people have been accused of sexual assault and harassment in recent weeks.
Bertrand Guay/AFP/Getty Iages
"This is the year of the woman," comedian Chelsea Handler tweeted after multiple women came forward to reveal they had been sexually assaulted by Hollywood executive Harvey Weinstein. "From Fox, to Silicon Valley, to Hollywood. We may have the lost the election, but it raised sleeping lions."
And the proclamation is not unfitting to a restless and turbulent 2017.
Only 21 days into the year, an estimated 5 million women worldwide participated in the Women's March. The international protest set the tone for the year ahead, and the fight for women's rights grew in the nation's focus, more than it had been in recent years.
This fight for equality, of course, stretches back much earlier than January: Women demanding equality has been one of the most consistent aspects of human history, especially in the last century, and 2017 is hardly the first "Year of the woman." First in recent history, the United Nation's deemed 1975 "International Women's Year." In 1977, the federal government sponsored an International Women's Year Conference, and later many referred to 1992 as "The Year of the Woman" after the election of multiple female senators.
History really repeats itself within this movement, and fortunately, there are photographs documenting it along the way.
"We're looking back over 100 years plus and essentially still taking the same photograph," said Bob Ahern, director of archive photography at Getty Images.
"It's still so relevant, disappointingly relevant in some ways," he explained, comparing images of the first suffragist parade in Washington, D.C., in 1913 to the Women's March this past year.
Though some photographs celebrate the momentum and victories the Women's Rights Movement, they remind us the fight is not yet over.
"The 1970s were a period where there was incredible progress on Women's Rights. Before the 1970s, a woman couldn't get a credit card in her own name…and marital rape was not a thing," said Sara Bijani, Ph.D. candidate in contemporary U.S. history at Michigan State University.
But in the 1980s, the movement hit a wall. "They had been so successful in the 1970s that all of the powers-that-be kind of targeted them" Bijani said.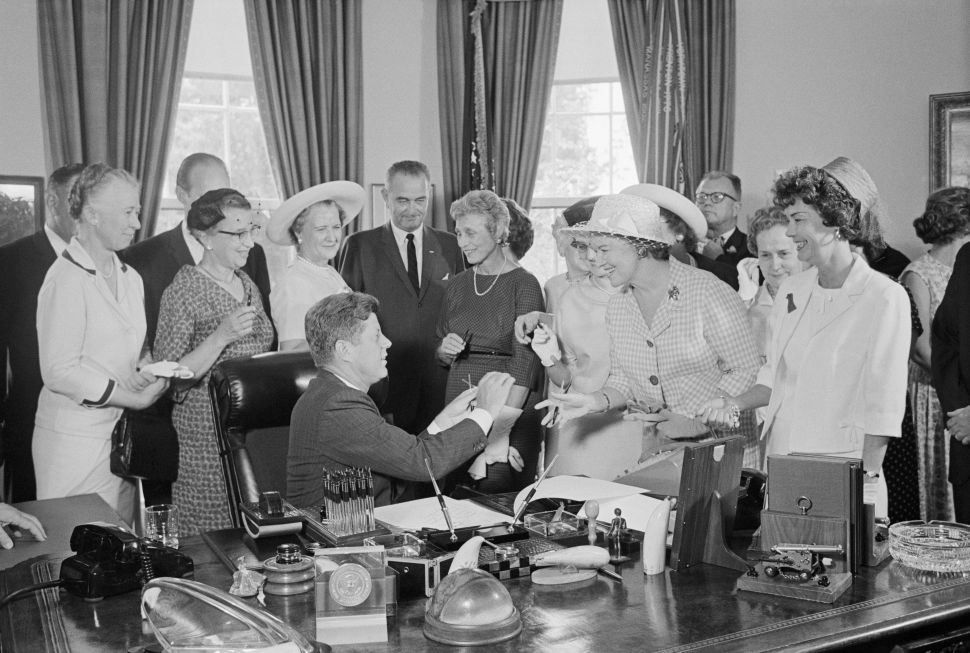 A shot of JFK signing a bill into law that assured women equal pay for equal work in 1963 is one of celebration, yet in 2017—54 years later—women are making 80 percent of every dollar that their male counterparts earn.
"It's because of the successes of feminism," Bijani explained, "especially this kind of social-oriented feminism in the 1970s, that feminist goals now are [negatively] targeted."
These images, stretching back over a century, can still serve as a point of inspiration moving forward. Unique to the medium, photographs can transport us back in time, placing us in the middle historical events, and they have the power to evoke emotion and change.
"I think it's really important to recognize all of the real policy changes that the feminist movement has made," Bijani said, "and to use those as inspiration to push for better policy."
And there's hardly a better inspiration than photographs taken while it all unfolded. This may be the year of the woman—but it is certainly not the first—and hopefully it is far from the last.