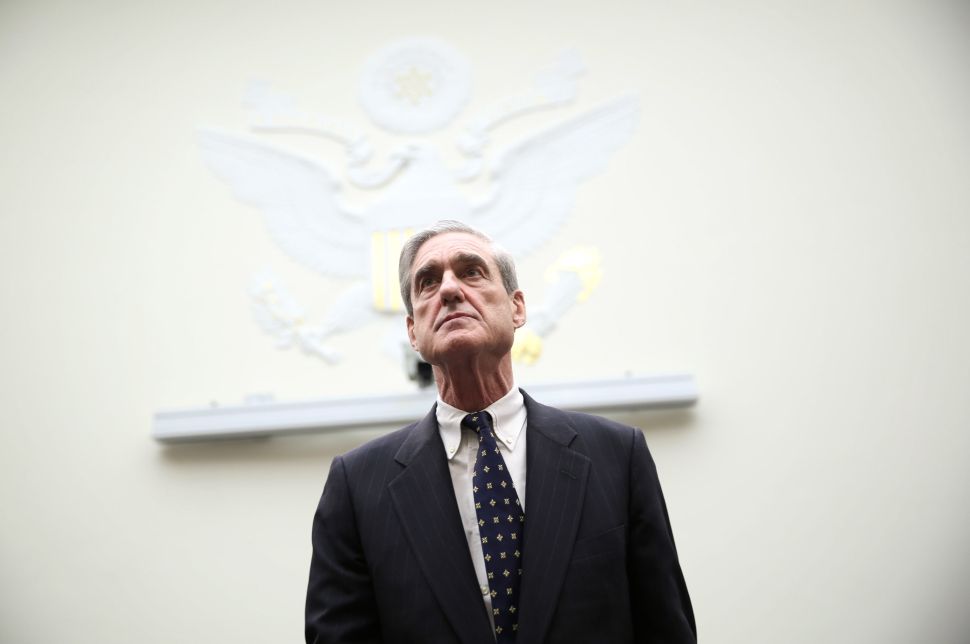 This week began with the bombshell legal news that Special Counsel Robert Mueller brought charges against members of Team Trump relating to their illicit ties to Moscow. As I explained, this fundamentally changes the game in our nation's capital, and the White House is struggling to cope with this new environment, which finds the president on the defensive, awaiting further indictments of his associates.
No aspect of this week's news is more mysterious than the saga of "the Professor"—in reality, Joseph Mifsud, a Maltese national—who served as the hush-hush go-between for the Trump campaign and the Kremlin in the spring of 2016. Notably, he acted as Moscow's cut-out for contacts with George Papadopoulos, a foreign policy advisor hired by the Trump campaign in the late winter of 2016.
Mifsud's role is crystal-clear to anyone versed in Russian espionage tradecraft, what the Kremlin calls konspiratsiya (yes, "conspiracy"). He is a secret operative of Russia's Foreign Intelligence Service, the SVR, as I elaborated:
Papadopoulos met "the Professor" in Italy in mid-March 2016, then again in London later that month; on the latter occasion "the Professor" brought along a Russian female, allegedly Putin's niece, to help facilitate the engagement. Papadopoulos emailed the campaign about the success of this meeting, which responded enthusiastically about what had transpired and on March 31, he participated in a national security meeting in Washington that included campaign principals, with Trump himself present.
But Misfud's role soon moved into even darker territory:
Crucially, "the Professor" introduced Papadopoulos to a senior official of the Russian Ministry of Foreign Affairs or MFA. In May and June 2016, the two had multiple discussions via Skype and email about cooperation between the Kremlin and the Trump campaign—all with the approval of senior campaign officials. Just as important, in late April, "the Professor" boasted to Papadopoulos that Moscow was in possession of juicy "dirt" on Hillary, including "thousands of emails."
Here the "Russian MFA" is the SVR, which customarily masquerades as diplomats when outside Russia. Mifsud's role in the Trump campaign's espionage manqué raises numerous questions that Mueller and his investigators need to answer to fully understand the odd saga of how Team Trump sought the Kremlin's help to harm Hillary Clinton and win the White House.
They knew they were entering unethical and perhaps illegal territory with "the Professor." At the campaign's March 31, 2016 national security meeting in Washington where Papadopoulos explained he had Kremlin contacts—meaning Mifsud—who could facilitate a meeting between Donald Trump and Russian President Vladimir Putin, the Republican candidate expressed interest, while campaign principal Senator Jeff Sessions (now the attorney general) reportedly said "no one should talk about" this clandestine outreach to Moscow, perhaps sensing its legal danger.
Since this story broke a few days ago, Mifsud has gone to ground, admitting his role in Team Trump's outreach to Moscow while stating he has a "clear conscience." Nevertheless, he has disappeared from websites and acted like he has something to hide. His past is shadowy, though it's clear he's made many trips to Russia, leading some in London to ask who Mifsud is really working for, since his official biography makes little sense.
Then we have the fact, revealed by the Washington Examiner, that Mifsud traveled to the United States in 2014, where he extolled his London Academy for Diplomacy, which has since closed and appears to have been an SVR front that existed mostly on paper. His "academy," Mifsud boasted to students at American University in our nation's capital in the autumn of 2014, offered "funds for scholarships" to anyone "interested in diplomacy." How Mifsud's barely extant "academy" afforded such largess, and who was paying for his regular international travels, are questions that need to be answered.
To anyone versed in Russian spies and their ways, Mifsud was in America looking for potential agents for the SVR; this is called "spotting and assessing" in the espionage trade. Mifsud's exact relationship with Russian intelligence remains unclear, though his ability to reach out to top players in Moscow was evident in the Papadopoulos case. He appears to combine disseminating Kremlin propaganda with actual spy recruitment—or at least serving as a cut-out for it.
That Mifsud is Maltese may not be coincidental, given the little island's outsized role in shady financial dealings and money laundering, much of it Russian. The recent car-bomb assassination of a Maltese journalist who was digging into the country's financial crimes and corruption has focused attention on the island, not least because murdering journalists is something that's routine in Putin's Russia, not in the European Union.
All the same, Mifsud is not a one-off. Poland recently expelled a Russian spy very much like him, as I reported. Last month, Warsaw announced it had evicted Dmitry Karnaukhov, a Russian researcher who was really a Kremlin spy. Like Mifsud, he was an academic of sorts, which gave him access to conferences and related professorial venues, but Karnaukhov's actual job was serving as an SVR operative charged with disseminating Kremlin propaganda plus spotting and assessing potential agents of Russian intelligence.
This breed of Russian spy—ostensibly a private citizen who's able to masquerade as an academic or think-tank denizen—isn't exactly new, but they have appeared in impressive numbers across the West over the last decade. Several were expelled from the United States in 2010 in Operation Ghost Stories, in which the FBI booted 10 SVR Illegals from our country. However, others like them continue to ply their clandestine trade in Western capitals, attending conferences looking for "new friends" who might be interested in a free junket to Moscow.
Given his key role in the Papadopoulos case and the Trump campaign's outreach to Moscow, Joseph Mifsud is someone that the FBI and Team Mueller need to talk to. Let's hope they can track him down before the Russians do. Regardless, it's naïve to think "the Professor" is one of a kind. There are more like him out there, spying for the Kremlin, attempting to subvert our democracies from within. Knowing they exist is the first step to pushing back against Putin's Special War.
John Schindler is a security expert and former National Security Agency analyst and counterintelligence officer. A specialist in espionage and terrorism, he's also been a Navy officer and a War College professor. He's published four books and is on Twitter at @20committee.