A depressingly high number of New Jersey voters are tuned out, indifferent about choosing their next governor tomorrow, according to polls.
This guide is not for them. It's for people who still care about freedom and democracy.
After months of campaign attacks and dueling policy platforms, expensive TV ads and millions of dollars spent, New Jersey will choose its next governor tomorrow and all 120 members of the state Legislature.
The winner will follow Chris Christie in the history books. Few choices will have such a big impact on New Jerseyans' lives. Marijuana could be legalized if Murphy wins. Taxes could go down if Guadagno pulls off an upset.
Some big mayoral races are in the mix as well, and two ballot questions. Here's everything you need to know on Election Day.
THE CANDIDATES:
Kim Guadagno, the Republican nominee for governor, is the state's current lieutenant governor and a former Monmouth County sheriff and federal prosecutor. She hitched a ride on the Christie bandwagon for years and when the ride got bumpy she started dissociating herself on some issues such as raising the gas tax.
Phil Murphy, the Democratic nominee, is a former Goldman Sachs executive who was U.S. ambassador to Germany under President Barack Obama. He describes the Christie years as a journey through the desert for New Jerseyans and himself as a liberal oasis.
Independent candidate Gina Genovese, Green Party candidate Seth Kaper-Dale, Constitution Party candidate Matthew Riccardi and Libertarian Party candidate Peter Rohrman are also running for governor. A man named Vincent Ross is also in the mix.
THE POLLS:
Every public poll this year has given Murphy a double-digit lead over Guadagno. If you lump them all together in a totally non-scientific way, the average lead for Murphy is 14.4 percentage points, according to Real Clear Politics.
Here are the latest surveys:
Quinnipiac University: Murphy 53, Guadagno 41 (Murphy +12)
Rasmussen Reports: Murphy 50, Guadagno 35 (Murphy +15)
Gravis: Murphy 46, Guadagno 32 (Murphy +14)
Monmouth University: Murphy 53, Guadagno 39 (Murphy +14)
Emerson College: Murphy 47, Guadagno 31 (Murphy +16)
Suffolk University: Murphy 49, Guadagno 33 (Murphy +16)
Stockton University: Murphy 51, Guadagno 37 (Murphy +14)
Fox News: Murphy 47, Guadagno 33 (Murphy +14)
Fairleigh Dickinson University: Murphy 47, Guadagno 32 (Murphy +15)
THE ISSUES:
Guadagno staked her campaign almost entirely on lowering property taxes, pledging not to run for re-election if she failed to slash homeowners' tax bills. She has proposed a "circuit breaker" plan that would cap the school portion of a property tax bill at 5 percent of a household's income, which would send $800 to the average family and a maximum of $3,000, according to her own estimates. It's not clear where she would find the $1.5 billion a year to pay for those credits in the state budget.
"She'll have to make some hard choices about other spending that will need to be eliminated. No question," Christie told reporters Aug. 30. Guadagno says an "audit" of Trenton would produce substantial savings by rooting out waste, fraud and abuse. "It won't be fixed just by fraud, waste, and abuse or any of that hoo-ha," Christie said.
Later in the race, Guadagno shifted her focus to immigration. She has been hammering Murphy for saying he might make New Jersey a sanctuary state, which would limit cooperation with federal immigration authorities seeking to deport undocumented immigrants. Guadagno says she'd seek to ban sanctuary cities if elected.
Murphy has run on a starkly liberal platform and has opposed nearly everything that has come out of President Trump's mouth and administration.
He plans to boost funding for schools and the faltering $75 billion pension system for public workers, moves that would reverse Christie's policy of austerity and add billions of dollars to the state budget over the next few years. He wants to raise the minimum wage to $15 an hour. He would move the state toward providing universal preschool and tuition-free community college. He would legalize and tax marijuana. He would add funding for NJ Transit. He would file lawsuits against the Trump administration on a range of issues.
He says his proposed investments are the key to "a stronger and fairer economy that works for everyone," but it's not clear that taxes would go down for the average New Jerseyan under his plan.
In fact, Murphy plans to raise $1.3 billion in revenue through higher taxes on millionaires, closing loopholes that benefit hedge fund managers and large corporations, and by taxing legal weed.
THE MONEY:
The candidates have combined to spend at least $13.3 million on the governor's race. Murphy has far outpaced Guadagno in the money department. He had raised $13.3 million, spent $9.8 million and stored up $3.5 million cash on hand as of Oct. 24, according to the Election Law Enforcement Commission. Guadagno had pulled in $3.9 million, spent $3.3 million and stored up $632,000 at that point.
Super PACs and national political groups have injected another $10.6 million into the race. A union-backed super PAC supporting Murphy called the Committee to Build the Economy has led the way in independent spending with nearly $6.1 million, almost all of it during the last three weeks in October.
When counting both independent spending and donations to candidates, the Democratic Governors Association has put in nearly $3 million ahead of the Nov. 7 election. The Republican Governors Association has spent $2 million.
THE ENDORSEMENTS: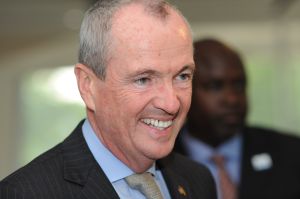 All 12 New Jersey voters who care about the election might have noticed that Murphy mostly swept the endorsements from the area's editorial writers, though the state's two largest newspapers weren't exactly excited about their choice.
The Star-Ledger purported to endorse Murphy, then bashed him for his support of the state's largest teachers union, the New Jersey Education Association. "Yes, he has deep flaws, he'll have to learn the job on the fly, and he may even be a complete flop. His alliance with public worker unions is toxic," Tom Moran wrote in a follow-up column urging voters to back Murphy.
The Bergen Record backed Murphy because he offered a "more progressive, inclusive agenda" than Guadagno, but had they had their druthers, they would have gotten "more dynamic choices" in this year's race than the two major-party candidates.
The Philadelphia Inquirer was unabashed, endorsing Murphy because he "has the right sensitivities, background, and priorities to govern." The New York Times said picking Murphy was "not even a close call" because the thought of Christie's lieutenant governor taking over for the next four years was too stomach-turning for them.
The Asbury Park Press, a newspaper that circulates in Guadagno's town, Monmouth Beach, endorsed her and called her "best equipped" to address New Jersey's highest-in-the-nation property taxes. The New Jersey Herald in Sussex County also backed Guadagno, saying her law enforcement background "bespeaks a respect for the rule of law that is sorely needed in the halls of power." (Christie's law enforcement background bespoke the same thing, maybe?)
Last but certainly not least, the New York Post, despite hardly covering the race, decided to make an endorsement and picked Guadagno because "overtaxed Garden Staters simply can't afford yet another spendthrift Democrat."
THE DOWN-BALLOT BATTLEGROUNDS:
2nd District: The race to replace the late state Sen. Jim Whelan pits Assemblyman Chris Brown (R-Atlantic) against Sen. Colin Bell (D-Atlantic), who was tapped to fill Whelan's seat and is now running for a full term. The perennially competitive district, which includes Atlantic City, has attracted $4.6 million in total spending this year, which would normally be enough to be the most expensive legislative race, if not for a fierce, multimillion-dollar battle in the neighboring 3rd district (more on that below). The latest poll of the race gives Brown a 3-point lead over Bell.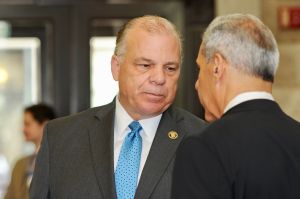 3rd District: The New Jersey Education Association's war with Senate President Steve Sweeney (D-Gloucester) has shattered the previous spending record for a legislative race, with campaign finance regulators expecting $20 million in total spending on both sides. The powerful teachers union is on a mission to punish Sweeney, who partnered with Christie to cut public worker pension and health benefits and later reneged on a promised constitutional amendment to guarantee funding for the troubled retirement funds. Sweeney is expected to survive, although a GOP internal poll showed the race between Sweeney and his Republican challenger, Fran Grenier, slimming to single digits.
11th District: The closest legislative race of the year features state Sen. Jen Beck (R-Monmouth) trying to fend off a well-funded Democratic challenger, Vin Gopal. Beck has been a senator since 2008. But there have been signs the district is tilting toward the Democrats. Democrats snagged both of the district's Assembly seats in 2015. A Democratic internal poll showed Gopal leading by 1 point, 49 percent to 48 percent, after a super PAC tied to South Jersey power broker George Norcross dropped $876,226 in recent days to bolster Gopal.
14th District: As in the governor's race, Christie has loomed large over the battle between state Sen. Linda Greenstein (D-Middlesex) and her GOP challenger, Ileana Schirmer. Schirmer has attacked Greenstein for voting "98 percent of the time" with Christie and has dubbed her "Gas Tax Greenstein" for supporting a 23-cent per gallon increase to the gasoline tax that the governor championed. Greenstein has dismissed the attacks, arguing that she has opposed Christie on funding for women's health centers, gun control, raising the minimum wage, and Christie's $300 million state house renovation. This is not Greenstein's first rodeo. Republicans target her every cycle.
38th District: Republicans in this North Jersey district had to shake up their ticket after one of their Assembly candidates, Matt Seymour, dropped out of the race in June to become a Democrat. Bill Leonard — who would become the youngest member of the New Jersey Legislature — replaced Seymour to join state Senate candidate Kelly Langschultz and Assembly candidate Chris Wolf on the ballot. The district is currently represented by three Democratic incumbents, state Sen. Bob Gordon and Assemblymen Tim Eustace and Joe Lagana.
THE MAYOR'S RACES: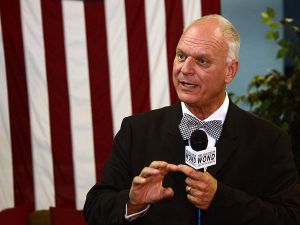 Atlantic City: Mayor Don Guardian, the bow-tied, bicycle-riding Republican, shocked many when he was elected mayor in 2013 in the Democrat-dominated seaside city. But since then he's jumped from crisis to crisis, including five casino closings and a state takeover of the city's finances. The Democratic mayoral candidate, Councilman Frank Gilliam, is trying to capitalize on that doom and gloom to oust Guardian. Days before the election, Guardian claimed dead people were voting against him — as part of a voter fraud scheme, not a zombie apocalypse.
Jersey City: Mayor Steve Fulop was widely expected to run for governor as a Democrat this year, but unexpectedly pulled the plug on his campaign before it even started and endorsed Murphy. Now he's running for re-election against lawyer Bill Matsikoudis. In recent weeks, Fulop has been dogged by a series of long reports in Politico about a 2014 recording that appears to show top Fulop aides attempting to steer a city contract to a company that did not end up winning said contract.
Hoboken: Mayor Dawn Zimmer, a Democrat who once accused Guadagno of extorting her (nothing came of those accusations), decided not to run for re-election in this happening city across the river from Manhattan. Her departure drastically changed the dynamics in Hoboken, creating an opening for a slew of candidates to enter the fray and try to succeed her. They are Hudson County Freeholder Anthony Romano – who is running for both mayor and his freeholder seat — City Council President Jennifer Giattino and Councilmen Ravi Bhalla and Michael DeFusco.
THE BALLOT QUESTIONS:
Public Question No. 1: State lawmakers authorized up to $125 million in bonds for the New Jersey Library Construction Bond Act. If voters approve, the borrowed funds would be used to finance capital projects at public libraries. The initiative has bipartisan support, and 60 members of the Assembly and state Senate have signed on to sponsor the bill. The New Jersey Library Association also supports the measure.
Public Question No. 2: Voters will be asked to amend the state constitution to dedicate all the revenue obtained from settling pollution lawsuits and other environmental matters exclusively on environmental projects. If passed, the dedicated funding would be prioritized for remediating the area at issue in the underlying lawsuit before any leftover money could go to other projects. This is sort of a rebuke by Democrats to Christie's administration, which settled an $8.9 billion lawsuit with Exxon for $225 million and then diverted some of that money to non-environmental purposes.(Read more about the ballot questions here.)