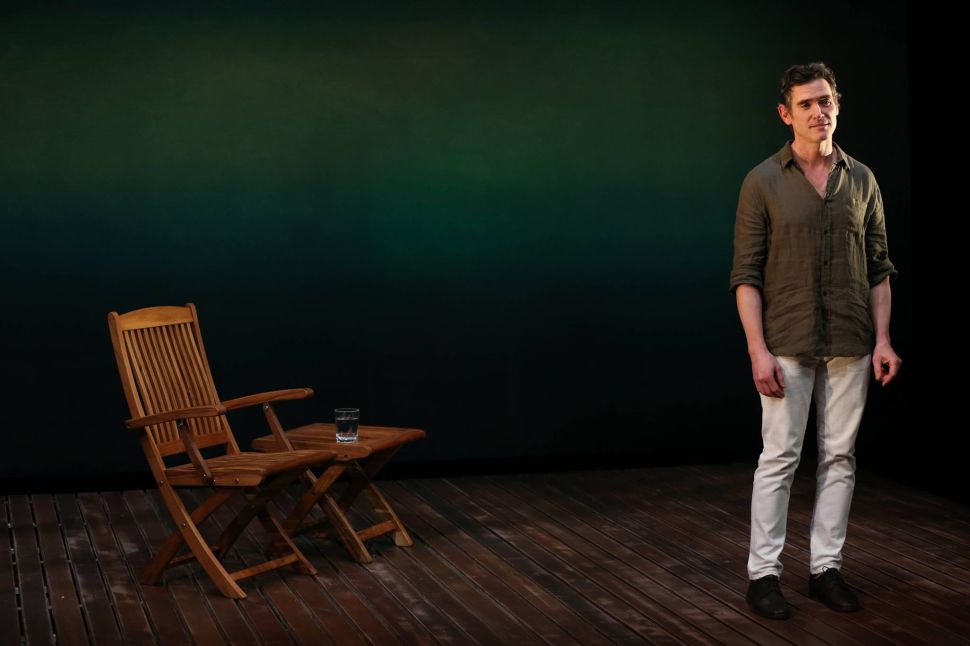 The charm and versatility of Billy Crudup has been seen to good effect in the movies, but his appearances onstage are rare. So take advantage of the opportunity to see him at the top of his game in the new off-Broadway tour de force Harry Clarke at the Vineyard Theatre and you'll be forever glad you did.
When he was eight years old, a precocious boy in South Bend, Indiana named Philip Brugglestein started imitating the British accents he heard on PBS, annoying his bewildered mother and enraging his mean-spirited, alcoholic father. As time went by, Philip not only refused to grow up and grow out of this eccentricity, he even gave his alter-ego a name, calling himself "Harry Clarke." In the one-man play of the same name by David Cale, the double life of Philip and Harry converge as Billy Crudup delivers a non-stop monologue on a bare stage that lasts one hour and twenty minutes, playing Philip, Harry, and an entire gallery of other characters, young and old, gay and straight, male and female. It's a wild romp played with gusto, finesse, and awesome authenticity that leaves you cheering.
A complex plot also emerges that keeps the viewer spellbound as Harry/Philip tells his story. His father considered sending him for electro-shock treatments, but fortunately he fell under the wheels of tractor and left for pig scraps, freeing the boy to move to Manhattan and pretend he was a displaced London dandy. When anyone in New York asked where he was from, he said "Elstree," where the British film studios are. With his vivid imagination he one day stalked a man into a Gap store where, in the middle of buying boxer shorts, he overheard the guy on his cell phone talking to someone named Sabine. Later, he runs into the same man again in a movie house and pretending to know all about his friend Sabine, insinuates himself into the affairs of the rich and handsome stranger, named Mark Schmidt.
As Harry animatedly prattles on in confidence to the audience, we learn how he plots, schemes, cheats and deceives Mark into taking him into his Tribeca apartment, first as a friend and then as a lover. Harry plies him with drugs and liquor, then moves on to captivate Mark's sister and seduce his mother on weekends at the Schmidt family estate in Newport, luring them with phony claims to be a record company executive and close friend of pop singer Sade. Discarded characters re-appear, along with a host of new ones, as the man everyone now knows as Harry Clarke explores his bisexuality and rises in the world of finance. Crudup plays them all, sometimes with cruelty, then jaded affection, but always with hysterical humor. In the voice of Mark's mother, he stops the show: "I'm sixty-seven years old, for christ sake, not one hundred and sixty-seven…you're not circumcised are you? No offense, but I'm Jewish….I can't eat shrimp either."
When he's Philip Brugglestein, he's unformed, insecure, and borderline schizophrenic. When he's Harry Clarke, he becomes uninhibited, aggressive and fearless—a con artist whose charade pays off. In the end, his rich boyfriend dies and leaves him everything. The point, I think, is that only a clever and dedicated fake can succeed at the ultimate con game, even if it guarantees a bleak and lonely future. Billy Crudup succeeds at everything. He's keen, creative, fast on his feet, heartless, lovable, sexy and outrageously funny at the same time. The program credits the excellent Leigh Silverstein as the director, but I wouldn't be surprised to learn Billy Crudup directed himself. Whatever the case, Harry Clarke is one of the oddest and most exhilarating theater triumphs of 2017.