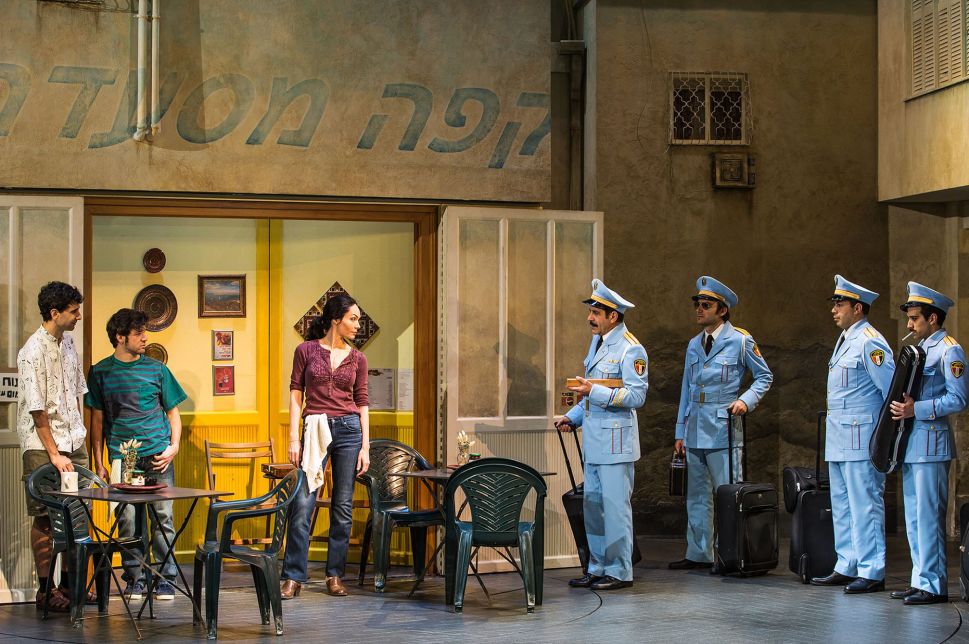 "Perfection" is a word I almost never use anymore because, considering the second-rate quality of almost everything I review on stage and film, it's a word that rarely applies to plays and movies. That's why it's so special to find the rare and joyous exception. And I do mean the fresh, happy and melodic new musical adaptation of writer-director Eran Kolirin's acclaimed 2008 movie The Band's Visit. Firmly embraced by rave reviews, it has opened at the Ethel Barrymore Theatre on Broadway where, I am here to tell you, it's the best thing in town.
In case you're unlucky enough to have missed the film, The Band's Visit is the one about eight musicians from Egypt invited to Israel to perform for the opening of an Arab Cultural Center. Naturally, they're nervous about how they will be received, but since it's a good-will concert for a worthy cause, they hope to represent their country with dignity. Nothing goes right. Tewfiq, the proud conductor of the Alexandria Ceremonial Police Orchestra is alarmed when the classical musicians arrive and there's no welcoming committee at the airport to meet their plane. They are looking for a town called Petah Tiqva, but while Haled, the romantic violinist, becomes distracted flirting with a pretty ticket clerk, the musicians take the wrong bus to a remote village with a similar name called Beit Hatikvah, where they are forced to spend the night until they can take the next bus out the following morning, throwing themselves at the mercy of the villagers—a group of suspicious, distrustful Israelis, some of whom are less than sympathetic to strange Arab invaders.
Things change when a spirited and unconventional café owner named Dina becomes attracted to both Tewfiq and Haled, and a night of unexpected adventure begins. For the visiting Arabs, the Jewish food they are served is only so-so but the music they play is respected and admired by everybody. The Egyptians form liaisons with their hosts that lead to a new definition of cultural détente. And while the plot is thin, the music of the eight diverse musicians, carried by exotic tempos and thrilling meters of songs with ethnic roots, is blended to meet the demands of a Broadway musical comedy.
Directed with an easy rhythm of his own by David Cromer and featuring a sublime score by the multi-talented composer-lyricist David Yazbeck (The Full Monty, Dirty Rotten Scoundrels), this is a show that manages with great subtlety and appealing versatility to cover a lot of musical ground, enhanced by a carefully written book by Itamar Moses that reaches out to captivate a broad audience—proving in myriad ways why, despite the world's cultural and political differences, nothing soothes, salvages or solves like music. It doesn't matter if you're from South America or Saudi Arabia—if you can play "Moon River," someone will like you and want to hear more. Music makes peace in any language. Dina has never met an Egyptian in her life, but in the song "Omar Sharif" she demonstrates how everyone can love the same heart-throbs on the screen—with or without subtitles. Israeli or Arab, every parent knows a lullaby. From the quiet atmosphere of Dina's café to the noise of the local club which a combination disco and skating rink, Scott Pask's revolving platform of sets provide a series of locations that make you feel like you're stranded overnight in Beit Hatikvah, too.
The cast is uniformly splendid. Katrina Lenk, with a mane of black hair and a defiant air of independence, is a lusty Dina. Veteran actor Tony Shalhoub is a proud, wise Tewfiq, the aging, experienced conductor who is still young enough to feel the draw of a vibrant, lonely woman in another country. A real highlight of the production is Ariel Stachel, the handsome ladies' man violinist who tries to make friends by asking every stranger if they know Chet Baker, then woos the girls by dreamily crooning "My Funny Valentine." The band lines up in their powder-blue uniforms at the end, in an encore that gets a nightly standing ovation. They deserve it, and so does the show. Instead of an overblown extravaganza, it's a work of low-key charm balanced by the high impact of intuitive ensemble work and a gorgeous score unlike anything on Broadway.
"Perfection" means "without flaws," and I can't find any flaws at all in The Band's Visit.