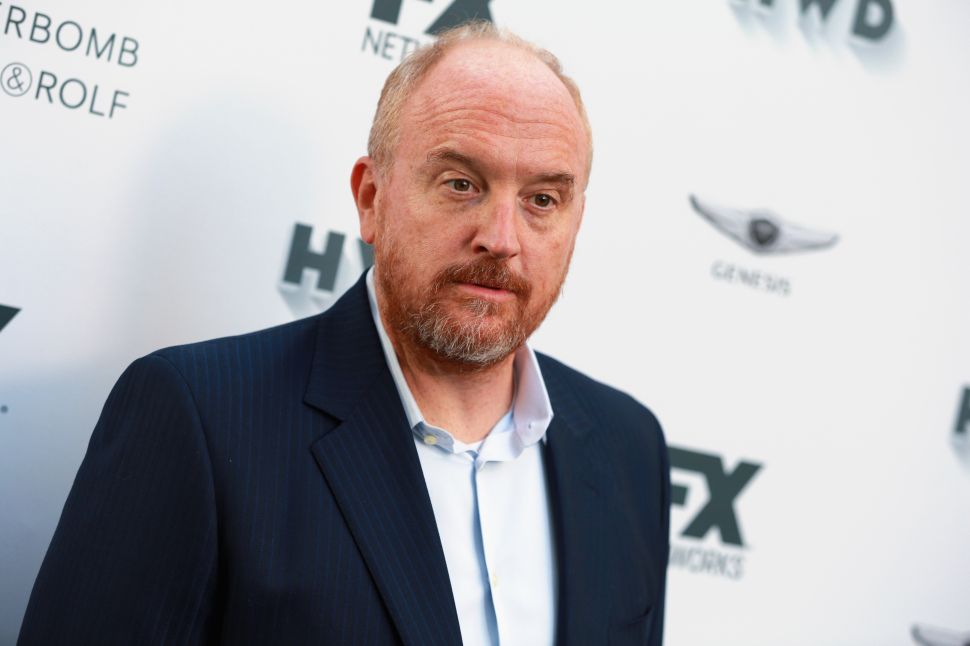 Following the reports on Harvey Weinstein, Hollywood seems to be purging itself of stars and executives linked to sexual harassment. As more and more women come forward with accusations against A-list celebrities, high-ranking producers and studio heads, more and more high profile film and television projects are being placed on the back burner. Here's a list of the recent ones that have been delayed, suspended or canceled outright as a result.
I Love You, Daddy
On Thursday, the New York Times reported that five women had accused comedian Louis C.K. of sexual misconduct. Today, C.K. confirmed the reports and apologized for his actions. But apologies aren't enough as The Orchard, which purchased I Love You, Daddy for $5 million coming out of the Toronto Film Festival, has scrapped the film's release. Perhaps we should have seen something like this coming as I Love You, Daddy—which C.K. wrote, directed and stars in—follows a TV writer-producer's attempts to thwart a growing romance between his 17-year-old daughter (Chloe Grace Moretz) and a 68-year-old Woody Allen-esque director (John Malkovich).
Untitled Netflix (NFLX) Louis C.K. Stand-Up Special
Netflix has chosen to cancel its planned stand-up special with C.K., saying in a statement:
"The allegations made by several women in The New York Times about Louis C.K.'s behavior are disturbing. Louis's unprofessional and inappropriate behavior with female colleagues has led us to decide not to produce a second stand up special, as had been planned."
All the Money in the World
https://www.youtube.com/watch?v=6x62O8A8qHw
Following the flood of sexual misconduct allegations levied against Kevin Spacey, Sony pulled Ridley Scott's historical drama from the AFI Fest and pushed back the film's release. In fact, Scott is going out of pocket to pay for reshoots with Christopher Plummer taking over for Spacey in the J. Paul Getty role.
Gore Vidal Biopic
Netflix was planning a biopic on writer Gore Vidal with Spacey attached to star. The film was set to follow the writer's relationship with a younger man. Gore was actually in the midst of post-production before Netflix backed out. The movie will likely never see the light of day now.
House of Cards
Following Star Trek: Discovery star Anthony Rapp's first allegation against Spacey, Netflix announced that the upcoming sixth season would be House of Cards' last. As the chorus of voices against the actor began to grow, the streaming service suspended production on the series indefinitely and cut ties with Spacey all together. While the company is considering a spinoff, Jessica Chastain has been lobbying for Robin Wright's character to take over as lead.
Matthew Weiner's The Romanoffs at Amazon (AMZN)
Being produced by The Weinstein Company is now a strike against you following the Harvey Weinstein scandal. But on Friday morning, it was reported that a former Mad Men writer had accused creator and showrunner Matthew Weiner of sexual harassment. Weiner is currently working on a much buzzed-about new anthology drama, The Romanoffs, for Amazon, which is expected to premiere in 2018. No word yet on if the series will still be moving forward.
Untitled David O. Russell TV Series at Amazon
The Weinstein Company had its hands in numerous projects across Hollywood, including the highly-hyped and overly expensive untitled series from director David O. Russell, who himself has dealt with several accusations of misconduct over the years. Amazon had reportedly already sunk $40 million into the project before pulling the plug.
Hugh Hefner Biopic
In early October it was reported that Jared Leto had been cast as Hugh Hefner in director Brett Ratner's planned biopic. Then, Ratner was hit with multiple sexual harassment accusations and Leto's camp said he was never attached to such a project. On top of that, Warner Bros. is distancing themselves from its collaboration with Ratner's production studio RatPac-Dune Entertainment.
The Current War
https://www.youtube.com/watch?v=10WvnDcxVvE&t=8s
What was once one of the fall's more anticipated films is now nothing more than an afterthought. The Current War was TWC's big Oscar push this season, but has been delayed until at least 2018 due to the Weinstein scandal. The film stars Benedict Cumberbatch and Michael Shannon as dueling geniuses Thomas Edison and George Westinghouse.
Polaroid
Dimension Studios, an off-shoot branch of TWC, was behind the horror film Polaroid, which centered around a deadly camera. Like TWC's other offerings, this film has been pushed until at least 2018, but based on that plot synopsis, perhaps they should just keep it shelved.