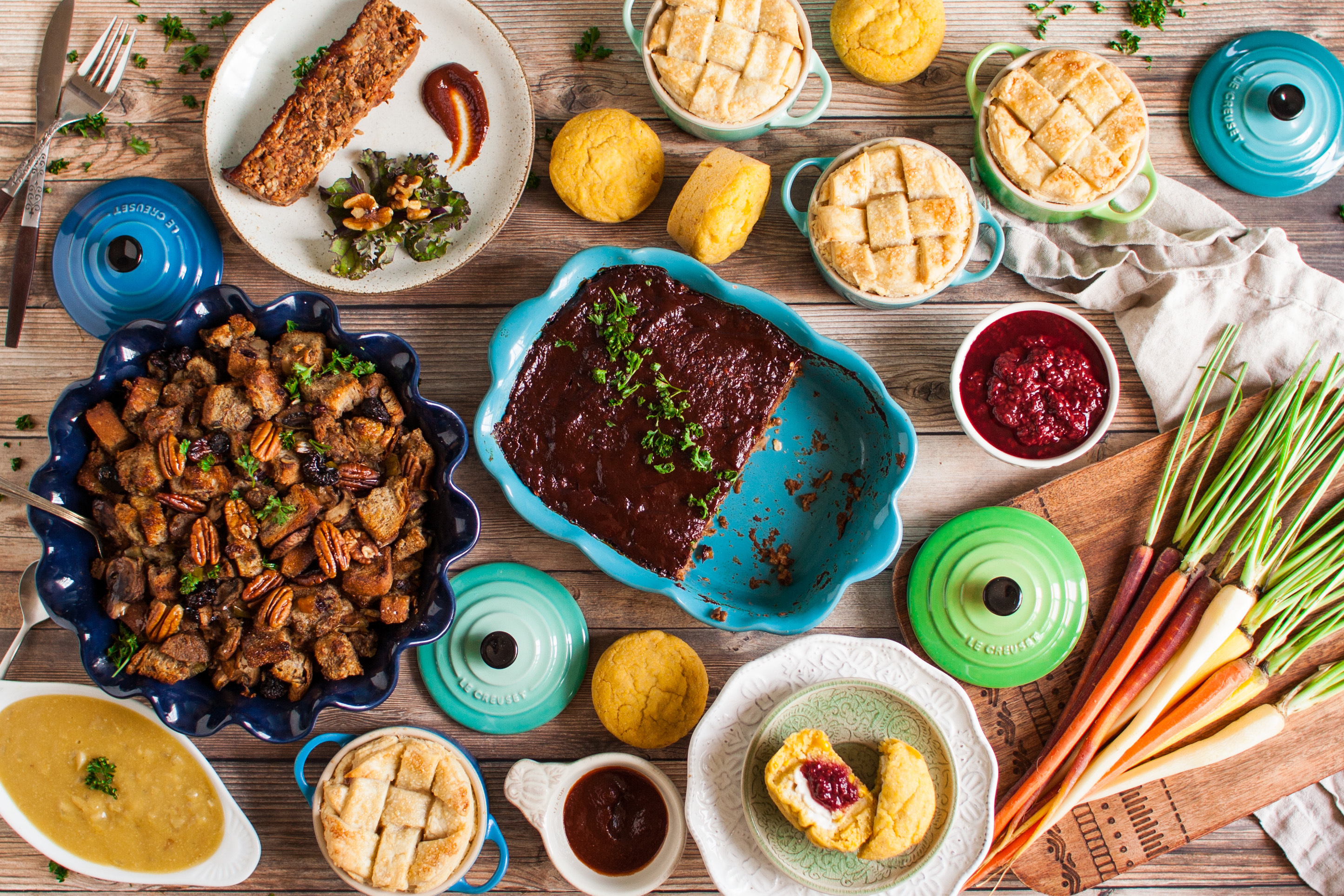 We promise there are worse things in life than going meatless, like last year's post-election table talk. So for 2017, ditch the turkey and vegan-ize all your favorite Thanksgiving dishes. 
To help switch up the conversation this Thanksgiving, we've rounded up a list of recipes from our favorite bloggers, chefs and cooking show hosts. For your health-conscious aunt, your vegetarian boyfriend or your "I'm vegan now" younger sister, we got you covered. Whether you want to commit to a full vegan menu or just a few dishes, there are recipes here for sides dishes and mains. Leave the calorie counting, portion controlling and animal byproducts out of this year's meal with these feel-good recipes. 
Before you say "pass" on the tofu, Tofurky has a recipe for Hasselback Baked Ham that's way better than your dad's old turkey anyways.
https://www.instagram.com/p/BbNrkefl2q-/?tagged=veganthanksgiving
Dishes on the first Thanksgiving menu didn't include pumpkin pie or cranberry sauce. This recipe by food blogger Lauren Kirchmaier of Flora and Vino pays homage to the foods that were definitely at the table, by using beans, corn and squash to make Mexican Stuffed Acorn Squash. Find the recipe here!
You might think mashed potatoes are vegan—until you realize just how much butter and milk are required for the average recipe. Luckily, The Hungry Hutch makes one of the best dishes at the table totally vegan. Get the recipe here.

Stuff yourself with this Vegan Sausage and Mushroom Stuffing from plant-based food blog Carrots and Flowers. There's even a vegan mushroom gravy to go with it!

You can't forget this staple side. Gaz Oakley of Avant Garde Vegan puts a twist on regular corn on the cob with his recipe for Grilled Corn with Chipotle "Butter."

A savory take on sweet potatoes, this Cozy Butternut, Sweet Potato, and Red Lentil Stew from blogger Angela Liddon of Oh She Glows will go great with a fresh loaf of bread. It will also make for great Thanksgiving leftovers. Get the recipe here!
Ditch the ham hocks and collard greens for a different kind of green. The Garden Grazer has a recipe for Maple-Balsamic Roasted Brussels Sprouts, with an optional cranberry and pecan topping for an unexpected crunch.
For dessert, replace your classic apple pie with Chloe Coscarelli's Italian Apple Cake. The vegan chef and by CHLOE creator has tons recipes of for desserts, dishes, appetizers and cocktails to have you covered for not just Thanksgiving, but the entire holiday season.
This twist on your usual pumpkin pie by My Darling Vegan will have your guests drooling. Three words: vegan, pumpkin, cheesecake.
Even queen of the kitchen Martha Stewart is going vegan! Maybe it's not the full commitment, but she does have a full list of vegan Thanksgiving recipes to choose from. Now that you have your own Observer style cookbook, happy cooking!