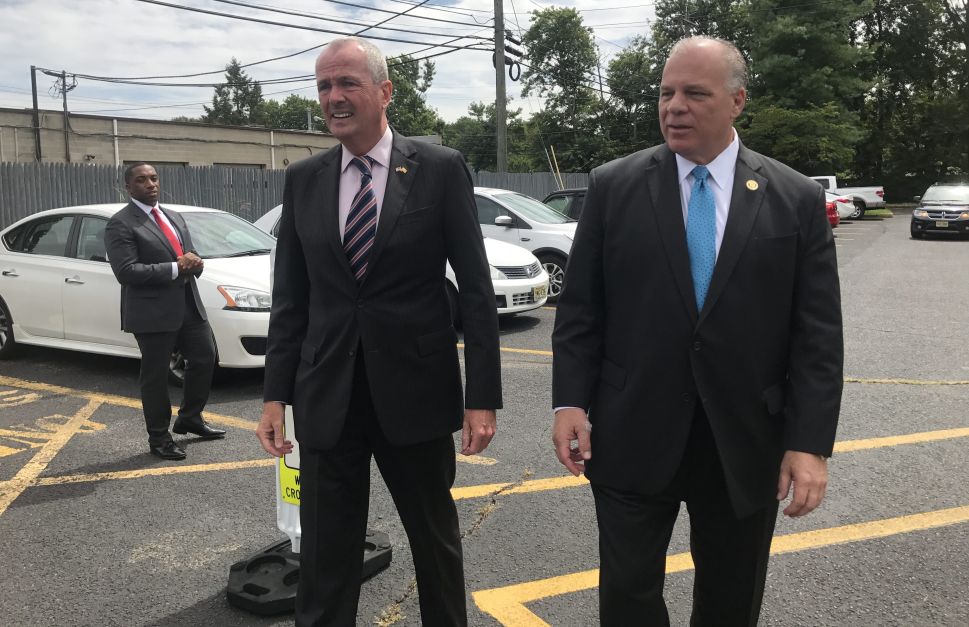 Senate President Steve Sweeney (D-Gloucester) was one of the big winners on Election Day, running up an 18-point margin in his race against the NJEA-backed Republican, Fran Grenier, and expanding the Senate majority by one seat.
The Democrat said Thursday after being re-elected by his caucus to another term as leader that he planned to move ahead on two big pieces of Governor-elect Phil Murphy's agenda once the new legislative session begins in January: raising taxes on millionaires and legalizing marijuana.
Observer also spoke with Sweeney on Wednesday to get his thoughts on withstanding months of attack ads, the Democrats' victories in key races, what to expect next year, and his take on future pickup possibilities for Democrats in legislative races.
Here's the interview in full, edited lightly for clarity.
It was a big night for you. It was the most expensive legislative race on record in the state.
I'm hearing, in the country.
Right. What was it like to be in the middle of that, all these ads running all the time from the NJEA?
People were joking, 'Ah, 'double-dipping pension padder.' What really came out of it was people really coming out offended by the commercials. How could you be a lobbyist in the Legislature? Do they think people are stupid?
The entire time, from August when we started polling, to Election Day, it was never close. They had to see that as they were hitting me more and more.
Everything they hit me with was so outrageously hard to believe, people didn't buy it. That's as simple as I can say it.
ELEC says this might end up being a $20 million race when combining spending on both sides. What do you think the map would have looked like for Democrats if you'd been able to spend on other districts, like the 2nd?
If you check around, I was sending money to different districts: Gopal, Greenstein, Bell, Gordon. Districts 16 and 2, we would have picked them both up but you know, it was unfortunate.
[Editor's note: Democrat Vin Gopal defeated Sen. Jen Beck and flipped the Senate seat in the 11th district. State Sen. Linda Greenstein (D) was re-elected in the 14th, Sen. Colin Bell (D) lost in the 2nd district to Republican Chris Brown, and Sen. Bob Gordon (D) won re-election in the 38th.]
We hear every year that 14 and 38 are these neck-and-neck districts. But Greenstein won by 12 points and Gordon by 14 last night. Do you think those are becoming less competitive for Republicans?
Both of those senators are getting much stronger and people going after them is a waste of money and time, but I really appreciate that Tom Kean [the Senate Republican leader] spent his money there instead of Jen Beck's district.
Tom, between 14 and 38, dropped like a half a million in those two districts in the last week. I bet you Beck would have liked to have had some of that.
What's your read of the election? Do you think voters were more sick of Christie or Trump?
First, let's remember, New Jersey leans Democrat to start with, so there's a voter registration edge for Democrats. After Trump, really the insanity that's going on in Washington right now, I saw some exit polls saying 11 percent of people say that they support Trump and 28 percent say they came out to send a message to Trump. I think people really are fed up.
You said on Twitter that the first order of business is passing the millionaires tax. What else do you think will be happening quickly when Murphy comes into office? Is legal weed in the mix?
My first priority is going to be sitting with Phil Murphy and [incoming speaker] Craig Coughlin to come up with a plan. We have minimum wage, expanding paid family leave, women's health care. We have pay equity, we have sick leave.
That's just a few of the issues that I think we're going to focus on but I have to sit down with my colleagues.
Do you know Coughlin well? What do you think that relationship will be like?
He's not a high-profile guy. He's just a very steady, good guy. I'm really looking forward to working with him, because the fights that we had over the years [with Speaker Vincent Prieto] were all unnecessary and could have been avoided.
Did you see some of these results in LD8 and LD39? It was very close. Same with Jon Bramnick and Nancy Munoz [Republicans] in Kean's district. What do you think, are those going to be targets next time around?
When you looked at the numbers, they just didn't really add up — 8 was unusual. I think it was really a Republican backlash.
When we did redistricting, we looked at districts 11 and 16 as the two real potential pickups, and it was scheduled for this year, 2017. We actually picked up the two Assembly seats in 11 two years ahead of schedule, in '15.
I want to ask about your relationship with Murphy. You told the Star-Ledger earlier on that you were disappointed he wasn't doing more to get the NJEA out of LD3 — at least, you were quoted saying that. We talked about all the money that ended up being spent on your race. Do you think this was a strategic mistake on his part as a leader of the party who could have expanded the map?
This wasn't Phil's fight. This was my fight. He had to get elected, too. I was just hoping that he would have had more influence, and the teachers didn't listen. I take him at his word. He tried, and they didn't listen.
[NJEA President] Marie Blistan, she made it very personal. I've known her for years and years. And that's her MO. She made it very personal.
How do you feel about the prospect of working with Murphy?
I think it's going to be good. He agrees with me. I agree with him. We both agree a great deal. We agree a great deal.
Thoughts on Jeff Van Drew jumping into the race for the congressional seat in South Jersey, now that Frank LoBiondo is retiring?
I'm encouraging Jeff. I told him I will go and do my best to get labor to support him. If it's Van Drew, he wins.
It was a unique situation. I feel bad for Frank because what's happening in the Republican Party is there's no room for moderates in the Republican Party naymore. Frank is a great friend and he's a moderate Republican. He's been a very good representative for New Jersey and he's been a personal friend of mine.
The other wing of their party has got control.The ultraconservatives have control and it's gotta be hard for a guy who's thinking about his district rather than some national BS.