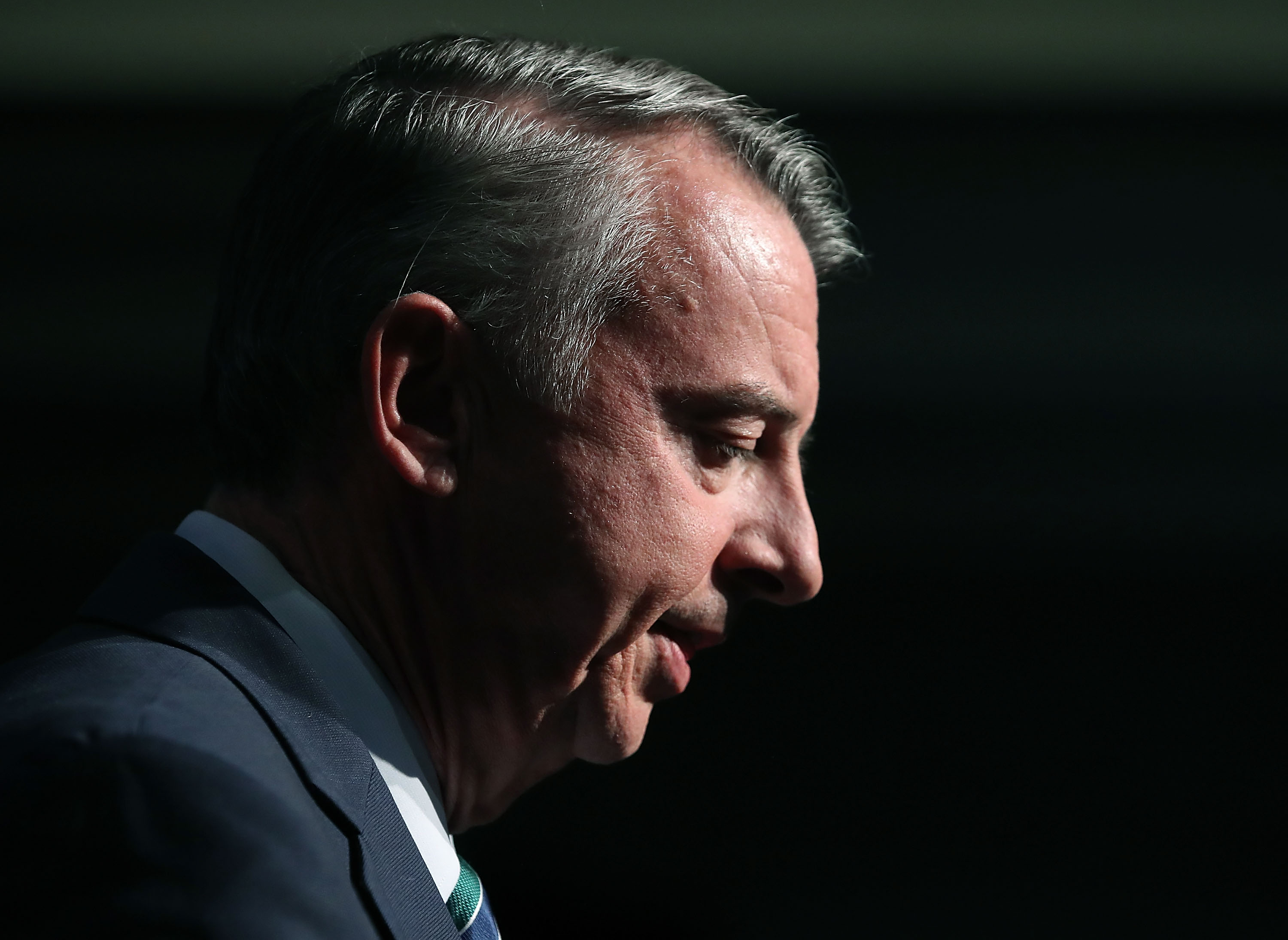 Three years ago, Ed Gillespie shocked the political world by nearly knocking off a powerful Democratic senator. Now, as he's lost his second straight statewide race, Gillespie must realize that Donald Trump cost him a winnable race.
The GOP's Chance in Virginia
Democrats had the advantage in the state. Both of the states' U.S. senators are Democratic, as is the current governor, Terry McAuliffe. Additionally, the state voted for Hillary Clinton and Barack Obama (twice). But deep divisions among Democrats, a bland candidate, and Trump's momentum made the state seem within reach for the Republican nominee.
Among Democrats a bitter rivalry emerged between the centrist wing and the progressives. In the primaries, Lt. Governor Ralph Northam, who is effective, competent, and a bit colorless, squared off against former Congressman Tom Perriello, a progressive. Northam prevailed, but bitter liberals spent nearly as much time criticizing their nominee as they did the Gillespie camp. And Northam stuck to bread-and-butter issues, instead of issues that generated passion in voters, like opposing a pair of pipelines, even though their construction isn't the governor's call to make.
Gillespie Followed Trump's Playbook
Gillespie also found himself in a divisive primary. Republicans almost kicked the former RNC leader to the curb in favor of former Trump campaign chair for the state, Corey Stewart. Borrowing a page from Trump's playbook, Stewart mocked Gillespie as "Establishment Ed" and ran a far-right campaign that nearly prevailed.
As this point, Gillespie had two choices: He could try to reach out to moderate voters or he could follow Trump and focus on hard-core conservatives. Steve Bannon predicted Gillespie would win if he did the latter.
Gillespie chose the hard-right strategy. Abandoning his moderate "big tent" positions of the past, Gillespie launched an airwaves war on "sanctuary cities" with the notorious Salvadoran gang MS-13 prominently featured, implying that they were the result of the Virginia Lt. Governor. Meanwhile, Gillespie loudly defended the state's Confederate monuments.
Such ads are "dog whistle" ads, meaning that they may seem innocuous, but they use code words or images that supporters hear loud and clear, thereby motivating them to vote.
Why the Dog Whistles Didn't Work
There are three reasons why dog whistles failed in the 2017 Virginia election.
1) Dog Whistles Are Becoming Actual Whistles
The problem for Republicans is that the whistles are getting increasingly less subtle. The MS-13 and the Confederate monument ads were so over the top that everyone could hear them—including liberals and moderates who found motivation to vote against Gillespie. Steve Bannon-style attacks are more effective in defeating moderate GOP members, not in wooing them.
2) Suburban Renewal
Democrats typically win urban areas, and Republicans normally take rural areas. The rest is a battle for the suburbs. But the GOP dog whistle campaign is too shrill for these places.
Take Fairfax County and Loudon County. Both are outside of Washington D.C.. People who live there have high incomes, a strong standard-of-living, and their communities are relatively diverse. Such commercials just don't fit with these Virginia residents. No wonder Fairfax and Loudon went more than 36 points and 20 points respectively for Democrats in 2017.
3) As Prince William County Goes, so Goes Virginia.
And it's not just the suburbs. Right next door to wealthy Fairfax County is Prince William County, which is a little less wealthy and a little more rural. It's an "exurb," one step beyond the suburbs. It's the site of the Battle of Manassas, the first big battle of the Civil War. It's the only place one can expect Republicans to get votes in Northeast Virginia.
Yet Democrats won Prince William County by more than 20 points, and an openly transgender candidate won a local race there.
That's because the exurbs are becoming more diverse like the suburbs. And those areas are growing, while the rural counties are shrinking. Looking at the map, one would think Gillespie won, as much of the state looks red. MS-13 probably scares those folks. But fewer people are living there anymore. And Virginia's diverse population seems to be doing fine. Not only are the demographics moving against Republicans, but the moving patterns are as well.
Lessons for 2018
Republican candidates are likely to follow Gillespie's model. After all, Stewart plans on challenging Senator Kaine, and other early GOP candidates have positioned themselves at conservative. They are likely to wield more "Dog Whistle" campaigns, thinking that Trump's 2016 victory shows the way. Yet Democrats won voters who said Trump was a factor in their vote by a 2:1 margin.
Dog whistles aren't quiet, and they aren't playing well in suburbs and exurbs. To run these again in 2018 or 2020 is to court disaster.
John A. Tures is a professor of political science at LaGrange College in LaGrange, Ga. He can be reached at jtures@lagrange.edu. His Twitter account is JohnTures2.